Lead times for major building permits like STFI and full review in the city of Seattle can be excruciatingly long.
On one hand, this long waiting period can make homeowners shy away from the remodeling process altogether on the other hand, many homeowners may decide to forgo the permitting process. This results in unpermitted work that comes with a variety of consequences for the homeowner, a possible renter, and even the next person to own that same home.
Many families end up buying a home with unpermitted work and don't even know till they start dealing with the consequences. To find out more about why permitting is so important and what to look out for when buying a new home listen to our podcast episode "What happens if you get caught remodeling without a permit. With Dave Callahan."
See also: 10 Ways to Make a Remodel Go Faster in Seattle
Permits exist for a reason: Safety
Before I mention the consequences you could face by not getting a permit, let me explain why permits exist. They are there for a reason: safety.
We dive a little more in-depth on this topic in the podcast episode but make things short and sweet: the city-approved plans and the inspector that is sent out during construction will help ensure that your project contractor is following the proper plans and not leaving you with unsafe living conditions.
The residential building codes put in place by the city are there for a reason. Everything has been meticulously calculated, from stair tread length and width to the amount of fresh air that is brought into your home. While in the comfort of your home, you shouldn't be risking a painful fall down the stairs or feeling cold in the middle of winter with the heat on.
See also: Are Permits Required for a Bathroom Remodel in Seattle?
Imagine if we had no building permits and inspections
Permits can sometimes seem like a nuisance. They are an added expense, and applying for permits can sometimes be a long process.
I get it. You want to save money and get started on your project right away. However, imagine what construction would look like if we didn't have the safeguards of design review, permitting, and inspections in place, or if building codes weren't enforced.
You can see the results in the news, when a place with lax permitting and design-review standards suffers an earthquake or a fire. Buildings constructed of substandard concrete crumble to the ground, and innocent people are trapped in buildings without proper fire escapes.
See also: Are Permits Required for a Kitchen Remodel in Seattle?
Consequences of building without permits
Even though the permitting process can sometimes seem like a nuisance, it's there to protect us all. But maybe you think that your own risk is low and that you're going to just trust your handyman who says he can do the work without permits. If you decide to do unpermitted work, be aware of the following potential consequences.
Safety
Resale value
Complications getting a loan
Insurance
City penalties
Wasted time
So what do you do?
I hope it's clear by now what a bad idea it is to remodel your home without a permit. Here are some additional thoughts on how to proceed if you find yourself facing permitting dilemmas. If you're curious about the details surrounding the above-mentioned consequences then don't hesitate to listen to the podcast episode where we break down each example.
Here are a few more topics we cover in this episode -
What to do if you are in the process of buying a home and find out it had unpermitted work?
What if you buy a home and find out years later that it had unpermitted renovation work?
What if my general contractor/handyman/plumber/electrician says I don't need a permit to remodel?
What if my remodeling project is very small? Do I even need a permit?
What if I am selling my home that had unpermitted remodeling work?
If you prefer reading over listening you can read more about this topic and the answers to the consequences listed above in a past blog we wrote - Why you shouldn't remodel without a permit
Are you ready to remodel the right way?
Looking to renovate? Hire a reputable company that follows the law and protects the safety of your family (and your investment in your home). At CRD, we have dedicated ourselves to remodeling Seattle homes for more than 40 years. If you are ready to change your house for the better, contact us for a consultation. We are always happy to try to help.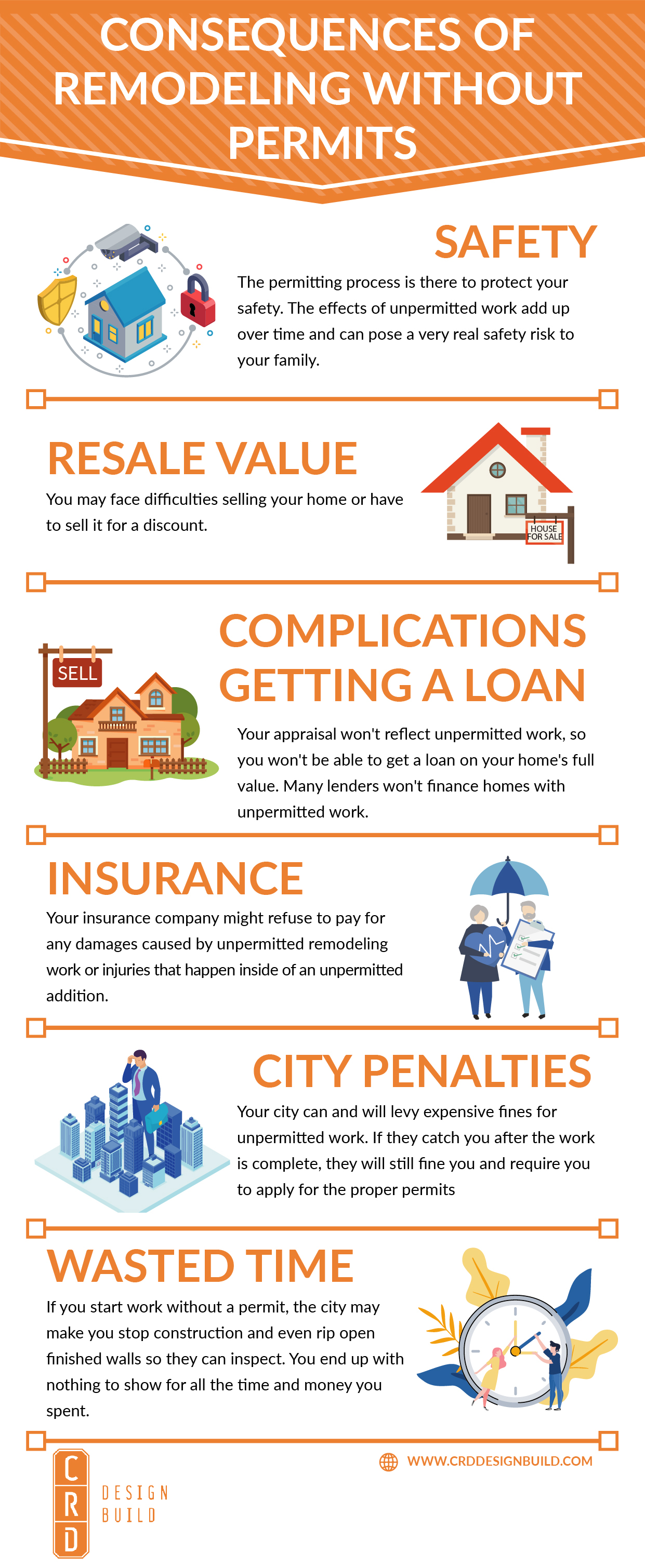 Guide to Hiring a Remodeler
This comprehensive guide walks you through all the steps of choosing who will design and build your project, vetting remodeling companies, and ensuring that you have the best experience.