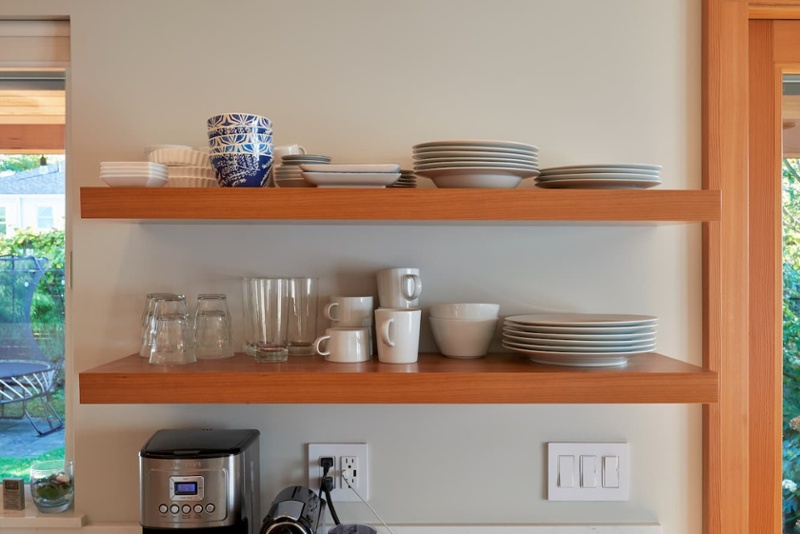 Keeping your kitchen organized is not easy, especially if you are working with a small space. Kitchens hold so many different tools to help us feed ourselves and our loved ones. When these tools become disorganized, cooking becomes a difficult task that no one wants to tackle, which can result in a lot of quick unbalanced meals and to-go food. In this post, I'm excited to share tips to help you organize your kitchen and make it your favorite room in your home.
1. Start with a clean slate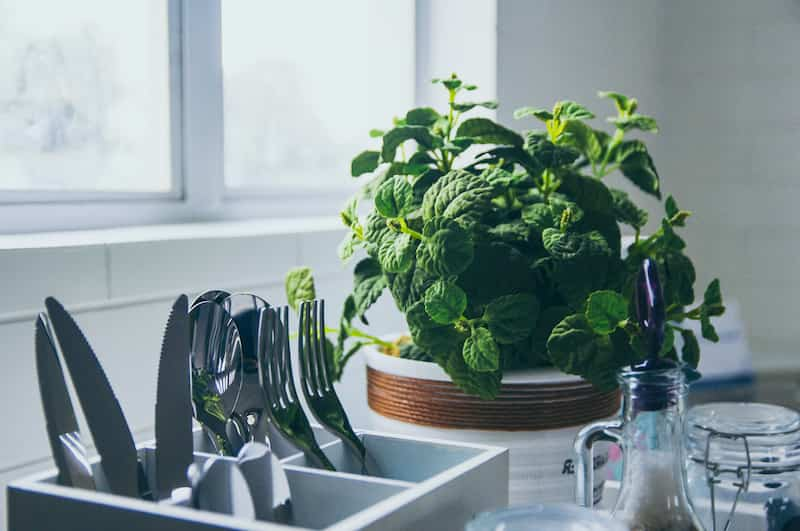 If you're only going to follow one of my tips, I hope it's this one. Begin your organizing by emptying everything from each drawer, cabinet, and storage area. You can do this one spot at a time, but I like to empty it all out at once. Do a high-level purge at this point, sorting your stuff into what you think you'll keep and what you know you're ready to give away. Simply clearing away some of the clutter can be immensely freeing and will help make the rest of the organizing process easier.
2. Make sure every available nook is used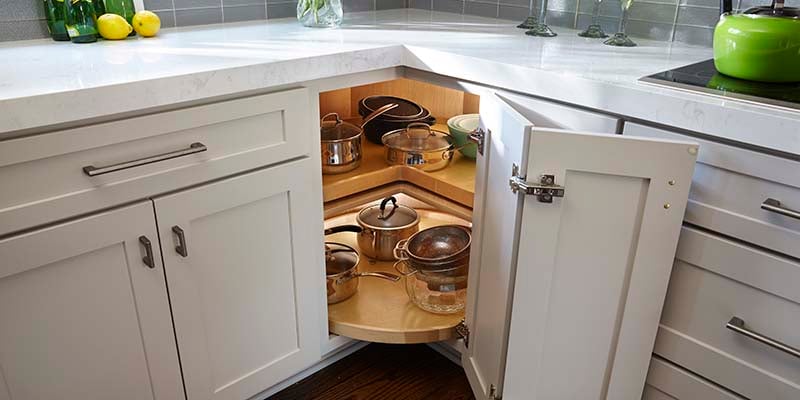 Image: Cliq Studios
Many kitchens suffer from under-utilized storage areas. If you have a huge kitchen, this isn't a pressing problem, but if you have a small kitchen, it's essential that you make full use of your limited storage real estate. Corner cabinets are often neglected, being fitted out with deep shelves that are difficult to access. Add a lazy Susan or a pull-out shelf system. You'll love being able to unlock this extra storage space.
See also: What To Do with the #%$@ Corner Cabinet? Kitchen Corner Cabinet Design
3. Organize your kitchen by zones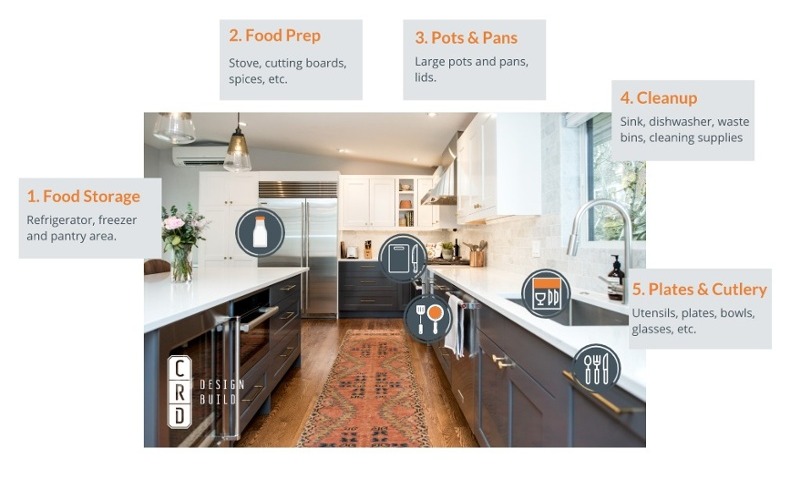 Most kitchen organizing advice you find online is a hodgepodge of tips. While it's fun to learn about new organizing "hacks," I strongly encourage you to also look at the bigger picture. What's the best way to arrange your items so they are not just neatly stored but that they are easily accessible so that cooking and working in the kitchen is easy. When organizing your kitchen, it's helpful to think of it as a collection of zones. Arrange everything by function:
Zone 1: Food storage (refrigerator, pantry)
Zone 2: Food prep (cooktop, oven, microwave, small appliances, cooking utensils, cutting boards, mixing bowls, measuring cups, spices, etc,)
Zone 3: Pots & pans
Zone 4: Cleaning & waste (dishwasher, sink, cleaning supplies, garbage and compost bins)
Zone 5: Plates & cutlery (glasses, cutlery, plates, bowls, coffee maker, electric tea kettle)
See also: Kitchen Layout 101: Work Triangle and Zones
4. Dedupe your cookware and dishware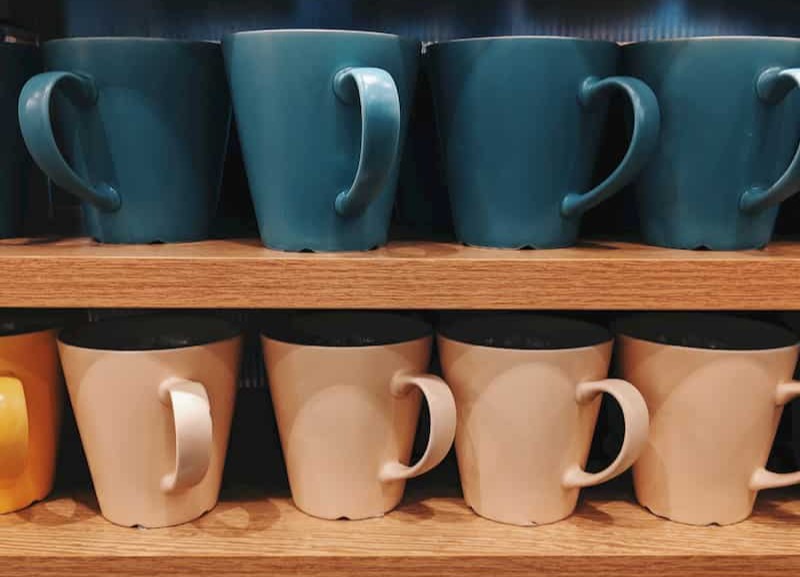 Keeping too many duplicate kitchen items on hand is one of the biggest organizational mistakes I see people make. But it's one of the easiest problems to correct and is an essential step, especially for small kitchens. Look at all of your dishware and cookware with a critical eye. Do you see any overlap? Do you have two or more of anything? Do you really need three frying pans? Will you realistically ever use all 23 of the mugs you have crammed into your cabinet at once? Do you require enough table settings to feed an entire soccer team when your table only fits six people at most?
I know it can be hard to give up duplicates. You might have a sentimental attachment to some of those mugs, and it may be difficult to donate that perfectly lovely serving bowl that someone gifted you for your wedding just because you have three others. I get it. (I have a bit of a mug problem myself.) If you're not ready to fully get rid of every duplicate, try boxing up everything that you don't regularly use and put it in the attic. If you find yourself really missing any item, you can always put it back in circulation. But I'm guessing you'll appreciate the extra breathing room in your cabinets and won't miss your dupes at all.
5. Open up your storage space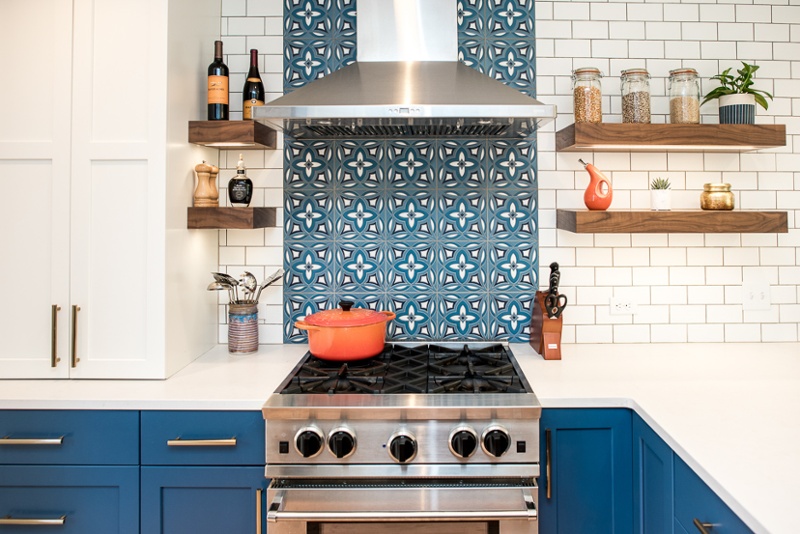 Of all the tips I'm sharing here, this one might be the most controversial. You have to find the right balance here. A small kitchen can feel cramped and claustrophobic if it's filled with too many cabinets, but it can also feel cluttered if too much is out in the open. Open shelves can do wonders for a small kitchen design, but it's not for everyone. If you are able to pare down to a small amount of dishware and glassware that you know you can keep organized, then consider converting some of your upper cabinets to open shelves. If you're not ready to commit to ripping out any cabinets, just remove the doors. You can always put them back. (And if you know you're just not the type to keep your open shelves neat and tidy, then stick with the closed cabinets.)
6. Add a splash of color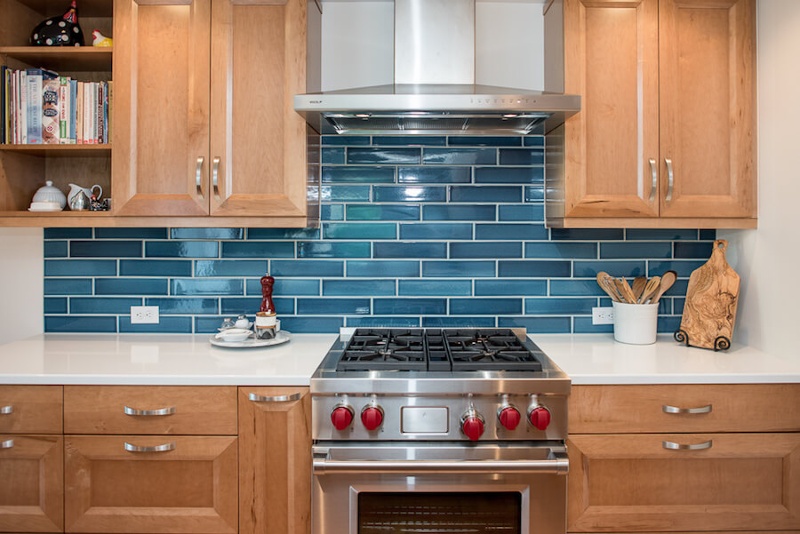 Inject your kitchen with some personality by adding an accent color. Paint your cabinets a shade you love, or simply add a few brightly colored accessories, like tea towels or enamel cookware, to liven up your small kitchen. When it comes to organization, arranging or grouping items by color can be a pleasing approach.
See also: How to Incorporate Color into Your Kitchen
7. Don't forget the lighting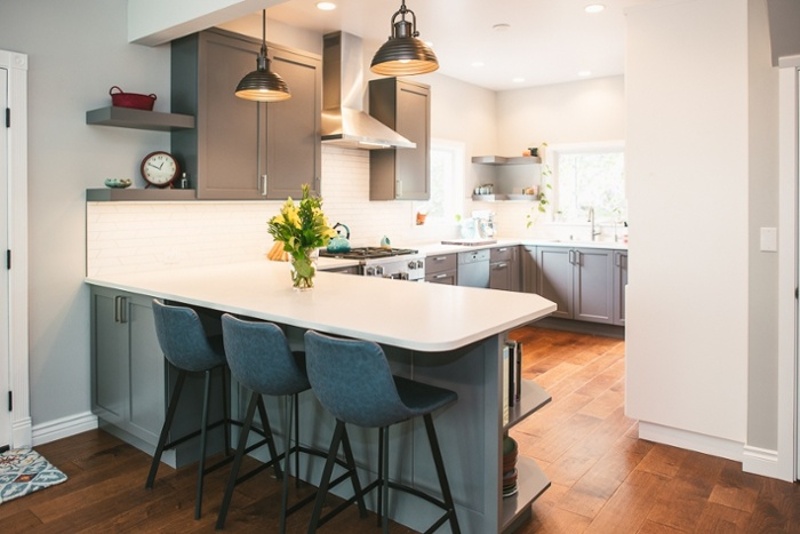 Lighting may not strictly relate to organization, but what good is a well-organized kitchen if you can't see well enough to work in it. A well-thought-out lighting plan is an essential part of great kitchen design. At the very least, your lighting must be functional, but it can also be used to beautify the space. When choosing your lighting, take a layered approach.
Start with general lighting, usually an overhead fixture or can lights. These give the room a bright and cheery appearance.
Next, layer on task lighting. This usually takes the form of under-cabinet lights that illuminate your main work areas. Other examples are range hoods with integrated lighting so you can get a good look at what's cooking.
Finally, add some eye candy. Beautiful glass pendant lighting or even a chandelier can really take your small kitchen to the next level.
See also: The Five Main Types of Kitchen Island Lighting
8. Natural lighting is important too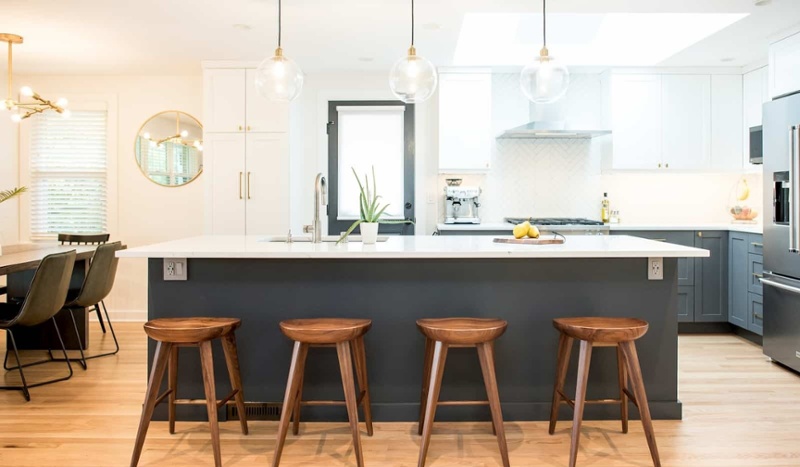 You can have a great artificial lighting design, but if your kitchen lacks sufficient natural light, it will always feel boxed in. Unfortunately, increasing the amount of sunlight that streams into the room isn't always easy (or inexpensive).
As a first step, be sure to replace any window coverings that can't be drawn back completely. You will want to utilize every square inch of glazing, and heavy curtains or blinds that permanently cover part of your windows just won't do. Pick a light filtering shade that retracts completely out of the way.
If that is still insufficient natural light, then consider replacing one of your windows with a wider one. Many small kitchens have a window over the sink that is flanked by two cabinets. You may have to remove one of the cabinets or replace it with narrow shelves to fit your new, wider window.
Finally, consider skylights. These can be an excellent solution for smaller kitchens, where all of the wall area is claimed. A flat skylight lets in a ton of light and is perfect if you don't have attic space above your kitchen. Otherwise, a tubular skylight can deliver lots of natural light a long distance by routing it through a mirrored tube.
9. Feature your favorite artwork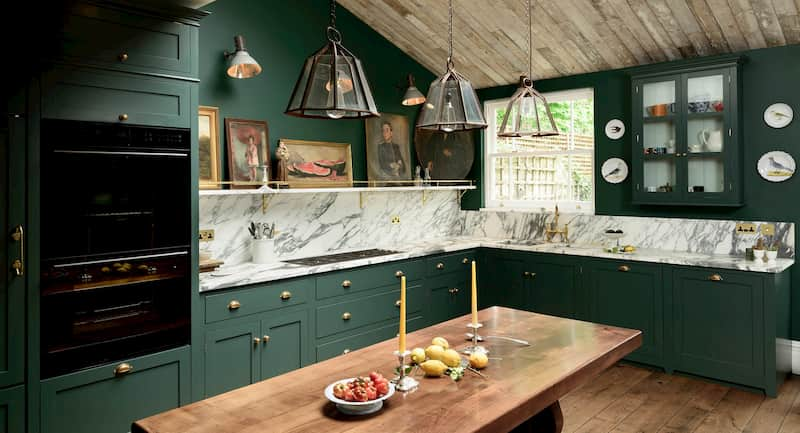 Photo: deVOL Kitchens
Framed paintings and even sculpture are not just for the more formal living room space. Don't be afraid to bring a favorite piece into the kitchen, where everybody congregates anyway. Hang it as normal on the wall (away from your cooktop) or prop your painting on a shelf, along with some decoratively arranged cooking implements. It can do wonderful things for your decor.
10. Find space for an eating area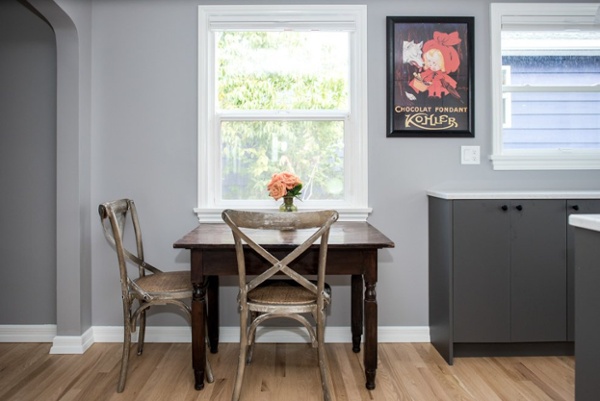 You think of your kitchen's main function as being a place to cook meals, but it can also be a prime eating area. Adding a small, casual space to relax with your morning coffee or feed the kids dinner can be a major kitchen upgrade. Look for a small, two-seater table. A drop-leaf design can work well if you want to add extra occasional seating. If you are redesigning the layout of your kitchen, try to incorporate countertop seating.
11. Add an island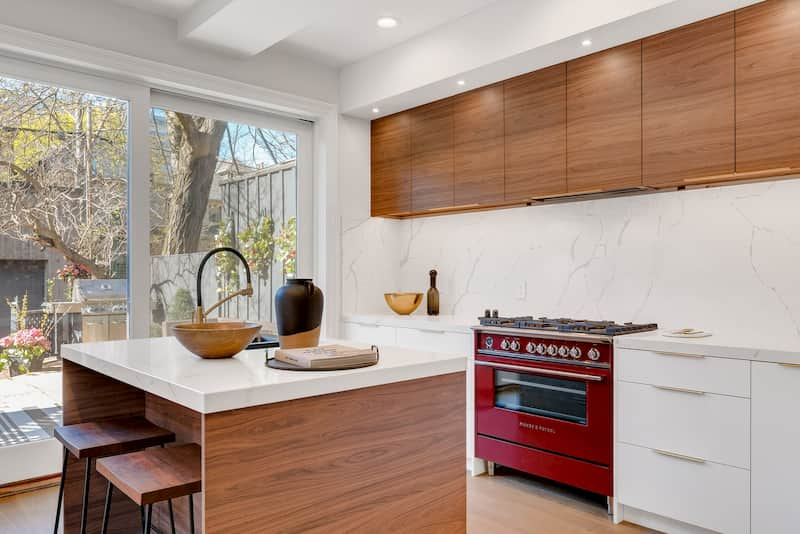 The trend has been for kitchen islands to get much bigger, but you'll never be able to fit a mega-island into your tiny kitchen. And that's okay. Large islands can often be clutter magnets, and what may suit you best is just some added storage and a spot for a couple of bar-height stools. Most small to medium-small kitchens have room for a standalone island. You can purchase one off the shelf, including lower-cost models from flat-pack stores. Choose an island that has great storage in the form of sturdy shelves or large drawers with high-quality hardware. There's no reason to have a huge island with a sink or cooktop.
See also: The One Thing You Need to Know About Great Kitchen Design
12. Go luxe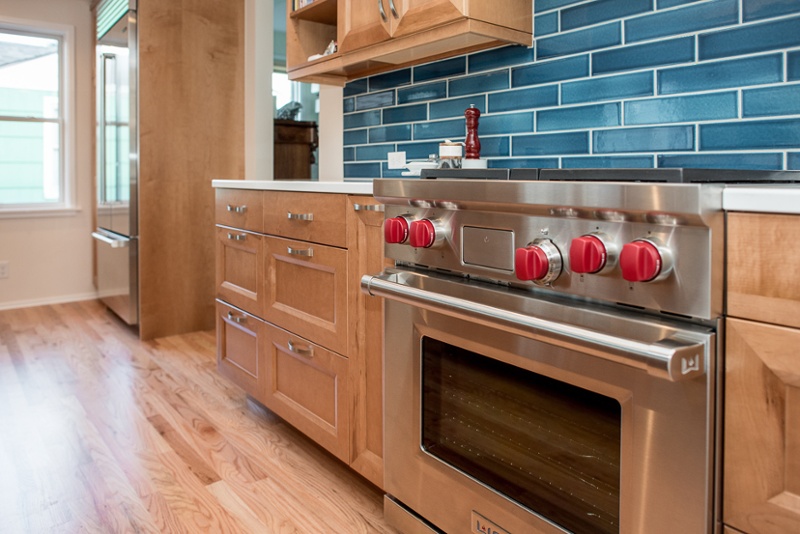 This isn't strictly a tip to help you organize, but it's important nonetheless. One of the great things about having a small kitchen is that it can be less expensive to make it beautiful. When dealing with less square-footage, you might be able to splurge a little on handmade tile or an artistic light fixture. Pick a designer wallpaper for an accent wall, or opt for higher-quality semi-custom or custom cabinets. Just because your space is small doesn't mean it has to feel like your first apartment.
See also: Timeless Kitchen Design
13. Keep counter space clear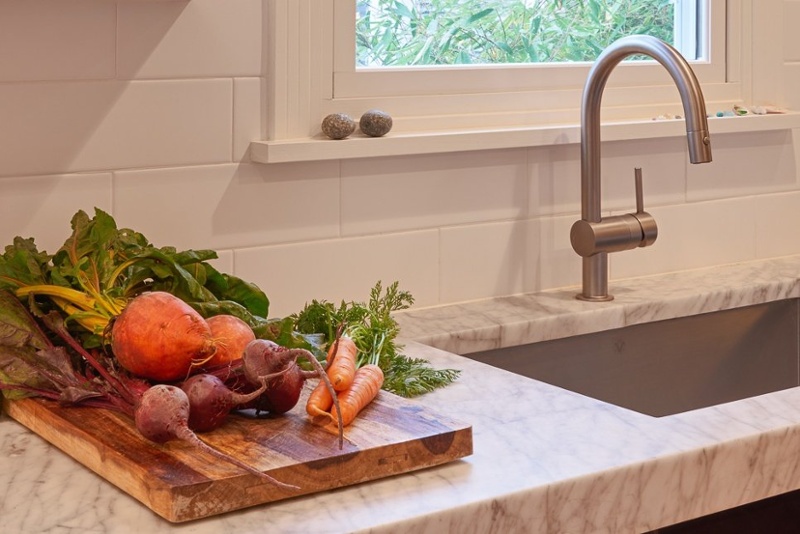 This goes along with the general tip to declutter. Nowhere is that more important than on your countertops. Let's be real: Countertops are your kitchen's prime real estate. You must reserve ample surface space to prep meals, and it's important not to let too many small appliances, utensils, or other items clutter up your workspace. Do a careful inventory of what's on your countertop now. Does each item really need to be there? Be ruthless, and only leave out the things you use every single day. (That Vitamix blender you thought you'd use every morning but that's only collecting dust should probably be put into deeper storage somewhere else.) Decluttered counter space is beautiful!
I love to cook and consider sturdy wooden knife blocks and cutting boards to be essential countertop accessories, but you can move knives to a drawer or hang them on a magnetic wall storage system if you are more a re-heater than a chef. Now is also a great time to create a drop zone elsewhere in your house for keys, wallets, incoming mail, and other small day-to-day items. You don't want these things piling up on your counter. If you need to free up some extra counter space but don't have the cabinet space to put your small appliances, consider a small kitchen cart or antique teacart.
---
Q: How do you organize small appliances in a small kitchen?

A: Pare down to the absolute essentials

With a small kitchen, it's especially important not to let small appliances clutter up your space. If you never use a small appliances, donate it. Try not to buy a small electric appliance if your stove can perform the same function equally well. (I'm looking at you, air fryer and George Foreman Grill!) Appliances you only use a few times a year should go into deep storage, in an upper shelf or the attic. The appliances you use frequently can go in an easily accessible cabinet or, better yet, an appliance garage with an electrical outlet inside. Only the most commonly used appliances should take up valuable counter space. For me, these are my electric toaster and espresso maker.
---
14. Organize your refrigerator, too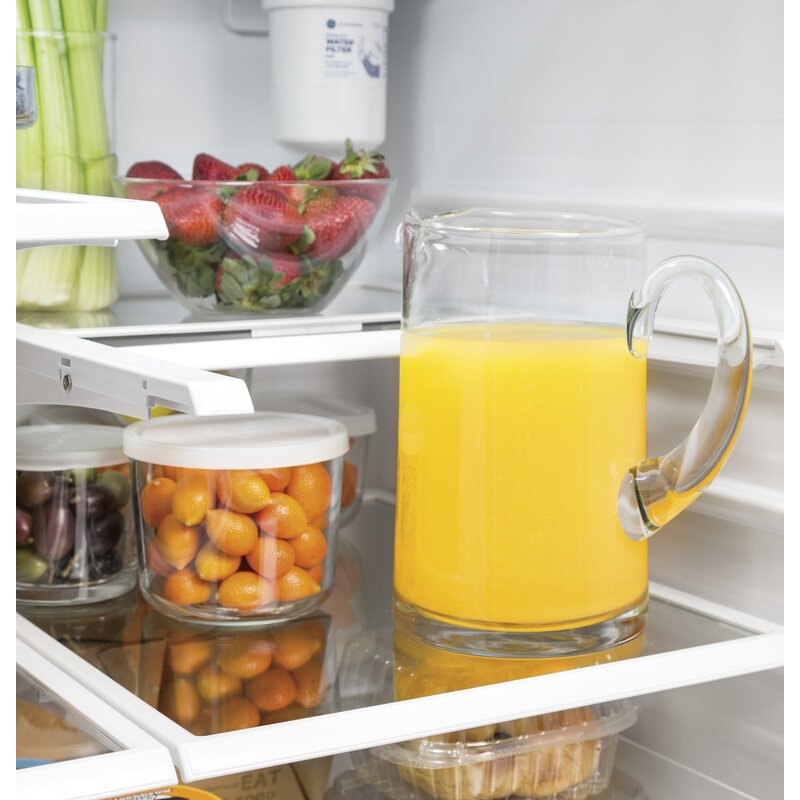 When faced with a crowded, disorganized fridge, your main line of defense is periodic purging. Go through every shelf and drawer, discarding any expired or spoiled foods. And don't take a haphazard approach to refrigerator organization. The bottom of the refrigerator tends to be the coldest, so organize foods by the temperature they need to be cooked. Leftovers and other pre-cooked foods are stored on the top shelf. The bottom shelf is where your raw chicken, meat, and fish should go, if your fridge doesn't have a dedicated storage area for that purpose. The door shelves are the warmest part of your refrigerator, so reserve them for your condiments, which tend to be high in salt and vinegar. Try not to store fresh dairy in the door. Keep fruit and vegetables separated, and keep snacks accessible.
15. Organize using storage containers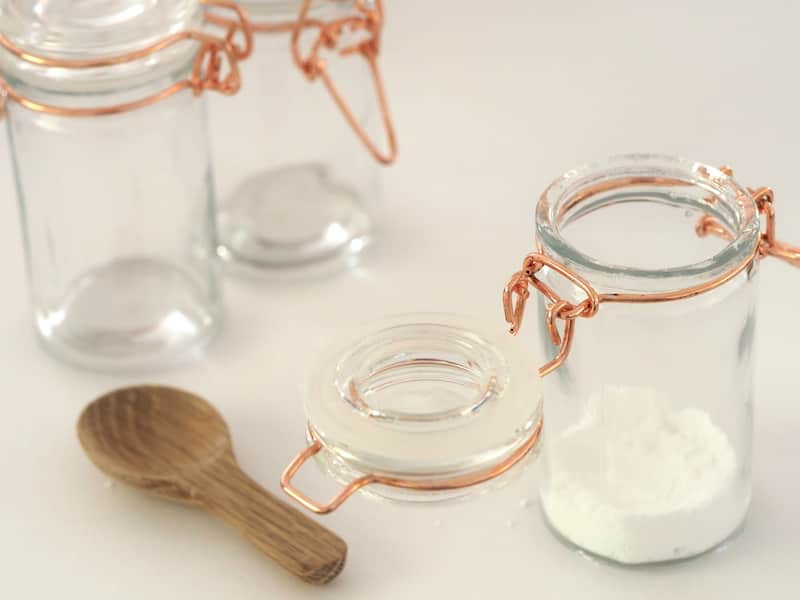 In a small kitchen, your main enemy is clutter. It's so easy to fill a small space with your stuff unless you put some conscious effort into ongoing organization. Storage containers can help by taking some of the mental burden off of you day to day. If you must devote some of your valuable counter space to storage, choose opaque containers so that the items within are hidden from view and don't lead to a cluttered look. Containers that are kept inside closed storage spaces, like in cabinets (or in your pantry if you are lucky enough to have one), should be clear so you can easily identify the contents.
16. Double your cabinet space with shelf risers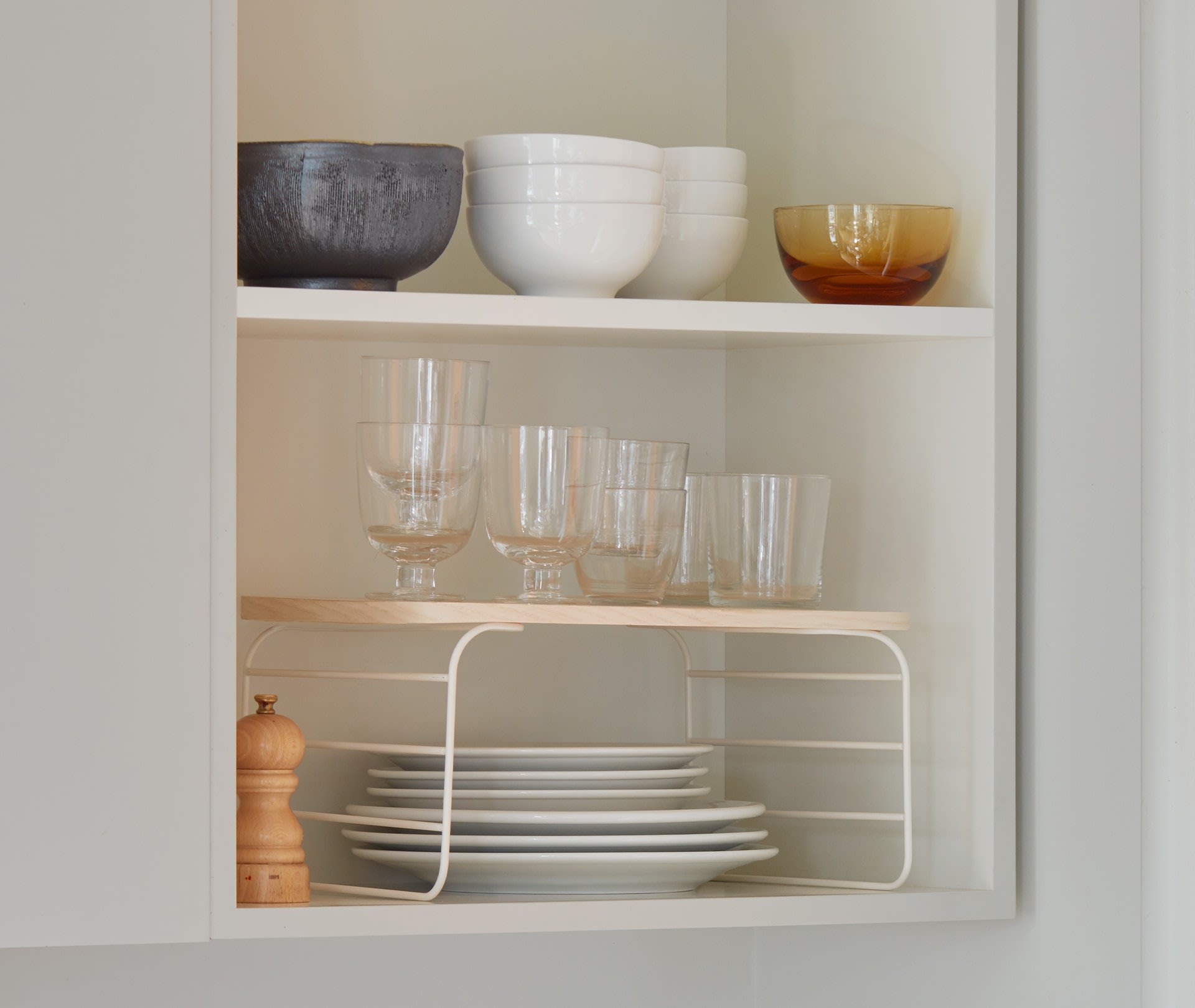 Photo: Open Spaces
Many kitchen cabinets are designed with fewer shelves than you need. If you have a lot of wasted vertical space in your cabinets, a great solution is to add shelf risers. These essentially add a second tier of storage within your existing cabinets, letting you almost double your storage with very little effort. Organization is always easier with more shelf space.
17. Double the storage space of your drawers with two-tier organizers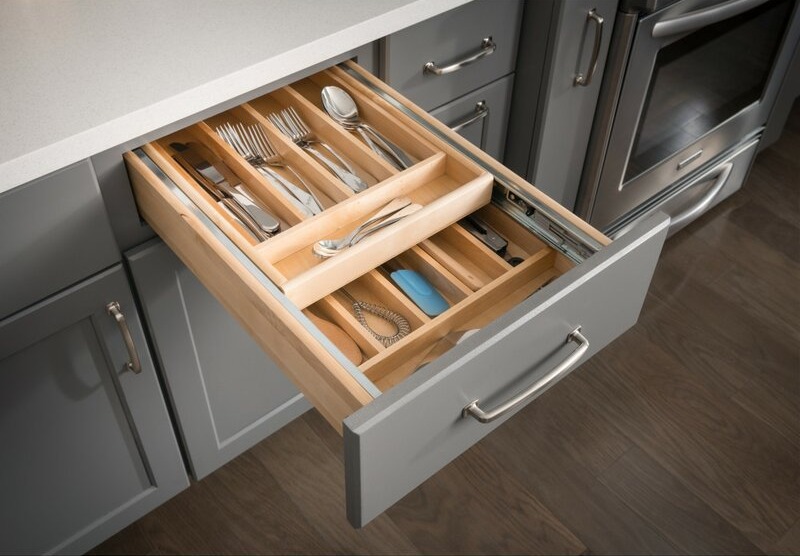 Photo: Wayfair
Just like cabinets, drawers often have a lot of wasted vertical space. A simple two-tier drawer organizer puts the most commonly used cutlery--forks, knives, and spoons, on the top level and leaves the space underneath for occasional items, like large serving spoons, steak knives, and other utensils.
18. Hang items on the backs of cabinet doors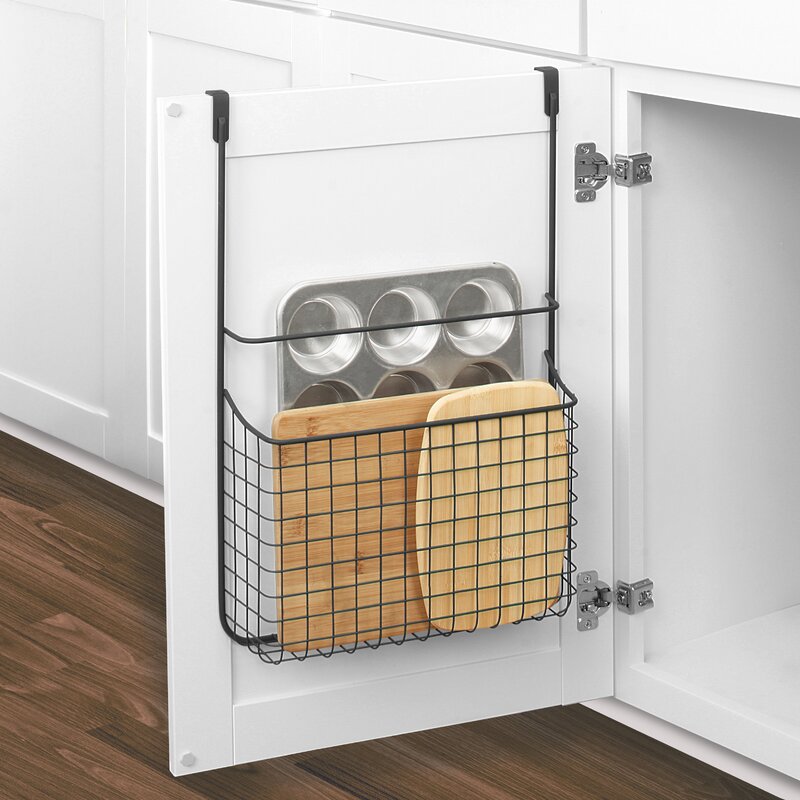 Photo: Wayfair
Organization means being conscious of all the available space that can be utilized. If you have a small kitchen, every square inch of storage counts. One great hack is to mount storage shelves, a rack, or hooks to the insides of your cabinet doors. The most common place to do this is under your sink. A wire rack that hooks over the cabinet door can be a handy spot for sponges, brushes, and other cleaning supplies.
19. Utilize vertical storage to organize flat items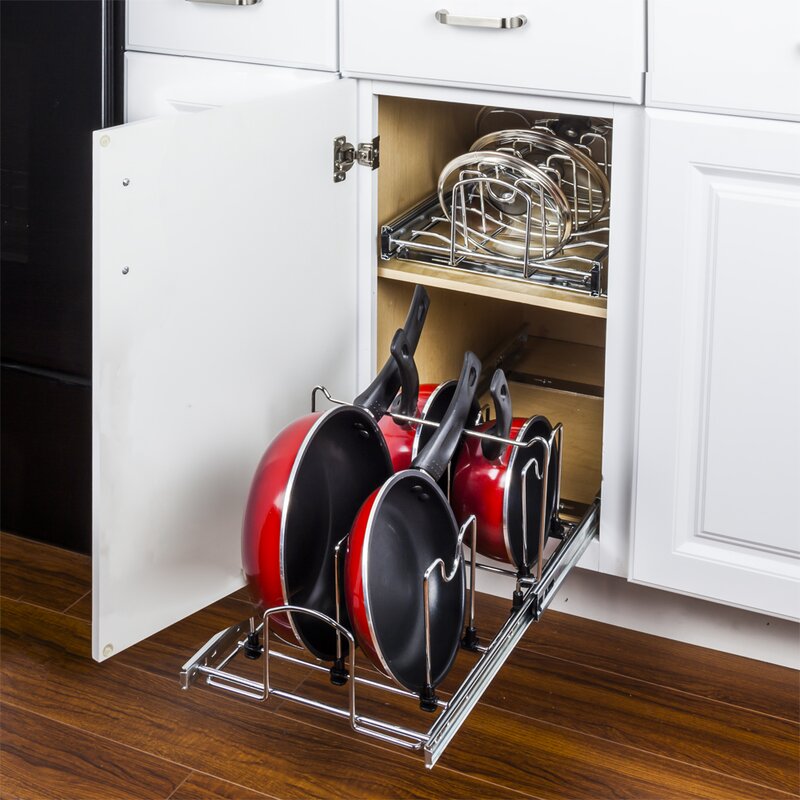 Stacking cookware on its side can be a more efficient way to store it. Use tension rods inside your cabinets or a specially made cabinet organizer to store baking sheets, shallow pans, and other flattish items vertically. They're much easier to access that way, and they take up less space.
20. Perform a food storage container purge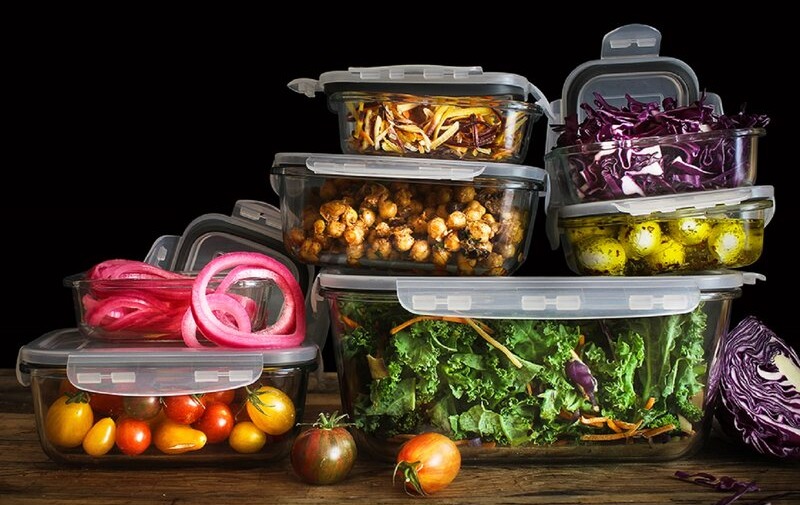 Plastic or glass food storage containers are an essential part of a well-organized kitchen, but most of us have more of these containers than we need. Why is it that plastic containers just seem to accumulate (and multiply) at the back of our cabinets and in drawers? To save space, the first step is to get rid of containers that don't have lids, and vice versa. Of the full sets you have left, pick out a few containers of various sizes. I've sometimes found that I have too many small containers and not enough bigger containers. Fill in the gaps and get rid of the rest. If you don't have the space to store containers and lids together, divide them into separate drawers. Avoid having a random mishmash of containers and lids together in one drawer.
21. Improvise a pantry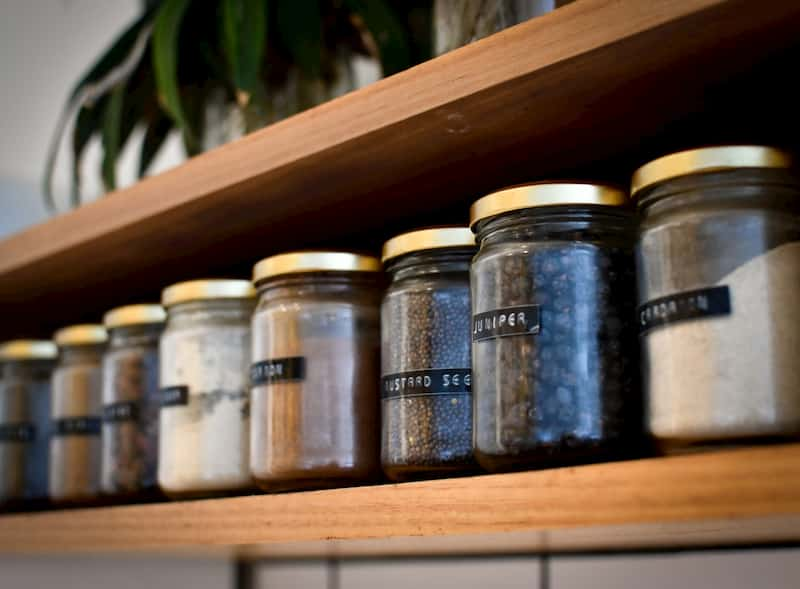 Storing food staples in an easily accessible spot is central to great kitchen design. Unfortunately, many small kitchens don't have a dedicated pantry space, let alone a walk-in pantry with neatly arranged shelves. That means you might have to make do with an improvised pantry in one of your cabinets or resort to wall storage. Add pull-out drawers or shelves to make accessing oils, grains, flour, sugar, and other items easier. A dedicated spice rack somewhere near your stove is a must-have. (I love to organize spice bottles in alphabetical order, but I'm kind of a cooking nerd!) If you simply need all your cabinet space to store your pots, pans, dishes, and glassware, then consider a standalone wheeled storage cart with attractive glass mason jars and acrylic bins for storing bulk staples. Try to keep canned goods, snack foods, and boxed items out of sight if possible, but try to ensure that everything you need is close at hand. A turntable organizer can help make staples and spices accessible inside a cabinet. If you buy certain shelf-stable items in bulk, you can store the overflow in another room, such as your basement or a hall closet.
22. Find skinny storage spaces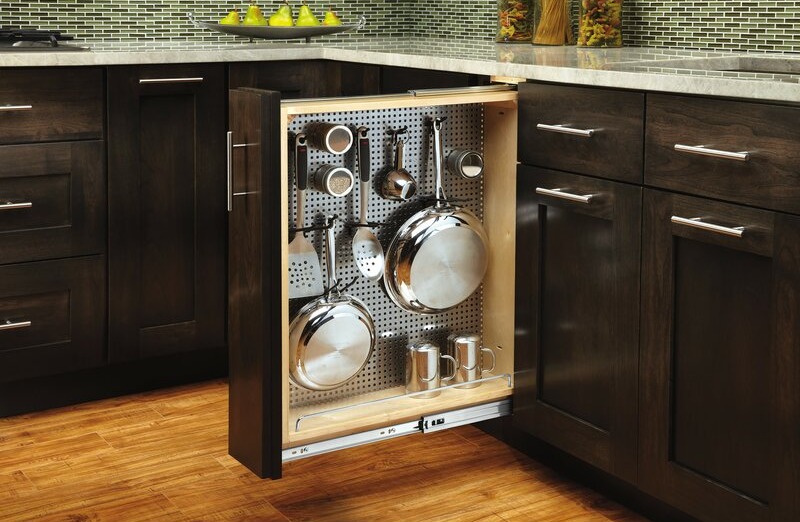 When it comes to storing canned goods and spices, or even pots and pans, tall and narrow slide-out storage can be a great organization solution. Use the tall, narrow space between your refrigerator and the wall, or design a pull-out spice rack into your lower cabinets.
23. Keep your junk drawer semi-organized with dividers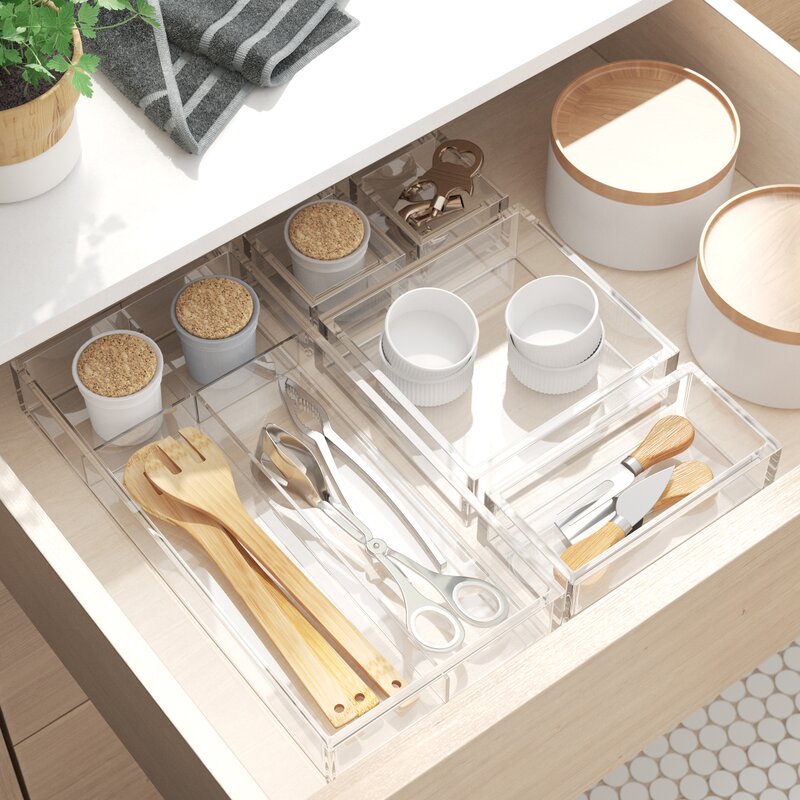 Photo: Wayfair
Unless you are able to organize like a boss, you will probably end up with a drawer that serves as a catch-all for random items. Rather than letting your junk drawer become a junkyard, use plastic dividers to group like items together. Rubber bands and twist ties can get their own little space. Pens, pencils, and sticky notes can go together. It's possible to maintain some semblance of order without going overboard on the organization. It will make finding small items easier and save you time.
24. Style your shelves like a pro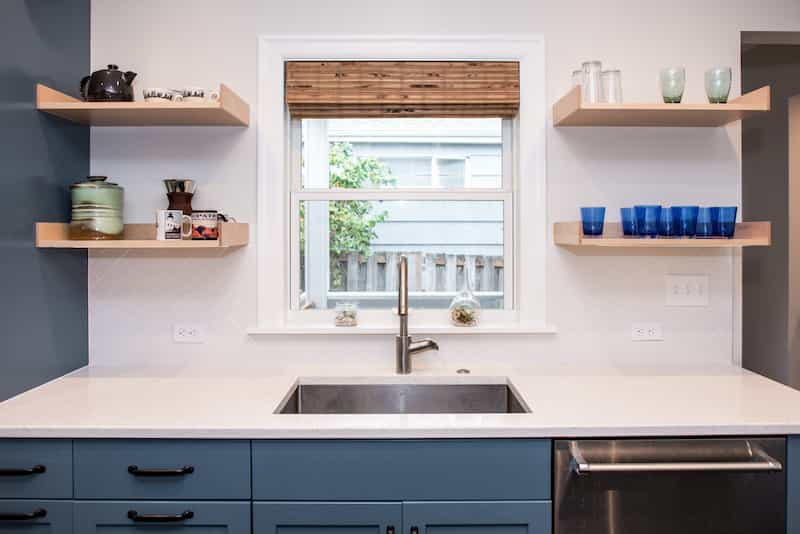 Professional interior designers and decorators know that grouping similar items together can turn a jumbled shelf into a stylish and attractive display. This same principle can be used in any room of the house, including the kitchen. If you have open storage or display shelves, organize things like your collection of antique ceramic mixing bowls or your hand-thrown pottery together. Get creative with your shelf displays. It can be fun!
25. Now stay organized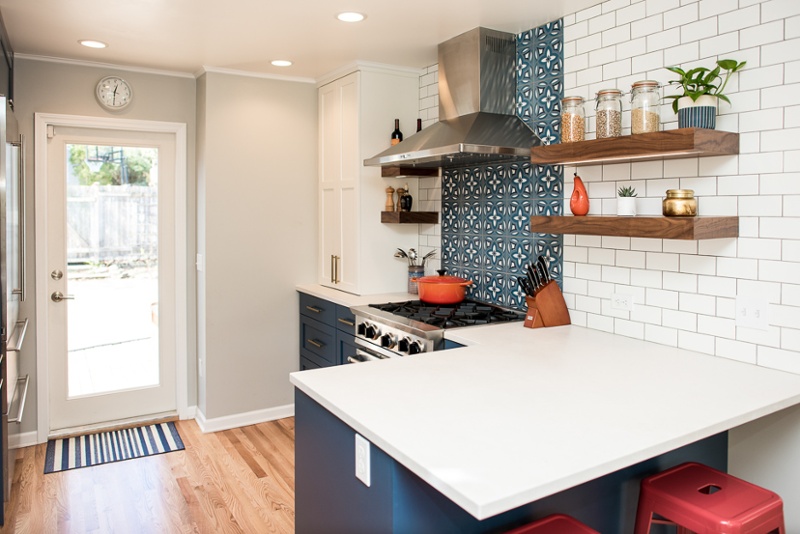 Now that you've thoroughly organized your small kitchen, make sure it stays that way. Most of us don't have time to organize and deep-clean everything on a weekly or monthly basis, but try to get in the habit of spotting and addressing areas of clutter before they get out of control. It's amazing how much easier it is to keep your kitchen tidy when you've done the initial work of space planning and organization. If you're still finding it hard to stay organized after following these tips, then it might be a sign that your kitchen needs a more structural redesign.
See also: The Ultimate Guide to Kitchen Remodeling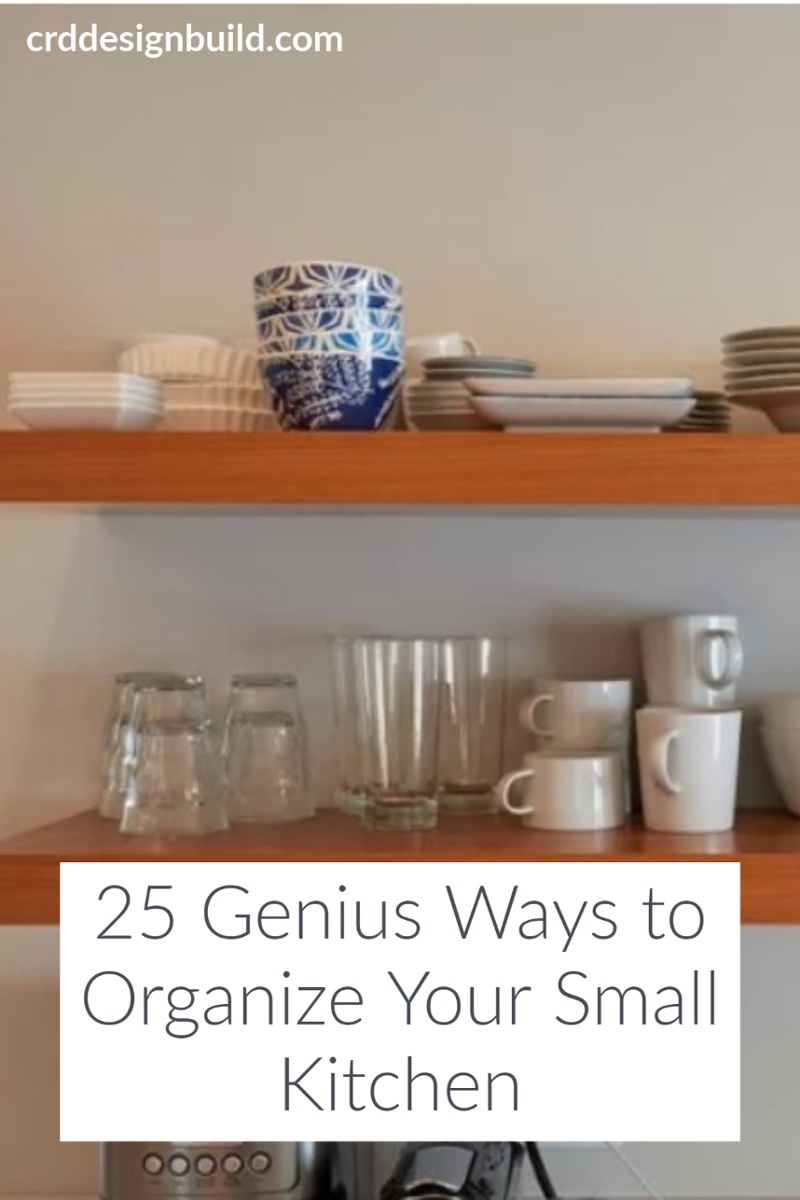 Guide to Hiring a Remodeler
This comprehensive guide walks you through all the steps of choosing who will design and build your project, vetting remodeling companies, and ensuring that you have the best experience.