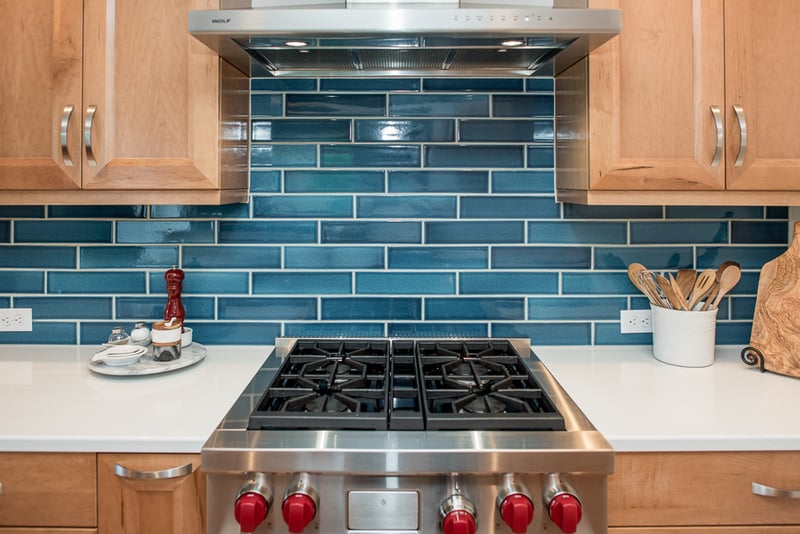 Many new home buyers are turning their stark white kitchen into a colorful landscape fit for a creative chef. Different colors set different moods and we all need one mood when it comes to cooking: inspired. We sat down with two of our designers to get the scoop on incorporating color into your kitchen and here's what they had to say...
1. How can you incorporate color into your kitchen?

"There are a lot of ways to incorporate color. The easiest way is with accessories like curtains, a tea pot, a dutch oven, little things that can be interchangeable. For a remodel, any surface can have color, and your options are wide open. You can also do Sherwin paint colors on your cabinets now. It's best to do either a pop of color or a time-period color theme like midcentury modern colors. Colorful islands are coming into trend. The island can act as an accent piece, and the rest of your kitchen can be a natural color. You can also do your backsplash or an accent wall behind your range with a picture frame tile. Another easy way, if you don't want to commit, is by painting drywall with a pop of color." –Megan
2. Should you stick with a single color paired with neutrals?

"If you are going with multiple colors, try to follow the color wheel with complementary colors (orange, yellows, and deep red) or direct opposites (orange and blue). Or stick with different hues of the same color. Take a color you love in its purest form and mute it a bit to make it more palatable."
–Lizzie
3. Should the colors in your kitchen match the connected rooms in open floor plans?

"My gut reaction is yes. They should at least coordinate, if not match. Do a variation of grays. Maybe you bring in navy blue and tan. Your kitchen doesn't necessarily have to match the other rooms exactly. Your kitchen can pop with color, and your dining room can be in muted tones of the same color." –Megan
4. What are safe colors?

"If you want a little bit of color, it's hard to go wrong with blue or green. Especially if they are soft muted tones. You wouldn't want to go for yellow or purple and pink. Purple and pink are not recommended because they can discolor your meat and make it look unappetizing." –Lizzie

"Organic tones are always safe. Especially if you can see the color outside your window. Safe really means familiarity, something you see often." –Megan
See also: 2020 Kitchen Design Trends That Will Last
5. What color do you suspect will be on trend for 2021?

"Colors with a lot of depth, like deep blue and jade green. Colors that circle back to the 1960s and '70s. Midcentury modern colors, like warm yellows, tans, and oranges." –Lizzie

"Moss green, more off whites than bright whites. Softer looks that can be more forgiving. It's more of a coordinating color to an accent wall." –Megan
See also: 2020 Colors of the Year Roundup
How trendy should you get?
Trying to transition from a neutral kitchen to one that's brimming with color can be intimidating to say the least. One thing to keep in mind is how long your color selection is likely to remain on trend. We usually encourage our clients to go with colors they love and ignore the latest trends. Nevertheless, a kitchen can be a great space to experiment with trendy colors, as long as you apply them to the right surfaces. Painted accent walls and accessories can be the perfect vehicles for a trendy color splash. However, it might be wise to avoid such colors for items that are more difficult and expensive to replace, such as tile, appliances, flooring, and, to some extent, cabinetry.
See also: Timeless Kitchen Design
Ready for a redesign?
If you can't stand spending time in your kitchen, it may be time for a redesign. Our experienced team of interior designers can take your lackluster kitchen and transition it into a space you'll love. Contact us to start the remodeling process. We love taking bland, boring, or outdated kitchens and redesigning them to perfectly match the needs and aesthetics of our clients.
Guide to Hiring a Remodeler
This comprehensive guide walks you through all the steps of choosing who will design and build your project, vetting remodeling companies, and ensuring that you have the best experience.