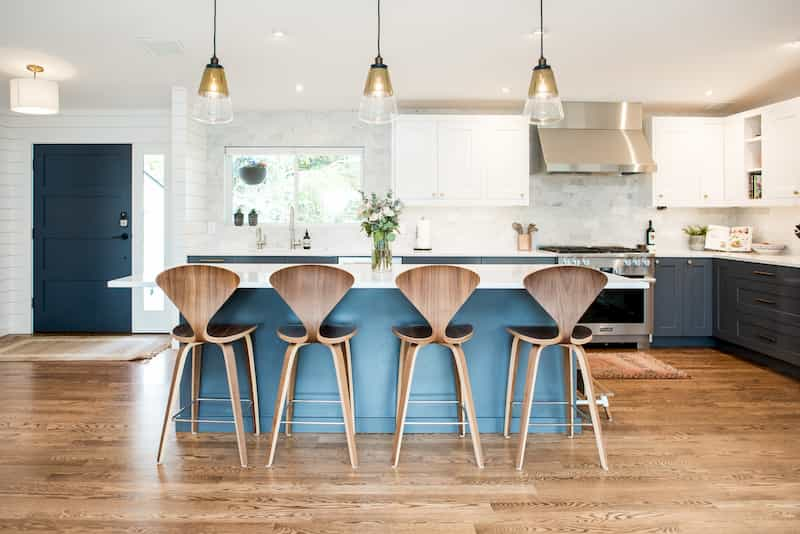 Okay, so there are about a million things to consider when designing the perfect kitchen, but there's still one consideration that tops them all. If you want to know how professional interior designers go about designing a great kitchen, this is the one thing they keep top of mind at all times.
The number one thing to consider when redesigning your kitchen is its function. In other words, how will you use the space? Don't get me wrong; aesthetics are important, but it's the function of your kitchen that should be your primary focus, helping to guide every design decision you make. Read on for my tips on how to start designing your dream kitchen like a pro, by always keeping function at the forefront of your thinking.
Function first, before aesthetics
Before you even start considering things like colors and materials, think about how you will use your kitchen. Nothing could be more critical to your enjoyment of the space than its layout, storage, lighting, and other functional considerations. It's easy to look through images of other people's kitchens that have a certain look you want to incorporate, which is all well and good, but try to avoid forcing someone else's vision onto your own space.
Don't get led astray by what you see on TV
A large "modern farmhouse" kitchen may look great on HGTV, but it might be totally inappropriate for your small, Seattle craftsman home. If you go too far chasing a certain aesthetic, it can lead you to compromise on the things that matter most: the usability and functionality of the space.
Space planning
When designing your perfect kitchen, it's important to take a reality check early on when it comes to space. Here are a few questions to ask upfront:
How many square feet do you have to work with?
What is the shape?
What traffic patterns are possible or most desirable?
Is there an exterior door?
Are there stairs involved?
Is adding on a possibility?
Would you consider relocating the kitchen to a different area of your home?
Where will the dining area be, and how is it connected to the kitchen?
Are you willing to remove walls?
Where are the windows currently located? Would you consider moving them or adding windows?
Once you determine exactly what type of space you're working with, it will be easier to start planning a functional layout. Larger, more open footprints allow you to choose from a wide variety of layouts. On the other hand, if you're working with a tight, galley kitchen and can't expand it, your layout choices will be much more limited.
How do you want to use your kitchen?
A huge part of designing a functional kitchen is considering how you will actually use the space. Don't just assume that functional layouts are one-size-fits-all. Sure, you can simply follow the latest kitchen design trends and probably come up with a reasonably functional space, but it's worth taking the time to consider the unique needs of yourself and your family. Start by asking yourself questions like these?
What do you love about your current kitchen?
What do you hate about it?
How many people will be in your kitchen at once?
Do you or any of your guests have mobility limitations to consider?
How often does your family eat at home?
Does the main chef usually cook alone?
What types of cuisine do you normally like to cook?
How often do you entertain?
Do you like to entertain formally or informally?
How many guests do you normally have over?
How connected would you like your kitchen to be to the outdoors?
Do you need additional space for activities other than cooking, such as computer work, paying bills, homework, folding laundry, watching TV, crafts, etc.?
How many electrical outlets do you need for small appliances (toaster, coffee maker, blender, mixer, etc.)?
What about outlets for electronics, such as cell phone chargers, a TV, etc.?
What are your lighting requirements?
Is the primary cook right-handed or left-handed? How tall?
What is the primary cook's style: gourmet; family; quick and simple; takeout; baking?
Do you need an additional sink?
Do you want room to eat in the kitchen?
Do you want an island with room for dining on one side or one end?
Kitchen storage is critical
So you've considered the space you have to work with and the unique ways you and your family use your kitchen. Now it's time to plan where you're going to put all your stuff. Carefully designed cabinets, shelves, pantries, and closets can make or break a kitchen design. And the important thing to remember is that you are designing for you! Most people have a basic list of items they keep in the kitchen, but nobody has quite the same combination of storage needs as you do. Here are some questions to ask yourself:
What type of storage space do you need for things like dry goods, paper products, pet food, dishes, flatware, cookware, bakeware, glassware, china, table linens, small appliances, and bottled or canned beverages?
How much refrigerator or freezer space do you require?
Do you grocery shop daily, weekly, or monthly?
Would you like to be able to shop differently if your kitchen was different? For instance, would you buy bulk foods if you had a dedicated storage area?
What items currently get left out on the counter or the table that you would like to have a home for?
Do you need dedicated storage space for kids' stuff?
Are there any items you use infrequently that you want to store out of sight?
Where do you prefer to put your trash, recycling, and compost?
Do you like to have commonly used items close at hand on the counter, or do you prefer an uncluttered cooking space?
Do you prefer a standalone pantry area, or would you rather keep dry goods and other foods in your kitchen cabinets?
Good kitchen lighting is important
The lighting plan often ends up being an afterthought when it comes to kitchen design. And that's too bad. You can have a carefully planned space with excellent storage, but if you can't see what you're doing, your kitchen will fail the functionality test.
Overhead lighting is not enough in the kitchen
Properly lighting a kitchen is a little more complicated than some other parts of your home, where simple overhead lighting will suffice. After all, if you are standing at the counter, cutting an onion, you don't want your head to cast a shadow on your work! You need task lighting, such as under-cabinet lights, and you might also want mood lighting. Here are a few questions to consider when starting to plan your kitchen lighting:
What are the sources of natural light in the room? Can they be added to or expanded?
Is there a second story over the kitchen, or could you incorporate a traditional or tubular skylight for added daylighting?
How will you provide task lighting if you have areas of countertop without any upper cabinets?
Do you have space in your kitchen ceiling for can lights?
Do you prefer warmer or cooler light tones in the kitchen?
Are you able to find artificial light sources with excellent color rendering so that food appears appetizing?
Would you like to make a statement with pendants or other special lighting features over an island or bar top?
Will any areas of your kitchen be used for reading or homework, and will they need special task lighting?
Would you like to incorporate dimmable lighting, in-cabinet lighting, or other special lighting features to set the mood in the evening or while entertaining?
The planning process continues
At this point, you've asked yourself lots of pointed questions about how you want your kitchen to function: what's the space, what type of layout will work, where you're going to store everything, and how you're going to illuminate your cooking space. Notice, you haven't once thought about whether you prefer marble countertops or quartz, and you haven't held up a single paint swatch. Congratulations, you're thinking like a designer!
Now that you've nailed down the function, the fun begins!
Of course, we designers love choosing colors and surfaces, too. We just think of these aesthetic choices as the final embellishment, after putting careful thought into the functionality of the space.
Now that you've made the tough choices about function, you'll be in a much better position to judge which aspects of the trendy kitchens you see in the media will work in your particular home and for your unique needs. You can confidently make your aesthetic selections knowing that you'll be building on a solid foundation of functional design choices. Even if you plan to work with a design professional, working through these functional considerations will make the whole design process smoother and more successful.
Best of luck with your kitchen remodel . . . and happy designing!
Ready to remodel?
There's more to creating a kitchen that you will love for years to come than aesthetics. Functional design plays a huge role in your long-term satisfaction. If you are contemplating a Seattle kitchen remodel, please feel free to reach out. My interior designer colleagues and I would be happy to answer your questions and share our ideas.
Guide to Hiring a Remodeler
This comprehensive guide walks you through all the steps of choosing who will design and build your project, vetting remodeling companies, and ensuring that you have the best experience.