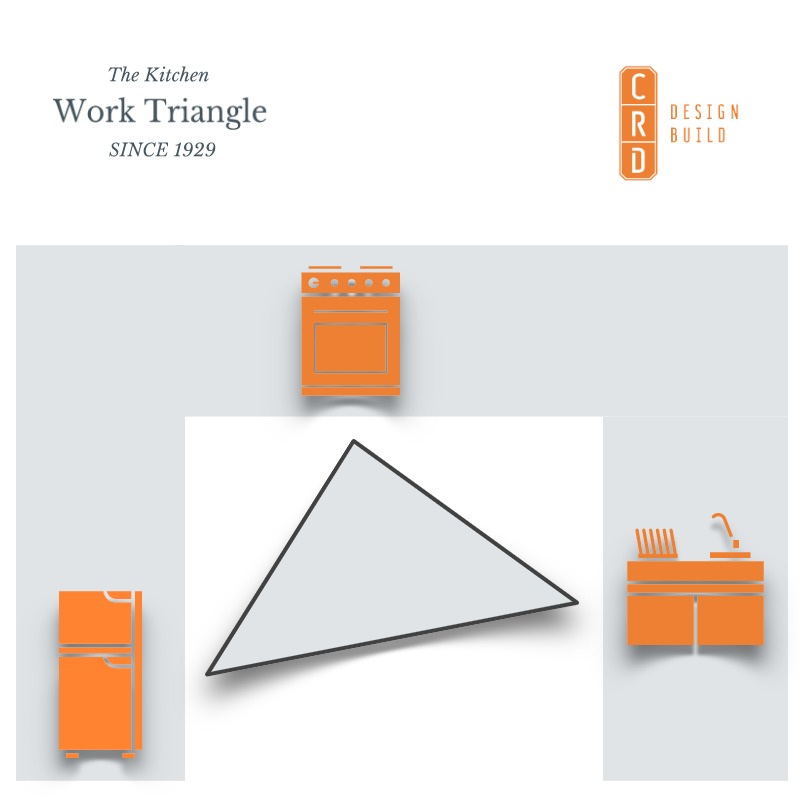 What is the kitchen work triangle?
The kitchen work triangle is a 90-year-old concept that dictates the placement of the sink, cooktop, and refrigerator. According to the theory, when these three elements are close (but not too close) together, the kitchen will be easy to use, and the cook won't have to take a lot of wasted steps. It's about as well-known and time-tested an interior design concept as they come. But is the kitchen work triangle still relevant today?
How to design the perfect kitchen work triangle
Here are the specific rules that dictate a proper work triangle.
The three elements (cooktop, sink, and refrigerator) must be laid out in a triangle pattern, between 4 feet and 9 feet apart.
The total length of all three sides of this imaginary triangle must be no less than 13 feet but no more than 26 feet.
Cabinets, islands, tables, and other partial-height obstacles must not stick into the triangle more than 12 inches.
Full-height obstacles, such as floor-to-ceiling cabinets, should not intrude into the triangle at all.
You should avoid traffic flow through the triangle.
Many different kitchen layouts fit the work triangle concept
While the work triangle's most obvious layout is the traditional U-shaped kitchen, many other layouts can work. For instance, a large, open-concept kitchen with an island can still retain the core triangular placement of the three main elements. While a galley kitchen that serves as a thoroughfare in your home violates the traffic-flow rule, a galley that is closed off on one end can be a perfect example of the work triangle. An L-shaped kitchen can nicely accommodate the triangle concept as well.
See also: The One Thing You Need to Know About Great Kitchen Design
The benefits of the kitchen work triangle
Even though the kitchen work triangle concept is now decades old, its appeal lives on. For a cook, having the three most important kitchen elements no more than a few steps away is as convenient as it ever was. The layout this concept dictates tends to lead to proper counter space surrounding the sink and major appliances. If you've ever worked in a kitchen where the refrigerator is placed right up against the sink, you will know how sorely that counter space separating the two is needed. From a safety perspective, it's important not to have cabinets or islands blocking the cook's path from one area to another. Minimizing foot traffic through the cook's working space also greatly increases productivity and convenience.
See also: 25 Genius Ways to Organize Your Small Kitchen
The drawbacks of the work triangle
The kitchen work triangle idea was originally called "circular routing" and was rolled out at a women's exposition in 1929. The concept dovetailed nicely with the so called scientific management principles en vogue at the time, which promoted labor efficiency and productivity but were later criticized for treating humans like machines. The Illinois School of Architecture further developed the concept in the 1940s, bringing it to more or less its current form.
The dated assumptions baked into the work triangle theory can be problematic. Back in the day, kitchens were mostly a utilitarian space for the "housewife" to prepare meals. To this day, keeping the three main kitchen elements close together is most beneficial to a single cook using the space. If you have multiple family members cooking at once, the work triangle may not work as well for you.
Habits and needs have changed in modern times. There are often two cooks using the kitchen at once, and the kitchen is seen as more of an informal gathering space for family and friends. What's more, kitchens have grown substantially in size since the postwar era, and a long list of appliances is the norm. We ask a lot more of our kitchens today than we ever did when the triangle concept was invented. Some designers have argued that it's time to scrap the kitchen work triangle concept altogether.
Is the kitchen work triangle concept completely outdated?
Not necessarily. While the criticisms of the work triangle can certainly be valid, I don't think it's time to toss the concept down the garbage disposal.
I like to treat the work triangle approach as a starting place. When it comes to design, rules are meant to be broken. But there should be a reason to do so.
Here at CRD, we take great care to interview our clients about their likes, dislikes, and unique needs. We want to know exactly how they're using their current kitchen, what they like about it, what they don't like, how they want it to function after the redesign.
During the design process, we often discover things about our clients' needs that may indeed lead us to design a space that doesn't fit with the traditional work triangle principle. For instance, if we find that a family is experiencing traffic jams in the kitchen when kids run to the refrigerator to grab snacks during meal prep time, we may design the new space with the refrigerator slightly farther from the sink and cooktop than the triangle rules dictate. Or, for those, who haven't fired up their stove in weeks, we design a kitchen that emphasizes access to the microwave.
See also: 7 Signs It's Time to Remodel Your Kitchen
Kitchen work zones
One more modern approach that layers nicely onto the kitchen work triangle concept is work zones. Instead of focusing on the distance between appliances, the zone theory asks us to divide up the kitchen layout by function, and each of these functional zones has everything you need for that series of tasks. Here is how it's commonly divided:
Food storage (refrigerator, pantry)
Food prep (cooktop, oven, microwave, small appliances, cutting boards, mixing bowls, spices, etc,)
Pots & pans
Cleaning & waste (dishwasher, sink, cleaning supplies, garbage and compost bins)
Plates & cutlery (glasses, cutlery, plates, bowls, coffee maker, electric tea kettle)
By placing the zones in the order listed above, you can almost form an assembly line of meal production. Food staples get carried to the prep area for cooking. Pots and pans are close at hand. And the dishwasher is right next to the silverware and plate storage.
Dividing your kitchen into zones can be an excellent approach, and it usually can be layered onto the work triangle guidelines.
One drawback is that for larger kitchens, each of these zones ends up being so big that it pulls the three major kitchen elements (cooktop, refrigerator, sink) too far apart to be convenient. For instance, to place your refrigerator and large walk-in pantry right next to each other, you might need to put both far away from the sink, creating the annoying need to walk five paces from the fridge to the sink, just to grab some produce and wash it.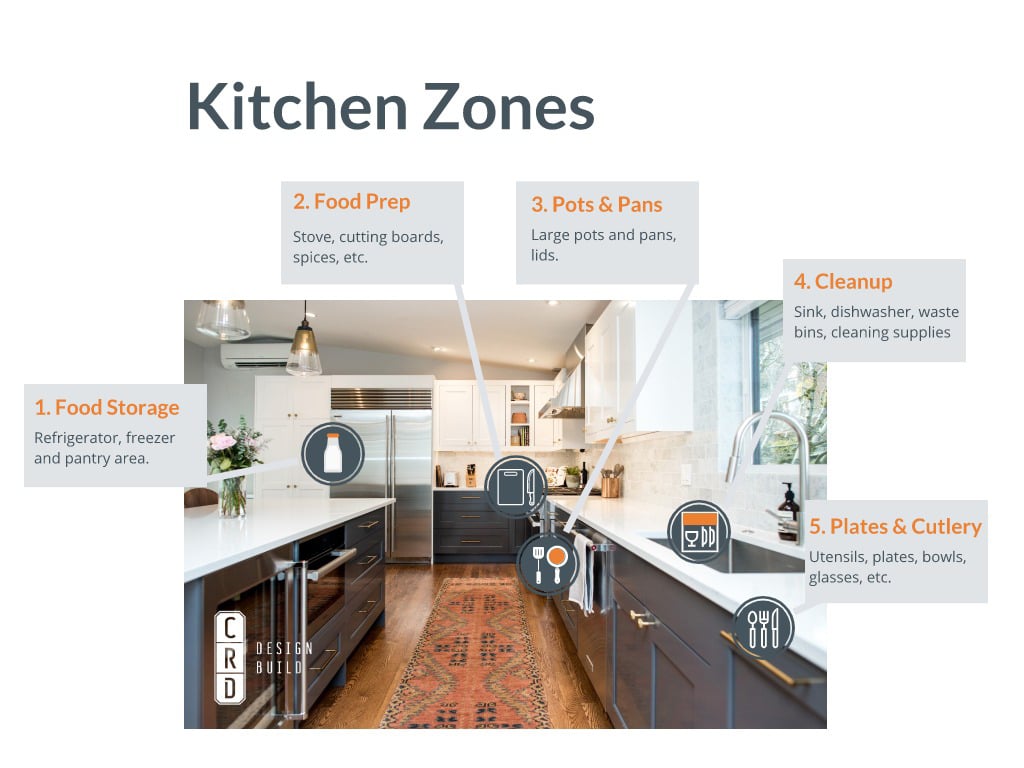 Other kitchen zones
Some people have taken the zone concept past the five core work zones mentioned above. Here are just a few of the countless zones you might encounter on Pinterest or personal organization blogs:
Everyday dishware and glassware zone
Baking zone (measuring cups, flour, sugar, mixing bowls, baking sheets, etc.)
Entertaining zone (bar ware, liquor, mixers, serving trays, napkins, coasters, etc.)
Holiday zone (decorations, vases, candles, fine silver and crystal, etc.)
Small appliance zone (food processor, juicer, griddle, slow cooker, pressure cooker, blender, etc.)
Hot beverage zone (coffee, tea, cups, saucers, coffee grinder, sugar, etc.)
Medication zone (daily medications, vitamins, first-aid)
Homework zone (desktop surface, laptop, files, pens, etc.)
Family hub zone (Mail sorting and drop zone, takeout menus, calendar, etc.)
If your kitchen is large enough to accommodate zones such as these, and you are the type who loves organization, I would say go for it! But be sure they don't impede the main cooking function of your kitchen.
CRD's hybrid approach
The kitchen work triangle is still valid, but we always layer on the zones concept. At CRD, we approach kitchen design from these two perspectives: space planning for the triangle and locating supporting items nearby. For the triangle, you don't want the major path of traffic to cross in front of the refrigerator causing an annoying convergence zone of people and door swings. Nor do you want appliances directly opposite each other. For instance, the range should not be right across from sink. There is nothing worse than bending over to open to oven door and bumping into someone washing dishes.
For zones, we strive to provide a custom plan for each cabinet in the kitchen. Our programming process (an architectural term for learning everything we can about our clients' unique needs) allows us to create a customized cabinet-by-cabinet plan for each kitchen we design. While each plan reflects the owner's unique needs, in general, we locate the dishes and glassware near the sink and dishwasher. We design storage space for table linens near the table. Spices and oils are near the range. Food storage, such as zipper bags and reusable containers are near the sink.
Again, these rules of thumb are a great start, but every family is unique. Your kitchen should make perfect sense to you, the user, even if it would be totally backwards for another person.
Ready to remodel?
There's more to creating a kitchen that you will love for years to come than understanding the work triangle and zones. A well-thought-out functional design plays a huge role in your long-term satisfaction, as does aesthetics. If you are contemplating a Seattle kitchen remodel, please feel free to reach out. My interior designer colleagues and I would be happy to answer your questions and share our ideas.
Guide to Hiring a Remodeler
This comprehensive guide walks you through all the steps of choosing who will design and build your project, vetting remodeling companies, and ensuring that you have the best experience.