Although Seattle is not known for its bright and sunny days, we still get an abundant amount of sunlight throughout the year - even on rainy days! Lighting, whether natural or artificial is a crucial step in the design process because we want to ensure that your new spaces are fully lit and functional for you to use every day, no matter if it is sunny outside or not.
Today I am going to go over the numerous advantages of incorporating natural light into your home that is beneficial for your mental and physical health, as well as for creating a warm and inviting home.
Why Should You Prioritize Natural Light
Stop and think about the last time you stepped into a window-filled room compared to when you were in a basement with small windows or an office building that is lit with fluorescent lighting. Many will say that they feel better in naturally lit rooms because it gives them a sense of comfort, whereas dark spaces that are artificially lit can make you feel tired and unmotivated, and tend to induce headaches especially when you are surrounded by screens like many of us are each day.
Physical Health Benefits
It is important that we prioritize the feeling of being in natural daylight when we can since we live in Seattle which is a city that does not see sunshine all the time. One of the numerous benefits of natural light is the effect it has on our health. Being exposed to natural light throughout our day can help our vitamin D levels and more importantly our circadian rhythms (sleep-wake cycles). Keeping a good rhythm plays a key role in our blood pressure and productivity.
Mental Health Benefits
According to TIME magazine's Guide to Happiness, people have a boost in their mood and therefore feel their best when they have exposure to the sun. If a person has very little exposure to natural light, they are more prone to depression or seasonal affective disorder. We keep this in mind while designing for our clients because we always want to prioritize the mental and physical health of those who will be in the spaces we create.
Natural Light Saves Money
It's no secret that using natural light instead of artificial lighting will save money on your electricity bill. Even with today's new energy-saving technology, there is still a cost to using artificial lighting both in dollar amount and energy consumption. By incorporating as much natural light into your remodel as you can you might see a decrease in your future energy bills if you rely on natural lighting more than turning on your artificial lights.
Another benefit of sunlight is the warmth it provides. During summer months you can keep your house warm by letting sunlight in some of your windows to heat your home. Or, if you want to ensure that your house does not get too warm in summer we can ensure that a majority of your windows are placed in the best location for your house orientation.
Learn more about windows in our Window Replacement 101 blog post.
Designing For Natural Light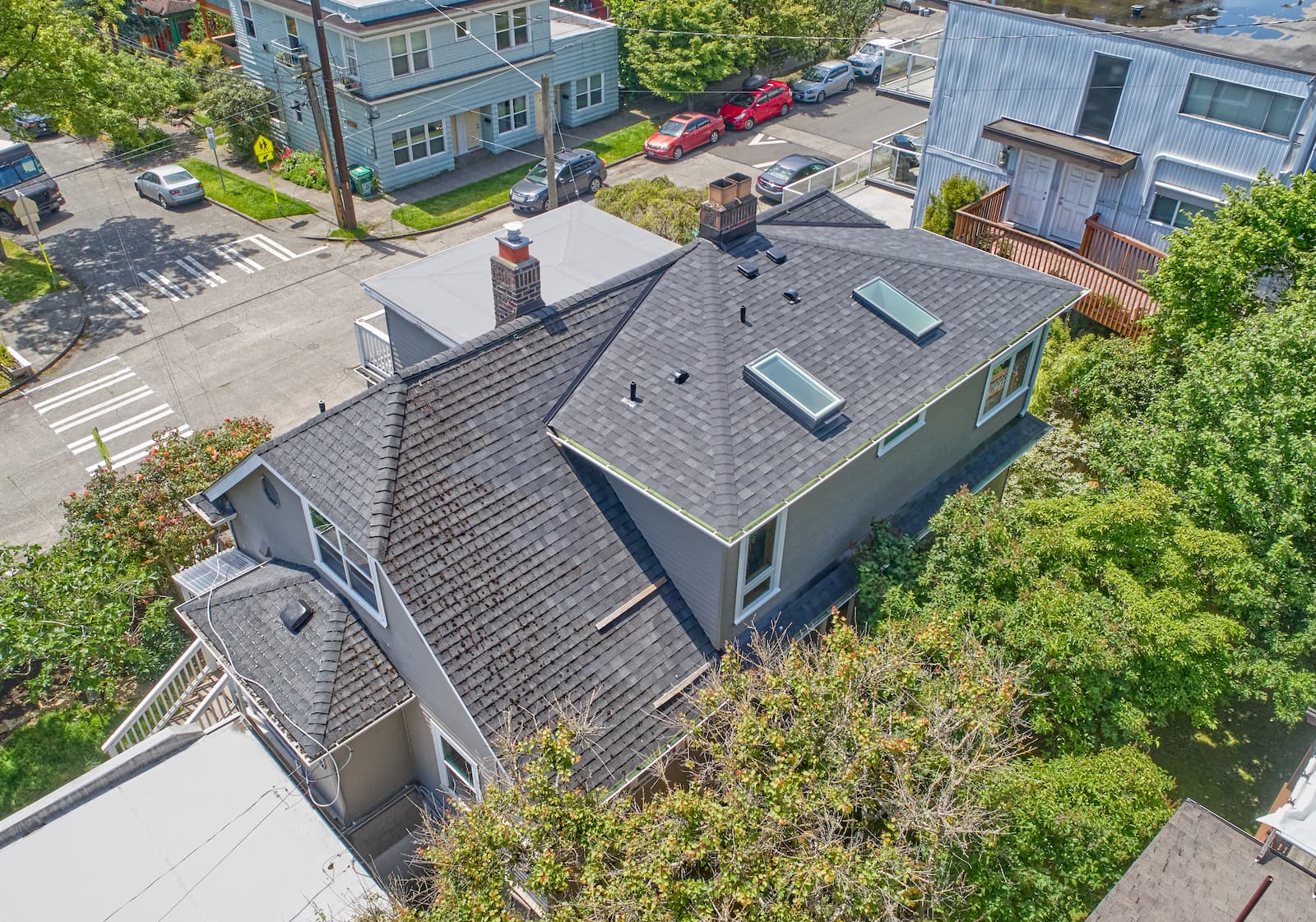 Exposure to natural light is crucial in the design of spaces where you spend the majority of your time such as the living room, a home office, and bedrooms. The most obvious way to incorporate daylighting into your space is through the installation of large windows. This option is not always possible, especially in some Seattle neighborhoods where your house is very close to your neighbors.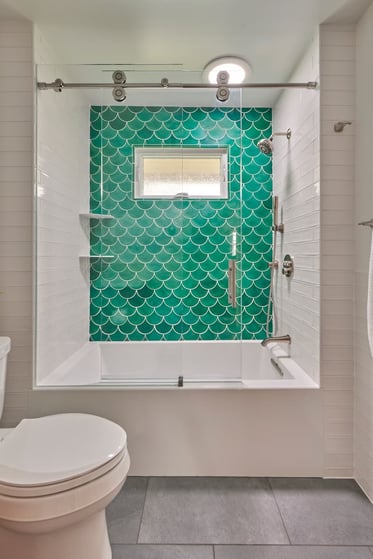 Natural Light from Above
Skylights or solar tubes are a great way to get natural lighting in a space where you are very close to your neighbor's home. Skylights or a solar tube are a perfect option for a bathroom. Although you always want at least a small window in your bathroom, adding additional natural lighting from above is a great way to have the best lighting for your morning routine- especially for those applying makeup.
A solar tube can also act as a night light. A solar tube is essentially a round skylight that captures daylight and is perfect for lighting dark spaces, like the small bathroom pictured to the left.
Interior Design for Your Lighting Needs
When you enter a room that is flooded with natural lighting, you instantly feel as if the space is brighter and feels more open compared to a room that is lit by artificial lighting. The natural light will play an optical illusion that makes you feel as if your spaces are larger because of the natural brightness which is one of the many benefits of natural light.
Depending on the direction your home faces, we will use windows in a way that makes the most sense for your home. For example, if your home has an amazing view on the west side but you do not want the heat that comes with windows facing that way in summer, we can use different glass than a standard window to help prevent those spaces from overheating.
Watch Plants & Pets Thrive in Natural Light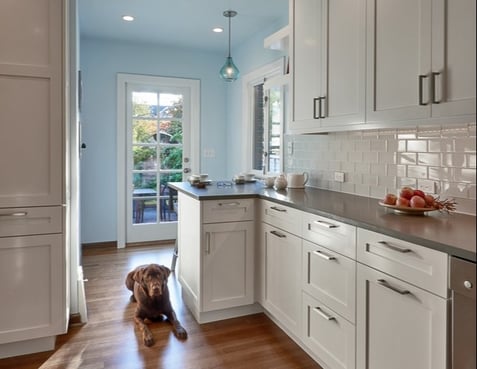 Direct sunlight is great for your house plants and pets too! Almost all plants need sunlight to survive. Most of the time the more exposure to the sun from inside is the better, especially in Seattle since we do not have an abundance of sunlight for our plants.
A majority of cats and dogs love to lay on a warm sun filled floor. The warmth provides them comfort and a nice place to take a nap. A sunspot on a floor is great for them during the fall and winter months when the weather is cold which causes any hard surface flooring such as hardwood, LVT, and tile to be cold to lay on. Your furry friends will appreciate you opening the blinds to provide them with a warm spot!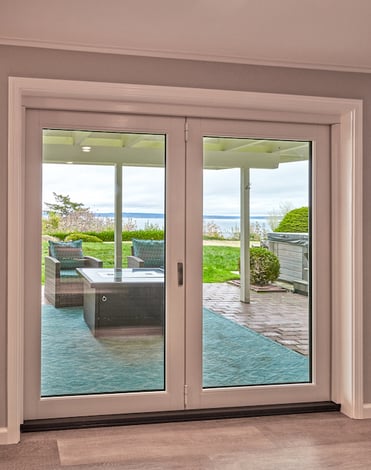 Enjoy Nature Views
Whether you have a view of the Puget Sound or just a couple of beautiful trees, it is important to take in any view you have close to your home. Connect with the environment around you from inside the comfort of your home by setting up a seating area by a large window to enjoy your view, no matter how grand or small it might be.
Another way to connect with the outside environment is through glass doors. While most people will think of the typical sliding glass door, there are multiple options that look more aesthetically pleasing and can play a key role of adding extra brightness to your space.
Natural Light is a Very Important Factor in Your Home
The most important factor in lighting your home is making sure you feel the lighting suits your needs best and will boost your mood. Whether that means adding in as much natural light as possible or getting strategic in what areas you want more natural light than others, we can help you find the perfect balance for your home. Get in touch today to discover all the ways CRD can make your home feel brighter, save money on your energy bill, and create a space where you feel your best physically and mentally.
Guide to Hiring a Remodeler
This comprehensive guide walks you through all the steps of choosing who will design and build your project, vetting remodeling companies, and ensuring that you have the best experience.