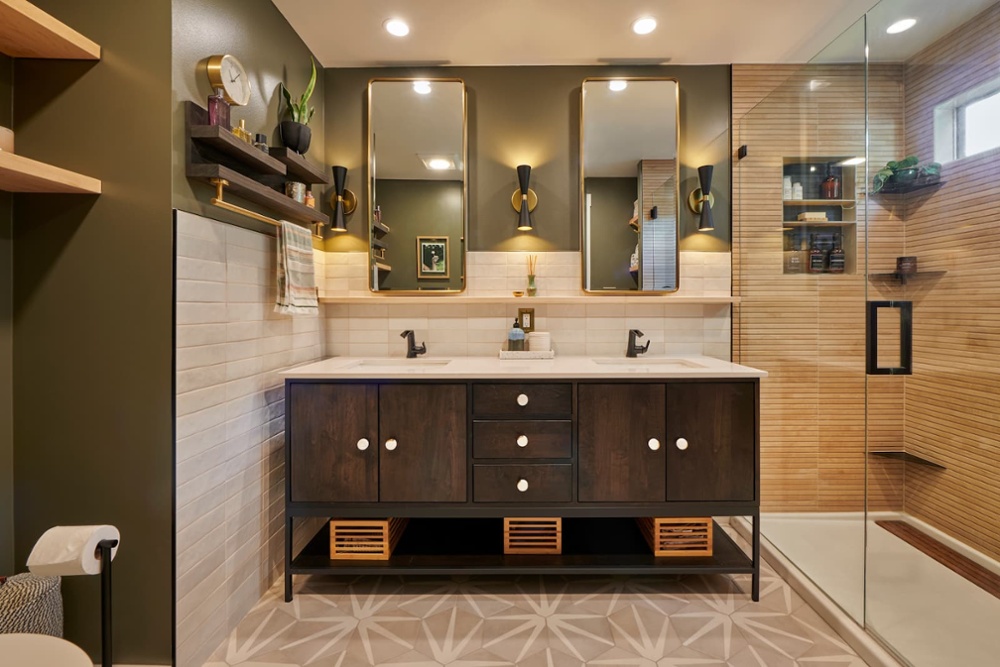 Most two to three-bedroom houses in Seattle only have one bathroom. Sharing those, often small spaces, with your partner or family can be so difficult. The struggle of sharing those spaces doesn't just come from scheduling your showers and fighting for the toilet but also from a complete lack of storage.
Many Seattle homes were built in the early 1900s and have pedestal sinks with zero storage options. Even a standard one-sink vanity will usually only have a small cabinet and three drawers. If you are sharing your single bathroom with multiple people, we're here to help you find the best storage solutions to have a clutter-free space! Let's start with the most obvious solutions and work our way to the more creative options.
Vanity Storage
Bathroom vanities are an important part of bathroom storage. What you can often find in vanity drawers and cabinets are men's toiletries, toothbrushes, makeup, and backup toilet paper. The under-sink cabinet can be perfect for holding a small garbage can if you want to keep that hidden.
To maximize vanity storage add built-in drawer organizers and opt for a U-shaped top drawer that gives you extra space for toiletries and wraps around the undercarriage of the sink. With small bathrooms, we rely heavily on the space under our sinks. If you want a clean and tidy look in your small space then you'll want to keep your counter space clear of any toiletries and makeup. If your vanity doesn't sit right next to the toilet then you might consider asking your bathroom designer to find you a vanity unit with side storage! However, this should be avoided if the toilet is next to the side of the vanity. you don't want any particles from a toilet flush to land on what is stored on open shelves.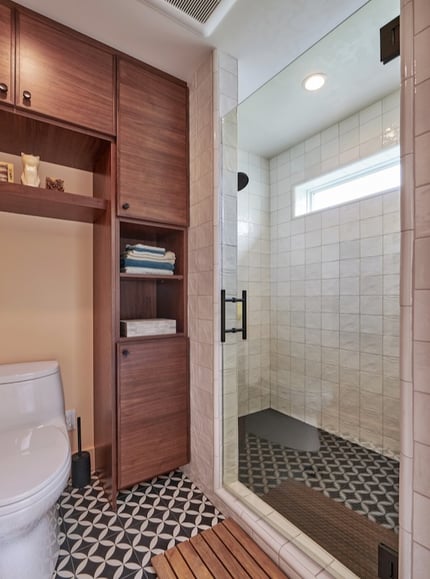 Custom Built-in Cabinets
This is where working with an interior designer is really going to benefit you. Anyone can go and pick out a bathroom vanity but it takes some expert tips to understand how to add wall-mounted custom cabinets to your bathroom. When you need shelf space for more than one person, but you don't have extra bathrooms then this can be the perfect storage opportunity. At the same time, this requires a decent sized bathroom because too many cabinets covering the bathroom walls can make the room feel smaller. Remember a cramped space is not a practical space so if your bathroom is on the smaller end then skip this step.
If you haven't moved on to the next section then you must have more space than the average bathroom. A medium to large bathroom would be perfect for some floor-to-ceiling cabinetry that is attached to either the right or left side of the vanity unit. Some other creative spaces to add storage cabinets to would be a slim cabinet between the toilet and shower like the bathroom pictured above.
Within these bathroom cabinets, you should seriously consider integrating pull-out storage solutions. This could be pull-out shelves or a slim pull-out cabinet like what people install for kitchen spices. In the bathroom, these pull-out doors can hold hair products and skincare.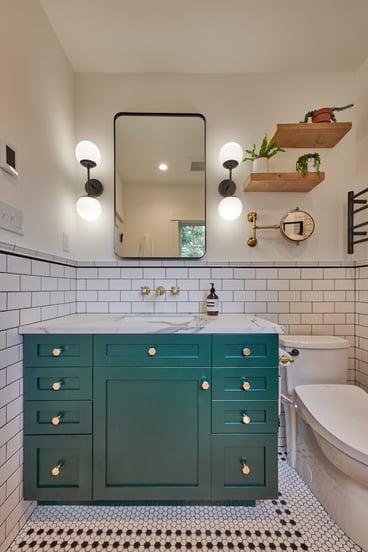 Open Shelving
If you have a small family and can integrate the first three options into your bathroom then you're sure to have ample storage in a highly functional space. Open shelving fits best on the wall right above your toilet or in the corner of a custom-tiled shower. Open shelving however is mostly for décor. They can really tie in your bathroom design but should only hold decorative objects or matching towel sets.
To make space above the toilet for open shelving we suggest incorporating a 3-4 foot alcove in your bathroom layout to create a space in the wall for your shelving and toilet to sit in.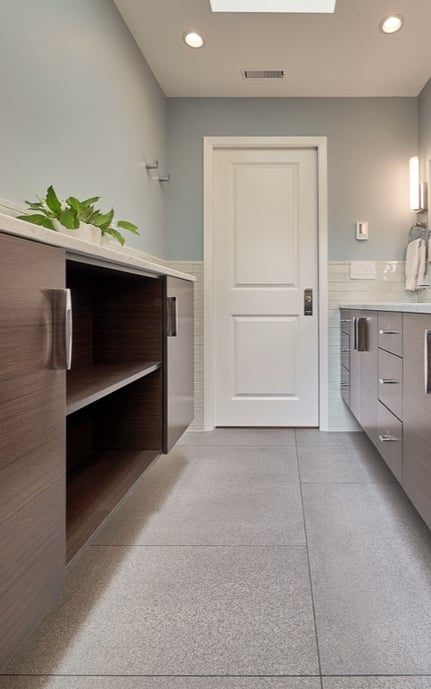 Enclosed Shelving
Here is where we get creative. Enclosed shelving can be on a side of your vanity, above a cabinet, or on a pony wall or the wall that encloses your walk-in shower. If you have a glass door that swings open for your shower enclosure it could be connected to a tiled wall. The other side of that tiled wall could have inset shelving.
Pony walls can be found between a toilet and a freestanding bath. Integrating shelves in your pony wall can be the perfect spot to grab fresh towels after a bath or hold battery-powered candles for ambiance.

Wall Niche
Typically found in a tiled shower, under the shower head, a wall niche can give you easy access to all of your shower toiletries. A nice wall niche can also give your shower a contemporary look. This design element has gained so much popularity in the last couple of years. If you have a small single-person shower stall then a wall niche may be your only option for your bathing-related toiletries.
If this is a family bathroom we are talking about then try adding a wide niche or a few small ones to make space for more bottles and bars. This kind of storage solution is found in many wet rooms as well since the walls tend to be covered in tile.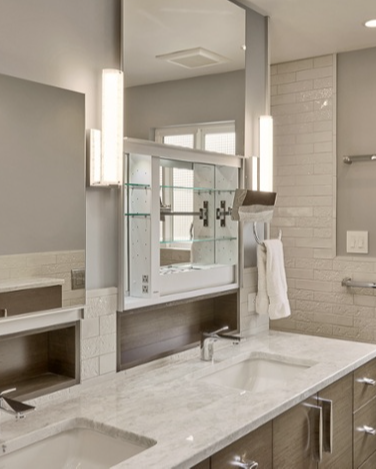 Behind the Mirror
Twin medicine cabinet mirrors in en suites are perfect storage options for couples. For a small bathroom design like a half bath or powder bath, just a single hidden shelf mirror can do wonders for added storage in a compact space.
With a medicine cabinet, the schematic design of your new bathroom layout won't need to work around this since they are oftentimes set in the wall and the mirror itself can open vertically (like the one pictured to the right) or outward to the left or right sides. This is one of those design elements that has been around for a long time and will continue to be a part of bathroom designs for years to come.
Pack it Away
When life is chaotic, it's so important to feel at peace in your home. I think we can all agree that it's easiest to do that when our spaces are clutter-free. We understand that keeping tidy can feel impossible at times which is why having the proper storage in your home is so important! It makes cleaning up that much easier. Lets chat soon so we can figure out how to get the bathroom storage you and your family deserve.
Guide to Hiring a Remodeler
This comprehensive guide walks you through all the steps of choosing who will design and build your project, vetting remodeling companies, and ensuring that you have the best experience.