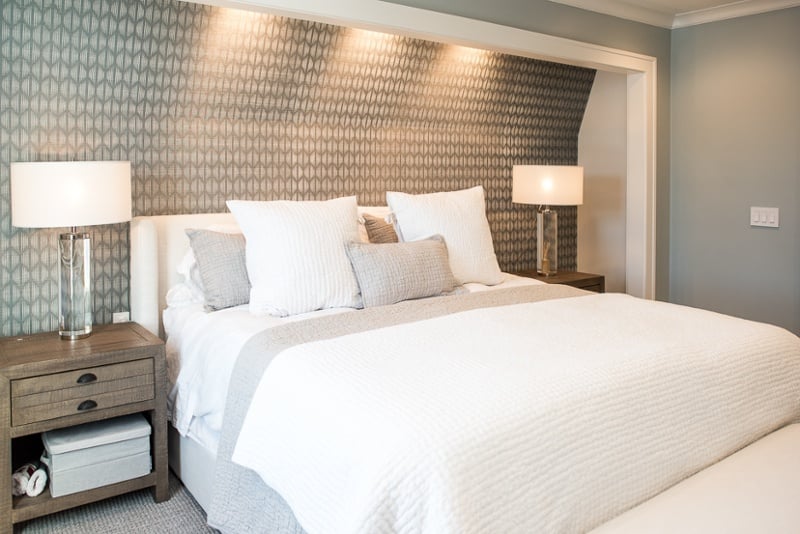 The average adult spends about 30 percent of their life in the bedroom. It's important to ensure your bedroom size is suitable and that it makes you feel relaxed and comfortable.
If you own a home and are thinking about remodeling your bedrooms to suit your taste and space requirements, here's what you need to consider.
Let's begin by looking at the basics.
What Are the Average Bedroom Sizes in an American Home?
2,500 square feet is the median size of an American home. The average bedroom size is about 132 square feet and can accommodate a queen-size bed.
The size of a bedroom usually depends on the total square footage of your home. Larger homes tend to have bigger bedrooms than condos, apartments, or cottages. However, if you plan to design and build your own house or extensively remodel an existing home, you can size your bedrooms to suit you.
Most homes in the USA have two types of bedrooms depending on square footage: A primary (owner's) bedroom and standard smaller bedrooms.
Primary Bedroom Size
Depending on house size, most primary bedrooms accommodate a king-size bed and other furniture, such as a dressing table or vanity. There may even be room for a seating area.
The ideal owner's bedroom is big enough to fit an adjoining bathroom and a walk-in closet.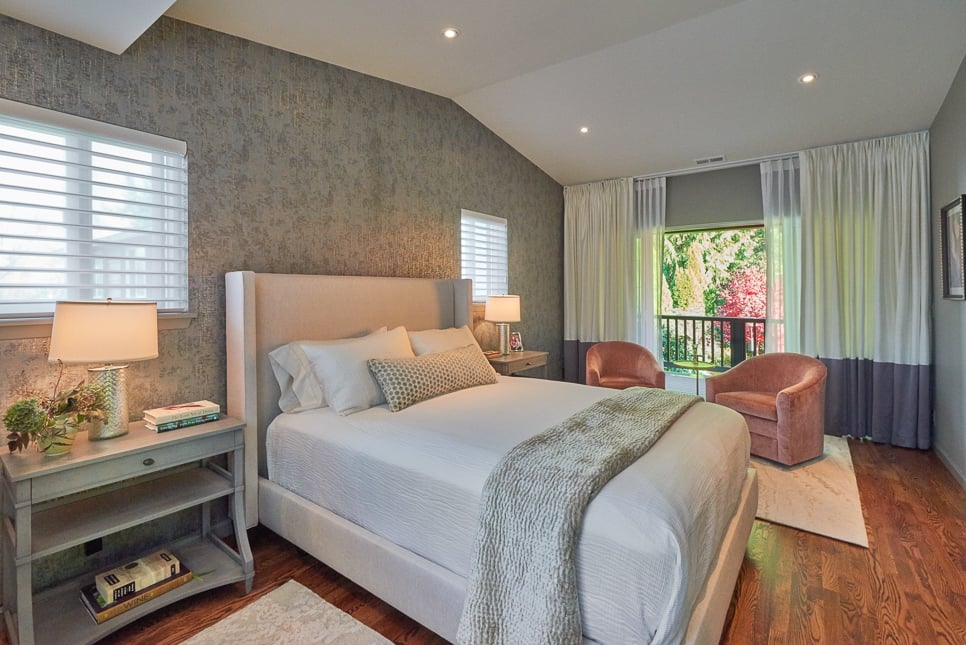 The average size of an owner's bedroom in U.S. homes is 14 feet by 16 feet (224 square feet).
Other common owner's bedroom dimensions are 12 feet by 14 feet (168 square feet) and 12 feet by 16 feet (192 square feet).
Of course, if you are designing or redesigning your own home, you can let your imagination run wild and make the primary bedroom any size you want. Just keep in mind that you will need at least 120 square feet in any bedroom, including the primary bedroom, for a full-sized bed.
If you plan on having a dresser and a chair along with the bed, the space requirement is about 168 square feet. You'll also need a 30-inch area around the sides of the bed to have enough room to move around and access the adjoining bathroom and walk-in closet.
Standard Bedroom Size
Usually designated for use by children or young adults, standard bedrooms have only the basic amenities along with at least one window and a closet.
These bedrooms can be turned into office spaces or home gyms if they are not being used.
The average bedroom size is about 132 square feet while there are bedrooms much larger than even 144 square feet.
The basic guideline to bear in mind while allocating space for a standard bedroom is that it should measure at least 120 square feet to comfortably accommodate a full-size bed.
Why Are You Thinking of Remodeling Your Bedroom?
Most people generally consider remodeling a bedroom if they have found their dream home and want to customize it to their requirements through remodeling and room size alterations.
Nothing elevates the look and feel of a home more than tastefully done interiors, complete with modern amenities.
Walk-in closets and a luxurious owner's bathroom work wonders in transforming a bedroom. Even simple aesthetic changes like new furniture, upgraded light fixtures, or built-in storage space can breathe new life into your room.
On the other hand, If you are upgrading a bedroom on a budget, minor, inexpensive alterations can change the look and feel of a space.
To pull this off, you can consider:
Giving the interiors a fresh coat of paint or putting up new wallpaper.
Adding a luxurious rug or getting your carpets replaced.
Buying new furniture or rearranging your existing set.
Hanging wall art and paintings.
Replacing old bed frames with the latest models.
Customizations
Remodeling the bedroom is one of the first things people choose to do after buying a home they plan to grow in.
If you are among those lucky people who have found their forever homes, you might want to plan for the long term.
Many young people are also investing in their forever homes early on in life these days. This makes it important to plan for all ages when remodeling living spaces.
If you plan to grow old in the house you currently occupy and are looking to remodel, you need to think about making your living space suitable for elderly people. This means installing barrier-free showers, an elevator or a chair lift, wider doors, and other amenities.
If you live in a two-story house, you might want to shift your primary bedroom to the ground floor, depending on the dimensions of the building. In case you need to make major modifications, ensure the final structure complies with the Americans with Disabilities Act.
Alternately, if you want to increase the bedroom size in your house, you can demolish interior walls or expand the existing structure.
See also: Top 10 Design Trends to Follow for Aging in Place
Space Requirements You Need to Know About
Almost always, our bedroom is where we begin and end our day, and an aesthetically pleasing and well-organized space means these are both on a good note.
Let's take a look at the key furniture and space requirements to keep in mind while remodeling a bedroom.
Bedroom Building Code Requirements
Minimum Bedroom Size
The International Residential Building Code requires a bedroom to be a minimum of 70 square feet, with no one dimension being less than 7 feet. This is for a bedroom intended for a single occupant. For a double bedroom, you have to add 50 square feet to the minimum (at least 120 square feet total). The city of Seattle has a helpful document detailing the local interpretation of bedroom size requirements.
Minimum Bedroom Ceiling Height
At least half of the ceiling must be at least 7 feet tall. So floorspace under dormers and sloping ceilings can count toward the minimum square footage requirement, but at least half of the room must have a full-height ceiling.
Heat and Electrical
A bedroom must have at least two electrical outlets a heating system sufficient to keep it at 68 degrees Fahrenheit or warmer.
Access
You must be able to access the bedroom from a common area, like a hallway, and not need to pass through another bedroom.
Windows
Your bedroom window glass must equal at least 8 percent of your floor area, and half of that window area must be opening.
Egress
Unless your bedroom has an exterior door, you must provide a window that can be used as an emergency exit. The window opening must be at least 5.7 square feet and be a minimum of 24 inches tall and 20 inches wide. The bottom of your egress window must be between 24 inches and 44 inches above the floor.
Minimum Bedroom Size by Bed Size
Beds are crucial to the layout and aesthetics of a bedroom. The first step to planning the decor begins with learning about the average size of various kinds of beds in the United States and their compatibility with your plans.
Crib
If you plan to convert a standard-size bedroom into a nursery or prefer having your toddler sleep in your primary bedroom, you will need to make space for a crib. It is the smallest bed size, with a mattress dimension of about 2.5 feet by 4.5 feet and a slightly bigger frame. A crib can fit in any standard-size bedroom.
Bunk bed
A dream come true for most kids, 2.5 feet in width and 6 feet in length is the standard size for bunk beds. These fit well in a standard 8 feet by 10 feet room. You must also keep in mind the ceiling height of the bedroom you want it in.
Twin bed
A prudent choice for a small bedroom, a twin bed generally measures 3.25 feet wide by 6.25 feet wide. Ideal for young adults, you can place these beds in one corner of a standard size room and have enough space left to move around freely. Any room that measures at least 8 feet by 10 feet will work for a twin bed.
Full-size bed
Sometimes called double beds, these are ideal for single adults and teenagers who have outgrown twin beds. Most couples find them too small for their needs, however. Full-size mattresses measure 4.5 feet wide by 6.25 feet long. The minimum recommended bedroom size for these beds is 9 feet by 10 feet.
Queen-size bed
Perfect for two adults to sleep comfortably, a queen bed is a good fit for an average bedroom. The minimum size is about 5 feet by 6.6 feet. The minimum size bedroom needed to comfortably fit a queen size bed is 10 feet by 11 feet.
King-size bed
While all beds are the centerpiece of any bedroom they are placed in, a king-size bed requires aesthetic consideration. A king bed is available in two sizes: the standard version and the California king, measuring 6.3 feet wide by 6.6 feet long, and 6 feet wide by 7 feet long respectively. The minimum amount of space needed to accommodate a king-size bed is 10 feet by 12 feet.
Space Needed for Other Bedroom Furniture
Nightstands
Available in a variety of sizes, nightstands are essential bedroom furniture. The ideal nightstand is of the same height as your bed and proportionate to its dimensions. The average size of a nightstand is about 2 feet in height as well as depth.
Dressers and chests
Available in a variety of sizes, dressers and chests are the primary storage spaces in the average bedroom. Dressers are more suited to larger bedrooms, while chests are more compact and ideal for smaller bedrooms.
Chairs and sitting areas
While remodeling an owner's suite, it is common to make space for a sitting area with some chairs or couches. The dimensions of sitting areas depend on the bedroom size but are generally between 64 to 100 square feet.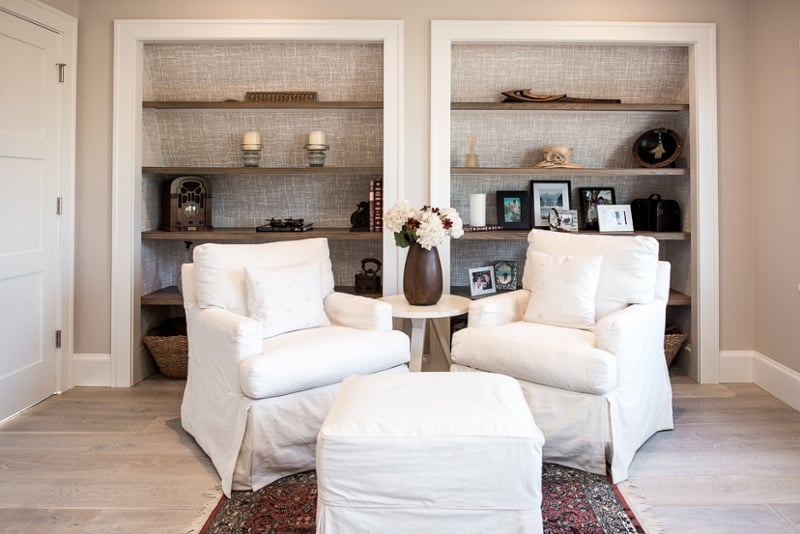 Make a Plan
Remodeling a bedroom is no small task and requires detailed planning and execution.
Sometimes remodeling a bedroom isn't enough, and you might need to build one from scratch.
Remodeling an average bedroom requires months of planning and careful consideration of several factors, including basics like what size house you own, the number of rooms, and what size bedroom you have.
Other factors that need to be looked at include the average bedroom size, how many square feet the primary bedroom is, the kind of bed you want, and the dimensions of the other rooms.
You also need to set a budget and take stock of how much you are willing to spend on the entire project.
If you are remodeling only the primary bedroom, then you can stay in the other rooms while the work gets done. However, if all the bedrooms are being remodeled, you might have to make alternate arrangements.
Guide to Hiring a Remodeler
This comprehensive guide walks you through all the steps of choosing who will design and build your project, vetting remodeling companies, and ensuring that you have the best experience.