A well-designed kitchen is the heart of any home, and a crucial element in creating a functional and aesthetically pleasing cooking space is a range hood. A range hood not only enhances the overall appearance of your kitchen but also serves a vital purpose by extracting smoke, odors, and grease that can accumulate while cooking to keep the kitchen air clean.
We understand the importance of selecting the right range hood for your kitchen that not only functions best in your space but is the best aesthetic choice. Today, we are going to go over the most popular and common range hoods available for your next kitchen remodel.
Different Types of Range Hoods
Under-Cabinet Range Hoods
One of the most common and versatile types of range hoods is the under cabinet range hood. As the name suggests, these hoods are mounted beneath your kitchen cabinets or available in microwave hood combinations. Under cabinet hoods are known for their sleek design and space-saving qualities, making them a popular choice for kitchens of any size. They provide effective ventilation by capturing smoke and fumes through the wall mounted hoods disguised in cabinets.
Microwave hood combinations are an appealing option to those who have smaller kitchens. Having the option of using microwave hood combinations instead of storing your microwave on the counter or in another cabinet can be handy. These combo hood venting options still have the same features of a standard range hood and usually include lighting too.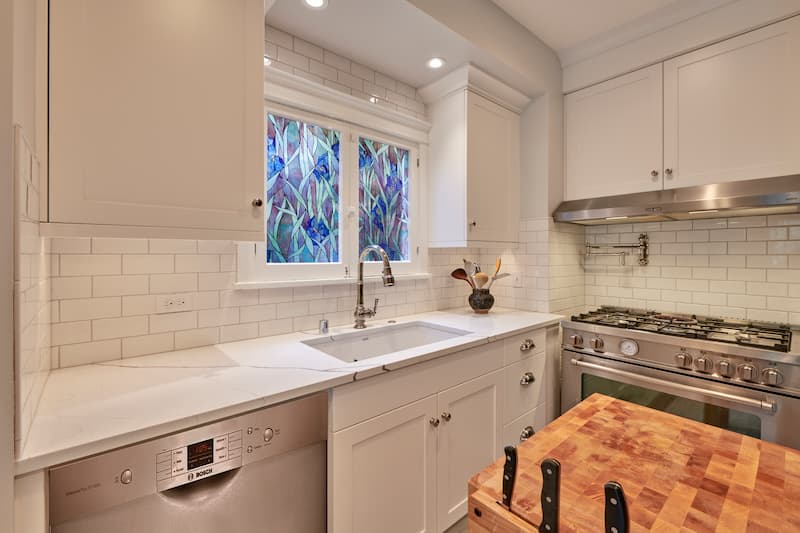 Wall Mounted Range Hoods
A wall mount range hood might be the ideal choice for you if you have space to accommodate a hood without giving up too much of your storage space. These range hood types are installed directly on the wall above your stove which can create a focal point. Although kitchen range hoods are a necessity, it doesn't have to make or break the design of your kitchen.
Wall mounted range hoods come in various designs, from sleek and minimalist design, to contemporary to more traditional styles, allowing you to select one that matches your kitchen's overall aesthetic. They provide efficient ventilation and come in a variety of sizes which makes them suitable for kitchens with cooking ranges of all sizes. These types of range hoods are cost effective making them common in most kitchens.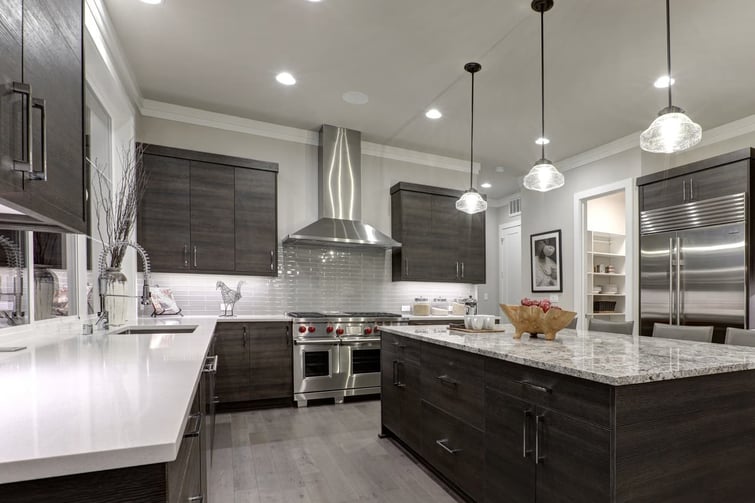 Island Range Hoods
If you have a kitchen island with a cooking surface, adding a vent hood directly above it is a perfect solution. They make different vent hoods that are designed to be suspended from the ceiling directly above the island, creating an elegant and functional centerpiece. Island range hoods often feature a stylish chimney-style design and provide powerful ventilation to ensure that cooking odors are effectively eliminated for clean kitchen air.
The island range hood style are available in a range of sizes and finishes, enabling you to find the perfect match for your kitchen's style. Also, most vent hoods include some type of lighting as well, which is an added bonus. The lighting can be used while cooking, or as a nightlight to keep on in your kitchen.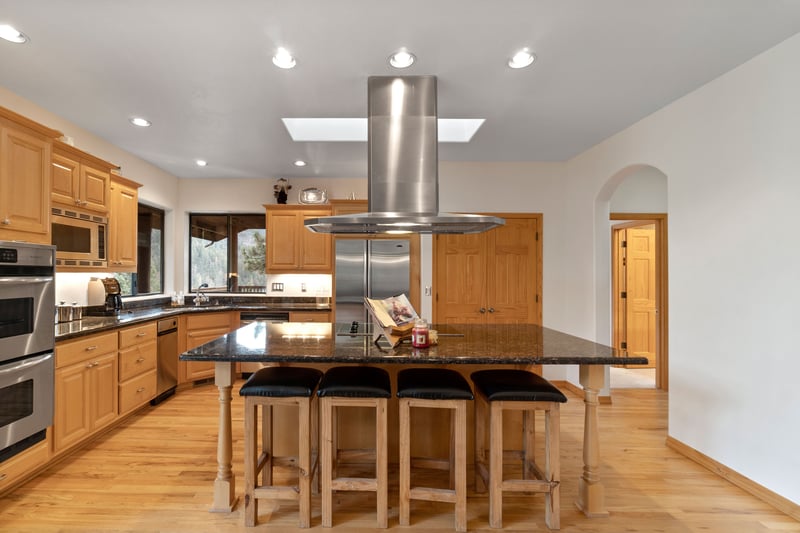 Downdraft Range Hoods
If you prefer a minimalist and unobtrusive look for your kitchen, a downdraft range hood is an excellent choice. These hidden vent hoods are installed flush with your countertop and rise when in use, creating a discreet ventilation solution as the vent pulls air in ductwork beneath the surface.
Downdraft range hoods are particularly suitable for kitchens that have a cooking surface located on islands or peninsulas, where traditional overhead ventilation may not look as good. While they may not be as powerful as other types of range hoods and do not provide the same air recirculation, retractable downdraft hoods provide effective ventilation to keep your kitchen air clean and can be a stylish addition to your space.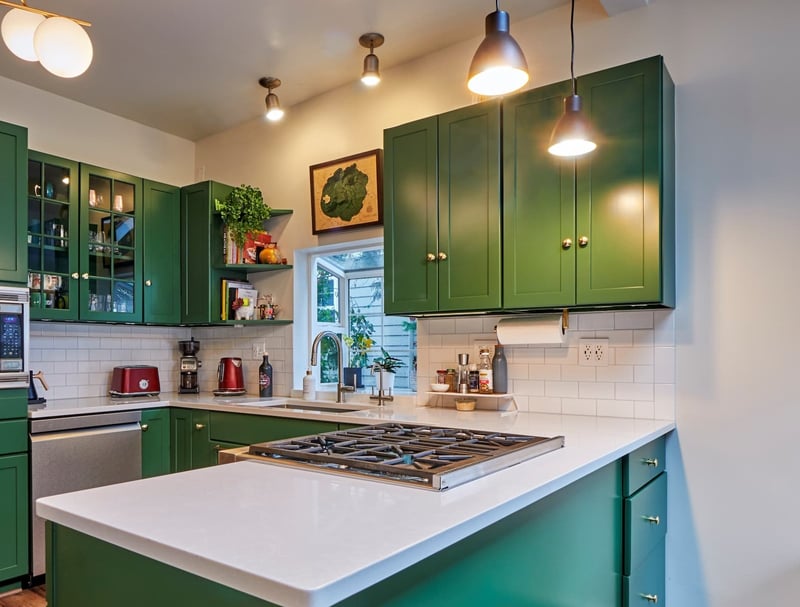 Ways to Style Your Vent Hood
Making sure you have proper kitchen ventilation systems in place in your new space should be at the top of your list. You can have the most aesthetically pleasing kitchen, but if it does not function properly then it defeats the purpose. Planning your kitchen layout around your range hood is important so it doesn't stick out, but blends into your new kitchen space.
Seamlessly blending into the tile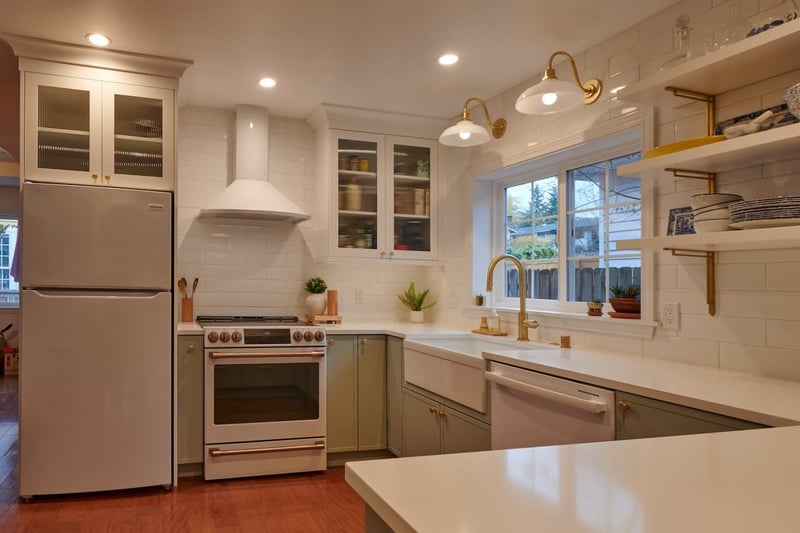 The clients chose a wall-mounted range hood in this kitchen that blends into the white tile for a seamless look. Having the range match the backsplash tile is a great way to essentially "hide" the range without actually hiding it in a cabinet.
Using Tile as a focal point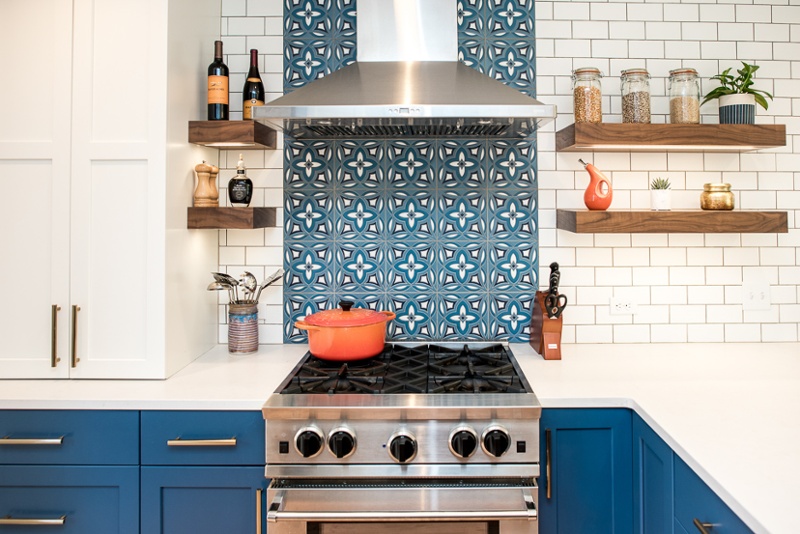 A unique tile was used behind this range hood to create a focal point in this kitchen. Using a unique tile, or laying the backsplash tile in a different pattern behind the range hood is a good way to add a fun touch to your kitchen.
covered Range hoods
This custom cover helps the range hood blend into the cabinets and style of the kitchen, which is a nice touch instead of the standard cabinet hoods.
Unique Range hoods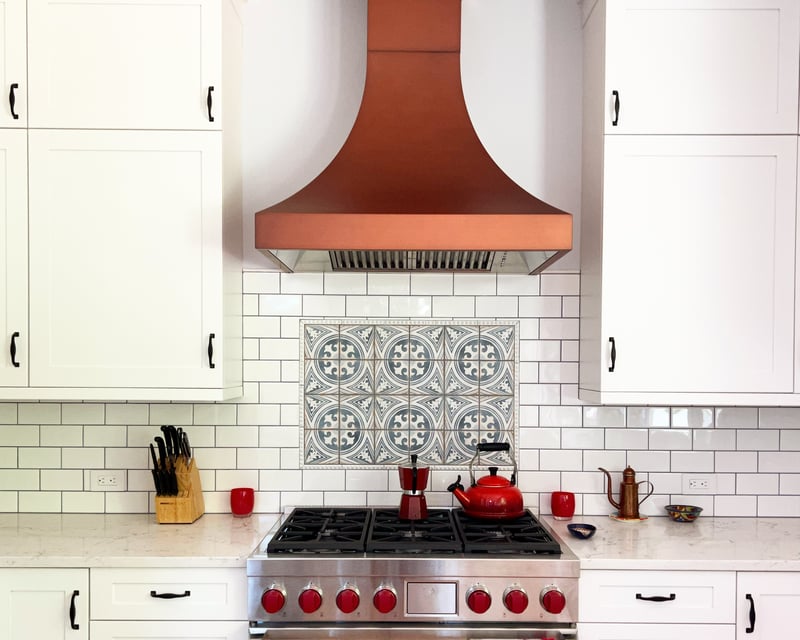 Most range hoods will either match the kitchen appliances or match the cabinets, but if you want to be distinctive, you can choose a colored range hood. Range hoods are available in a large variety of colors which gives you plenty of options to choose from.
Reach Out To Discuss Your Dream Kitchen
When it comes to your new kitchen, selecting the right range hood is a crucial decision. Whether you opt for an under-cabinet range hood, a wall-mount hood, an island hood, or a downdraft hood, each type offers unique benefits and styles to suit your needs. Our designers will help you find a range hood that combines functionality, aesthetics, and efficiency. By considering the available options and consulting with our experts, you can make an informed choice and transform your kitchen into a space that not only looks stunning but also works seamlessly for your cooking needs. Interested in learning more about how CRD designers can help design your dream kitchen? Reach out online today.
Guide to Hiring a Remodeler
This comprehensive guide walks you through all the steps of choosing who will design and build your project, vetting remodeling companies, and ensuring that you have the best experience.