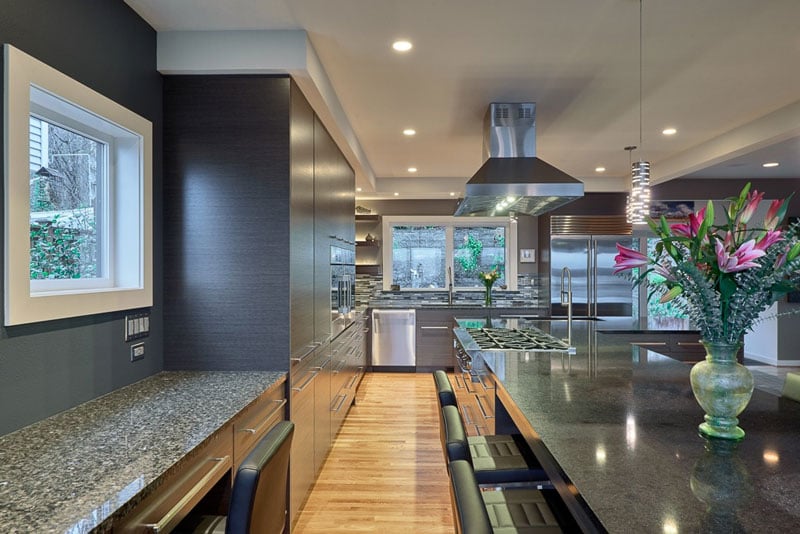 Going for a new kitchen layout?
Your kitchen design includes a list of important points to consider, such as:
How to optimize usable space
How to get enough storage and countertop space
How to select a layout that will suit your lifestyle and cooking habits
The following list of best kitchen layouts is a great place to start on your kitchen remodeling project.
What Are the 6 Main Types of Kitchen Layouts?
1. The G-Shaped Kitchen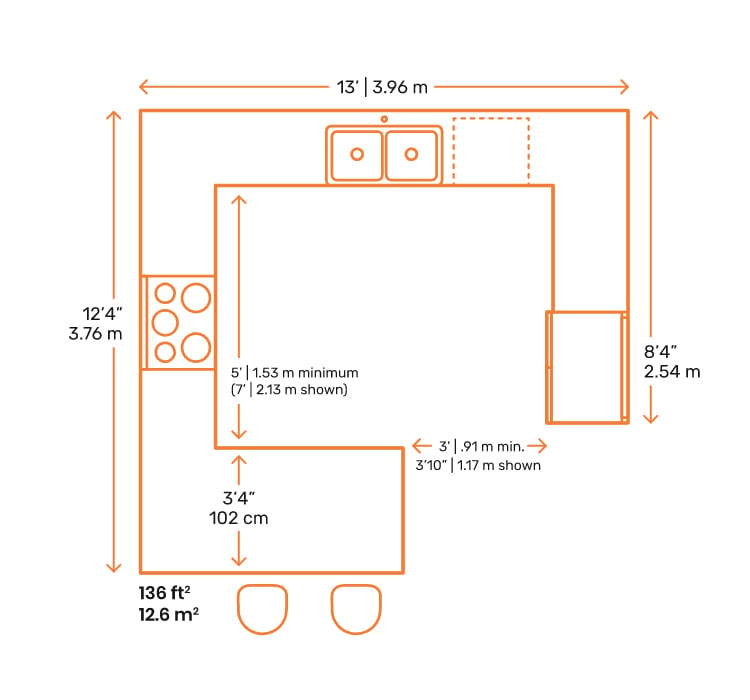 A G-shaped kitchen layout is all you'll ever need if you want some extra work area and storage space.
Otherwise known as peninsula kitchen layout, it forms an extended U shape that features a peninsula at one side.
The G-shaped design is a great option if your kitchen floor plan is on the smaller side — all the more so if a kitchen island is a must for you, but there's no practical way to fit it in.
How to Leverage the G-Shaped Kitchen Layout
This layout will work for you if you want your kitchen to be a multipurpose space.
The design gives plenty of room for improvisation; you can use the protruding cabinetry that makes up the letter G as:
A conventional island, serving as a place for meal preparation, entertaining, and a dining area.
Supplementary counter space that you can use to create multiple kitchen zones in larger kitchens.
With this design, you can let your imagination run wild. For example, you can add another kitchen sink and a cooktop to create ample space for two cooks in your kitchen.
2. The L-Shaped Kitchen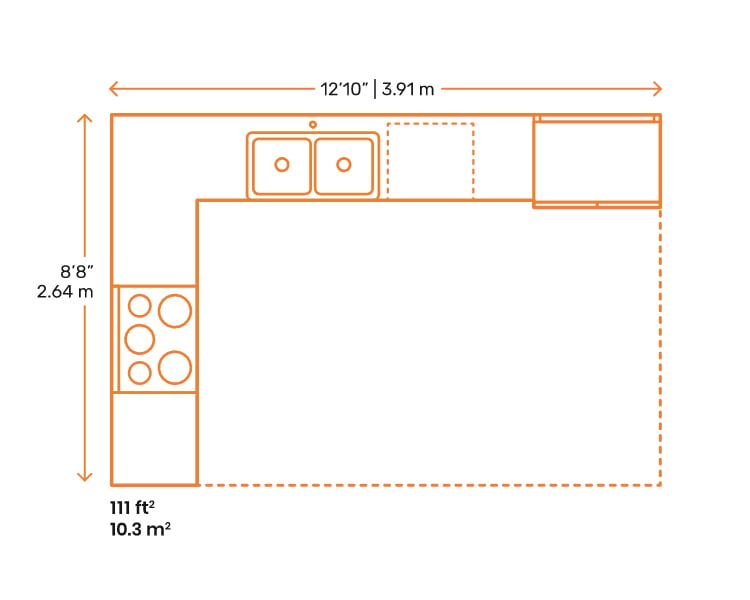 The L-shaped kitchen is one of the most popular kitchen layouts, seen in small and large spaces alike.
It includes a balanced geometry with two sets of cabinets on perpendicular walls, and this is precisely why it's so easy to create a functional kitchen with this design.
On top of that, the L-shaped layout works great for entertainment purposes. Its shape works nicely with an open floor plan, allowing you to entertain even when you're at the sink.
How to Leverage the L-Shaped Kitchen Layout
The L shape is great if you need supplementary storage, seating, and counter area. It allows for plenty of flexibility to integrate multiple appliances and work zones.
Make the most of your corner cabinetry area by installing a walk-in pantry cupboard.
Turn one end of your L-shaped kitchen into a small breakfast nook for more quality family time.
Throw in a kitchen island to add an extra sink and include more cabinetry solutions.
See also: Get Inspired by These 20 Walk In Pantry Ideas
3. The Galley Kitchen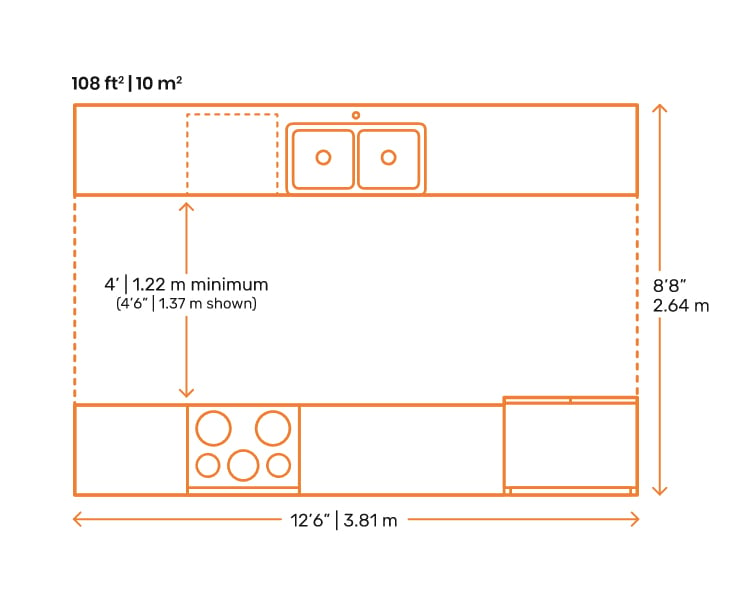 A galley kitchen forms two parallel rows of cabinetry and is an excellent space-saver. It eliminates any space wastage that typically comes with corner cupboards.
This layout option is great for narrow spaces, as it uses the kitchen area to your maximum advantage.
How to Leverage the Galley Kitchen Layout
Galley kitchens allow for more storage and workflow flexibility. However, you can still tweak the elements to make the most of your kitchen space.
Consider placing the range or cooktop on one side and the sink and the refrigerator on the other — this can shorten your travel between the three in the narrow space.
If you want to transform the space into a multiple-cook kitchen make sure you separate the work triangles to avoid any traffic disruption.
If you want to keep your kitchen space open to the adjacent areas, you can do so on both ends with this layout.
4. The Single Wall Kitchen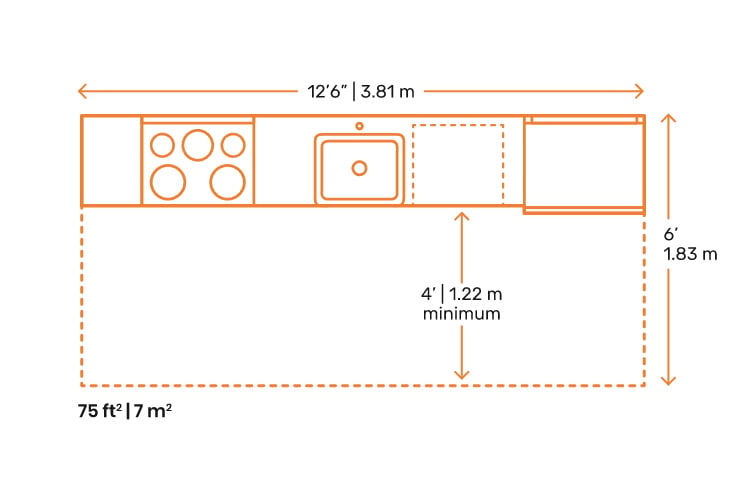 Single-wall kitchens are absolute winners when it comes to minimum space usage.
As such, they're suitable for smaller areas, such as apartments or lofts. Settling on this design can help you create a more spacious feel even in a small space.
The single-wall, or I-shaped layout, places appliances, fixtures, and cabinets on a single wall. The space-saving advantage it comes with is something not many other layouts can give you.
How to Leverage the One-Wall Kitchen Layout
The shape of one-wall kitchens doesn't give you much space to work with, but you can use it to make the most of your kitchen floor plan.
When remodeling small kitchens, think vertical. Use all the space you can to get a functional solution. Opt for longer wall cabinets and plan for enough base cabinets and counter space.
Place the refrigerator on one end, your stovetop on the other, and the sink in the middle. This will make for a functional kitchen.
Use the space on top of your cabinets as a storage or display area.
See also: 25 Genius Ways to Organize Your Small Kitchen
5. The Island Kitchen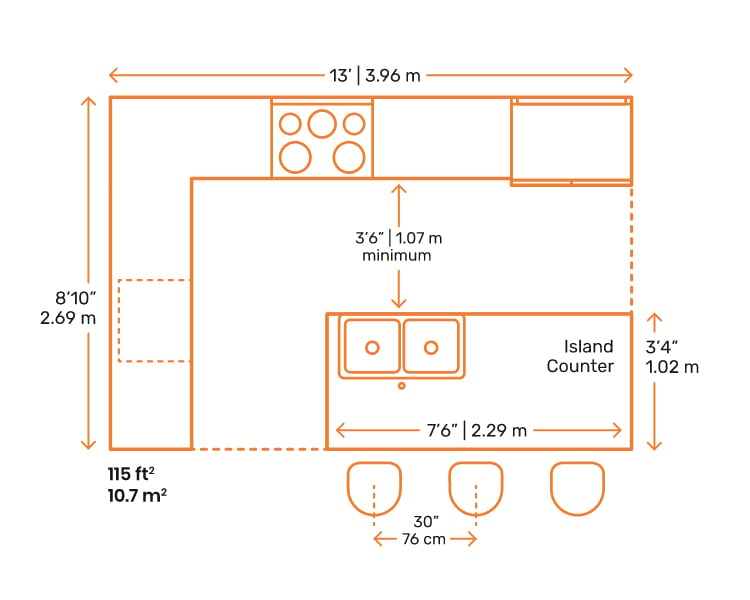 Having a kitchen island is now the norm for larger kitchens.
However, a center island is only a viable design solution for spacious kitchens. You need at least 36" to 42" of clearance on all sides so that appliances can be safely opened and closed.
The size of your kitchen island will depend on your floor plan, but the fact that it's multi-purpose gives you room for creativity. Apart from serving as a work surface, it can be used as a cooking surface, storage area, and so on.
How to Leverage the Island Kitchen Layout
An island is a great way to create a natural traffic flow, while also allowing for diverse kitchen functionality.
You can turn an island into a social area. Introduce a set of stools and you'll be able to prepare meals and entertain. A wine cooler is also a great addition for entertainment purposes.
You can use it to adapt to your floor plan and change between the layouts. For example, you can turn a one-wall kitchen into a galley kitchen by adding an island.
See also: Get Creative with Banquettes in the Kitchen
6. The U-Shaped Kitchen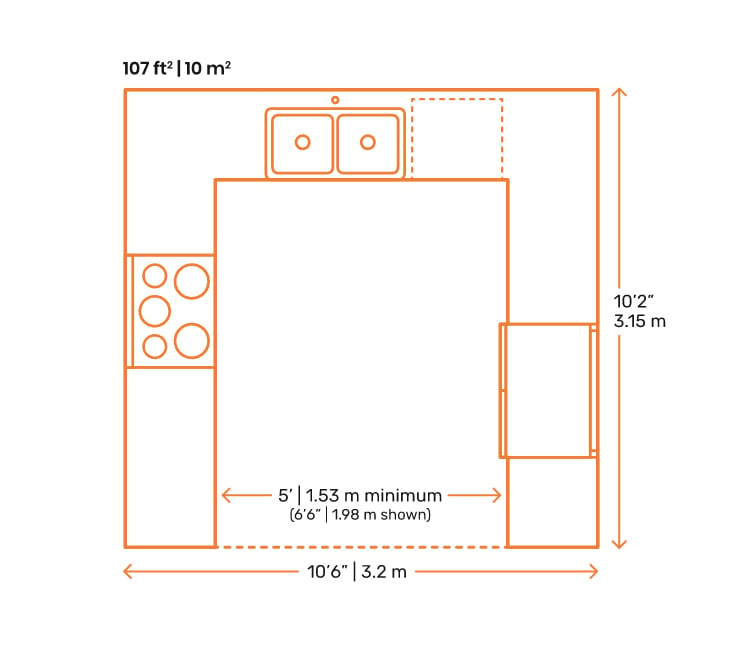 A U-shaped kitchen is a go-to solution for those who want their kitchens to be perfectly furnished. With cabinetry running on three adjacent walls, it provides ample room for storage space.
The U shape allows for an uninterrupted work triangle, and cooking space for more than one person.
How to Leverage the U-Shaped Kitchen Layout
Although U-shaped kitchens give you ample space that allows for all the kitchen indulgence, they come with a downside: The U shape can feel a bit enclosed.
Here's how to avoid this:
This type of layout can feel enclosed if there are upper cabinets on all three walls. To create a more open space, add upper cabinets along only one or two walls. Use the remaining side for an exhaust hood, open shelving, and focal tiles.
An addition of a window area is a great way to open up space even more.
Pick the Kitchen Layout That Works Best for You
When choosing the right kitchen layout, you'll no doubt want to consider aesthetics. After all, your kitchen is the heart of your home, and you want it to be visually pleasing.
But don't stop there. Be sure to also consider the functionality of your kitchen. Make sure the design you choose meets your unique needs for storage, in-kitchen dining, and workspace.
Every kitchen design is a compromise, and your decisions will likely be heavily influenced by your home's current layout and available space. If you start with functional considerations, you will be sure to end up with a design you love.
See also: The One Thing You Need to Know about Great Kitchen Design
Guide to Hiring a Remodeler
This comprehensive guide walks you through all the steps of choosing who will design and build your project, vetting remodeling companies, and ensuring that you have the best experience.