Finishing your basement is an excellent, relatively low-cost way to add usable living space to your home. But along with the opportunities, basements also provide their own unique challenges. Because your basement is below grade, it's prone to moisture issues, which can cause rot and mold in the wrong materials. That's why it's so important to pick durable building materials and install them correctly. Read on for our top picks in durable basement flooring materials that will last.
See also: Mold 101: What to Do if You Find Mold in Your Seattle Home
1. Luxury vinyl tile
Luxury vinyl tile, also known as LVT, comes in planks or squares. Unlike traditional sheet vinyl, which is glued down, most LVT systems are designed to "float" on top of the subfloor, in the style of laminate flooring. Because of its thickness, LVT can be embossed with textures and patterns that help it closely resemble natural wood or stone. Vinyl doesn't absorb water, but if you are laying it over concrete that has had any sort of moisture issues, you may want to put down a vapor barrier underlayment first.
Pros
Resembles wood without being prone to moisture issues.
Extremely durable material.
Somewhat warm underfoot because of its thickness.
Easy to install.
Cons
Higher cost than sheet vinyl, although LVT does have a much higher-end appearance.
Not as waterproof as sheet vinyl because it has more seams, although most LVT tiles can be taken up in the event of flooding and then reinstalled after the floor dries.
See also: Wet Basements 101: How To Dry Out That Leaky Basement for Good
2. Marmoleum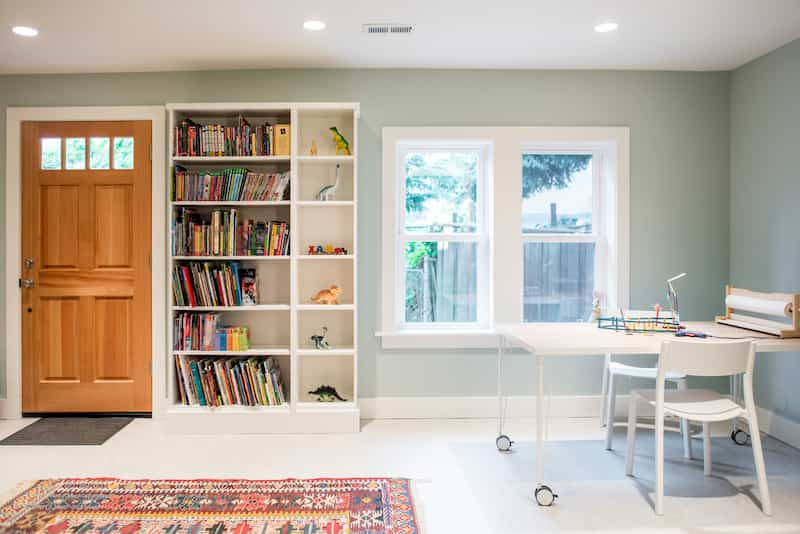 We love recommending Marmoleum for basements. Made from linseed oil (which comes from the flax plant seed), limestone, wood flour, and jute, Marmoleum is eco-friendly and tough as nails. It comes in sheets and tiles, and there are endless colors and patterns to choose from. If you have kids and pets, you can't go wrong with this flooring material that just laughs at water, grit, and grime. Its inherent anti-static properties even make it repel dust, so it's easy to clean. It's an affordable, durable flooring option for your basement.
Marmoleum comes in three styles: large sheets, tiles, and Click. The Click product is a 3/8" sandwich of Marmoleum, high-density fiberboard, and cork. The squares "click" together and are the most forgiving to install. A vapor barrier should be used when installing Click over concrete.
Pros
Very durable; scratches can be buffed out.
Warm underfoot, especially the Click product.
Eco-friendly, made of all-natural materials.
Hundreds of colors and patterns to choose from.
Cons
Sheet and tile versions are not forgiving of any imperfections in subfloor.
Not 100% waterproof.
Distinctive linoleum look that does not match every decor.
See also: Are Permits Required to Finish or Remodel a Basement in Seattle?
3. Ceramic or porcelain tile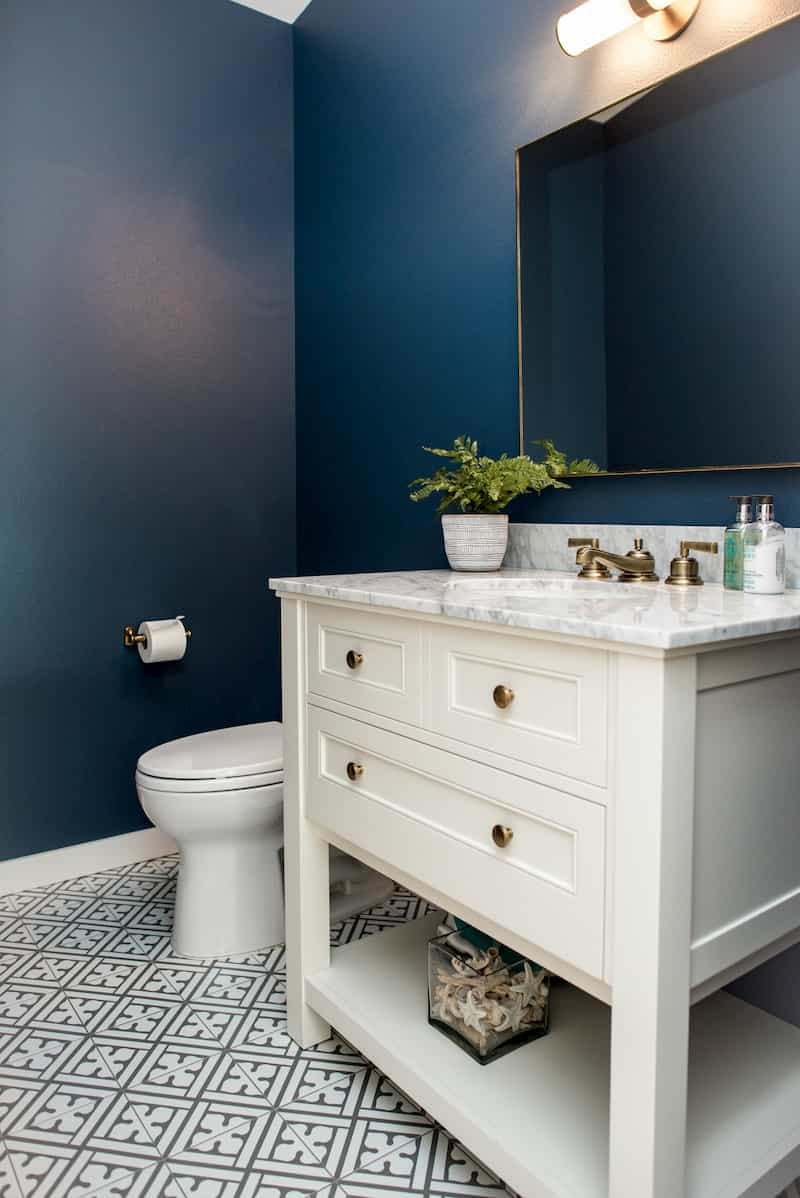 Tile can be a great option for basement floors. It installs directly on the concrete subfloor, is totally waterproof, and will last forever. There is almost no limit to the styles and formats you can choose from. Large-format porcelain tile, which mimics the look of hardwood planks and is very popular right now. No underlayment is required, because the tile's glaze blocks moisture, but the grout should be sealed regularly to prevent mildew from developing if your basement is particularly damp. Do not install tile on plywood subfloor because it will eventually develop cracks as the wood expands and contracts.
Pros
Waterproof and durable; well-suited to damp environments.
Materials can be inexpensive.
Cons
Concrete subfloor surface must be even, which may require significant preparation.
Cold on the feet.
4. Carpet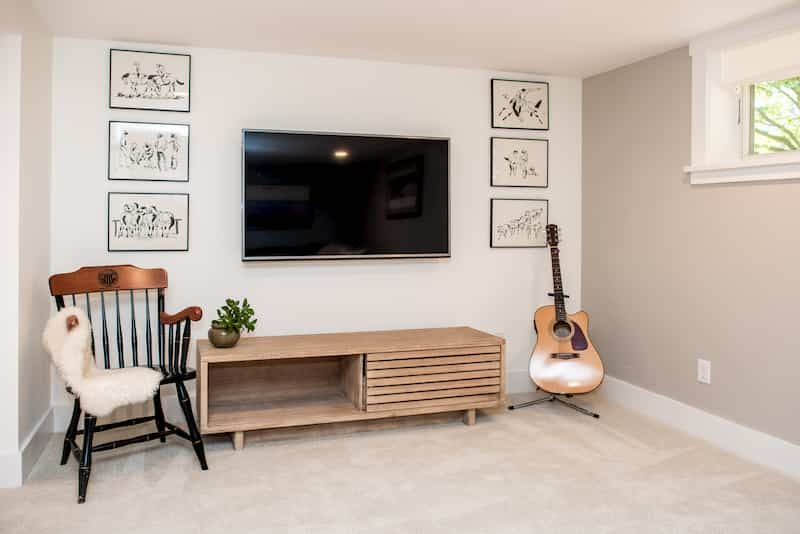 While carpet might not seem like the ideal floor covering for a damp basement, it remains one of the most popular choices for its warm, soft feel. Because carpet absorbs moisture and is prone to mold and mildew, be sure your basement is completely waterproof before you consider installing it. If you choose wall-to-wall carpeting, be prepared to rip it all out if your basement floods due to heavy rains or a burst pipe.
Even if you don't experience catastrophic flooding, you can't expect carpeting in your basement to last quite as long as it might in your upper stories. Choose a high-quality carpeting made with synthetic fibers and backer. (Avoid carpets with natural jute backers, which break down when damp.)
The safest way to install carpeting in your basement is to start with a waterproof vapor barrier. (Many older homes do not have a vapor barrier under the concrete slab floor.) This can be a sheet of 6-mil poly sheeting for fairly dry basements. If you have a damper basement, opt for 3/8" dimpled polyethylene. Cover your vapor barrier layer with 1/2" plywood, followed by your pad and carpet. Alternately, you could use specially designed basement underlayment panels, like DRICORE, to keep your flooring dry and comfortable.
A good alternative to wall-to-wall carpet are carpet tiles. These tend to have a tight, closed-loop nap. Best of all, they can be replaced one by one if any of them happen to suffer water damage. Some versions even have built-in raised backer board, which can be laid down directly on the concrete subfloor.
Pros
Soft, warm, and inviting feeling underfoot.
Can be an inexpensive option.
Excellent sound absorption qualities, making it perfect for a home theater or music room setup.
Cons
Prone to mold, mildew and water damage, especially if installed in a damp basement or without the proper underlayment system.
May not last as long as some other basement flooring materials.
See also: 10 Steps to Deal with a Burst Pipe and a Flooded House
5. Concrete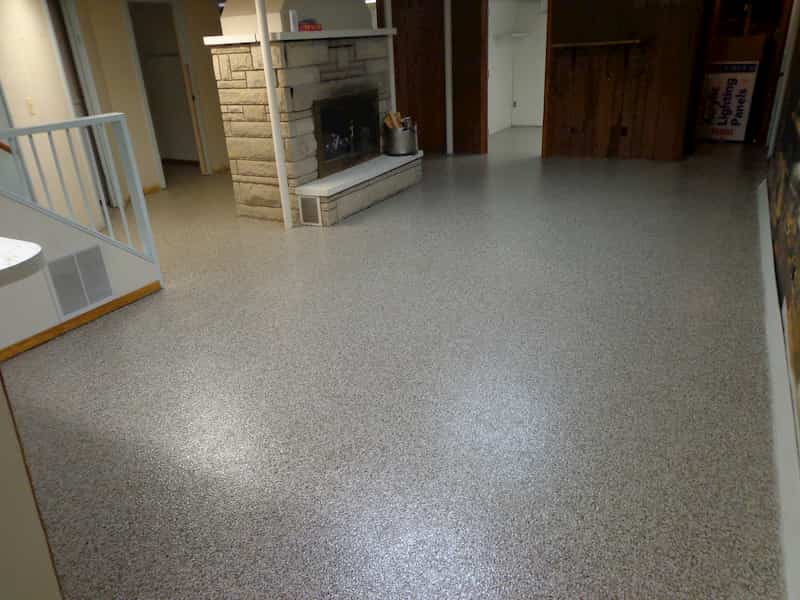 One of the best treatments for your concrete subfloor may be to not cover it at all. The industrial aesthetic has entered home interior design in a big way, and a concrete floor may be just the style you're looking for. Concrete can be treated in many different ways, from staining to painting to epoxy coatings. It can also be ground smooth, Terrazo style, and sealed. Concrete can be a great option for the more utilitarian sections of your basement, such as laundry rooms or mudrooms.
Pros
Requires the least amount of material.
Will not be damaged by water or harbor mold or mildew.
Can be partially covered with area rugs for a softer feel.
Cons
The coldest feel underfoot.
Hard surface can be fatiguing to walk or stand on for long periods of time.
A somewhat minimalist, industrial look that may not mesh with the rest of your interior design.
Surface prep can be surprisingly labor-intensive and expensive.
See also: Stamped, Stenciled & Stained Concrete
Planning a basement remodel?
A lot goes into creating a finished basement that feels like an extension of your main living space. Thoughtful design also plays a huge role in your long-term satisfaction. If you are contemplating a Seattle basement remodel, please feel free to reach out. My interior designer colleagues and I would be happy to answer your questions and share our ideas.
Guide to Hiring a Remodeler
This comprehensive guide walks you through all the steps of choosing who will design and build your project, vetting remodeling companies, and ensuring that you have the best experience.