Designing a functional, beautiful bathroom can be a challenge, and it's even more so when you don't have much space to work with. Good design choices can make the difference between a bathroom that feels cramped and uninviting and one that feels inviting. Here are some of the ideas we turn to again and again when designing small bathrooms.
If you're getting ready to renovate your own small bathroom, these tips and concepts will help you create a space you'll actually want to spend time in.
1. Wall-mount toilets

In Seattle, the building code requires at least 21" clearance between the front of the toilet and the opposite wall, but 23" or even 30" is even more comfortable. In most cases, a compact floor-mount toilet will suffice, but a wall-mount toilet can sit up to 10" closer to the wall. This makes a tremendous difference, making your tiny bathroom feel so much more open. As a bonus, wall-mount toilets are easier to clean under, and they elevate the look of the space.
See also: 8 Bathroom Design Blunders to Avoid
2. Skip the tub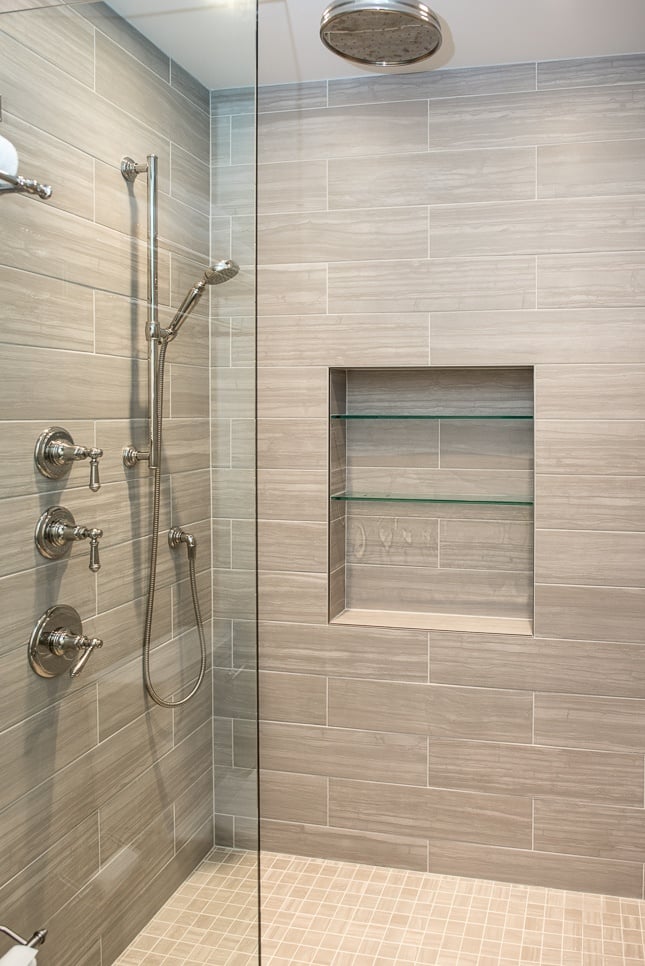 First, let me just say, I love, love tubs. Nothing beats a long soak after a difficult day. However, tubs are space hogs, especially the ones that are nicest to use. (After all, what's the point of a "compact" tub if it's so short, you can't sink down into the water?) That's why I advocate getting rid of the tub if your bathroom is small. If all you can fit is a cramped tub-shower, you probably won't end up using it anyway. Save the tub for a luxurious master suite, where, if you're lucky, you can have a standalone soaking tub. For smaller baths, opt for a beautiful tile shower.
See also: Should I Replace My Bathtub with a Shower?
3. Embrace the wet-bath concept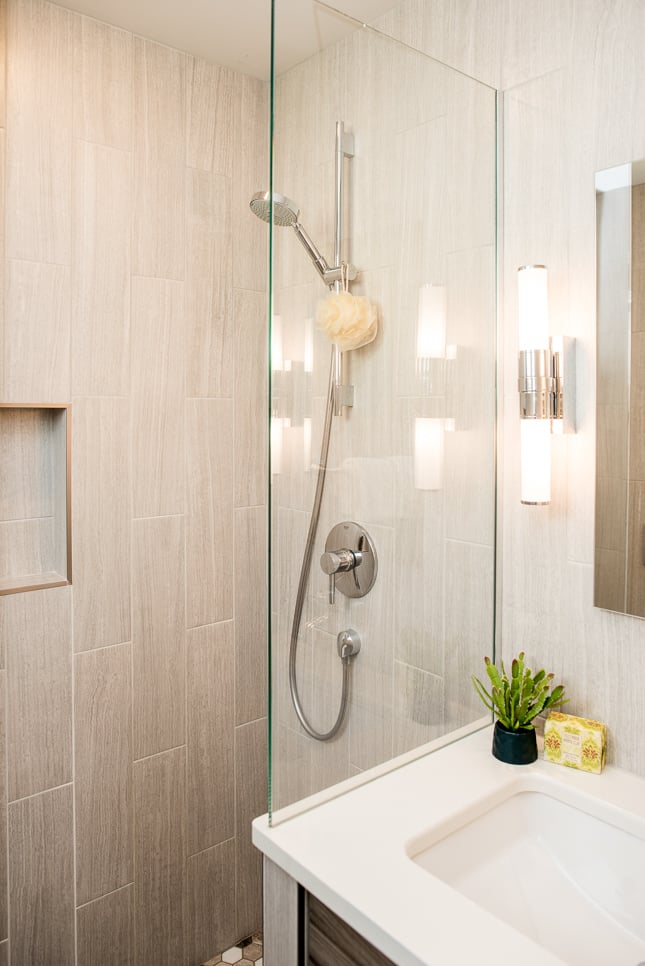 If you're ready to ditch the tub, the next step is to get rid of the shower door or shower curtain. How do you keep the water in the shower? Simple! Make the entire bathroom waterproof. I love that the wet-bath concept, which has been popular for years in Europe, is finally catching on in the United States. By choosing the right surfaces, like tile for the floor and walls, and a water-resistant vanity, you no longer have to worry about keeping the water contained.
Even though the room is water-proof, I often like to add a fixed glass divider to keep things somewhat dry and to keep the bather enveloped in nice, warm steam.
Another advantage of the wet-bath concept is that it allows for a curbless shower design. Not having to step over a threshold to enter and exit the shower is great universal design, and it feels luxurious.
See also: What Is a Wet Bathroom?
4. Add a skylight

You can never have too much natural light in a bathroom, and sunshine streaming through a skylight overhead makes even the tiniest bathroom feel open and airy. If a full skylight isn't possible, consider a tubular skylight, which brings in lots of light, without some of the drawbacks of traditional skylights.
5. Floating basin sinks are making a comeback
You've probably seen these. Metal basin sinks that bolt to the wall almost disappeared, but they're making a comeback. For a chic utilitarian look, I like the enameled cast iron versions, which can have a contrasting color on their undersides. You'll save space by forgoing the vanity, but you won't have any counter space. I recommend these for powder rooms, where you won't typically be laying out your toothbrush or cosmetics.
6. Floating cabinetry
If a floating basin sink is not your thing, and you know you'll need some counter space and storage underneath, consider floating cabinetry. Choosing a vanity that bolts to the wall rather than resting on the floor helps your small bathroom feel bigger.
See also: 10 Durable Bathroom Materials
7. Tidy up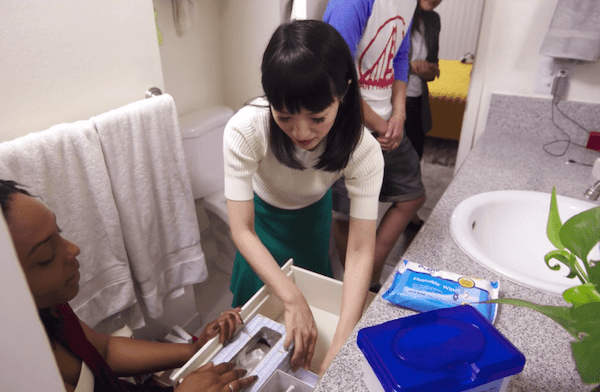 If your small bathroom feels like it's a jumble of hair-care products, makeup, electric toothbrush chargers, and medicines, it might be time to go on a decluttering mission. Don't get me wrong. I'm a fan of adding storage space in the bathroom; I love seeing a place for everything and everything in its place. However, before ordering custom cabinets, try channeling your inner Marie Kondo and simply get rid of the items you never use. After you've pared down your bathroom items to what you really need, then it's time to design storage to hold it all. Regular decluttering helps make even the smallest bathrooms a peaceful space where you can rejuvenate.
See also: 5 Tips for Adding Bathroom Storage
8. Nooks, niches, cubbies & ledges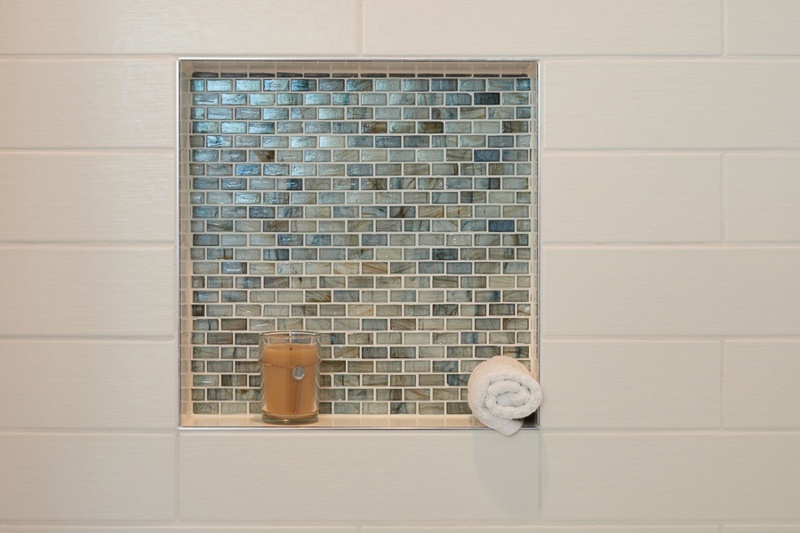 For large, bulky items, deep drawers are best. But for the things you use every day, more open storage is the way to go. I love designing cubbies into bathrooms, and not just for soaps and shampoo in the shower. Inset shelves can add loads of handy storage just about anywhere in the bathroom, without taking up an inch of precious floor space.
9. Add contrast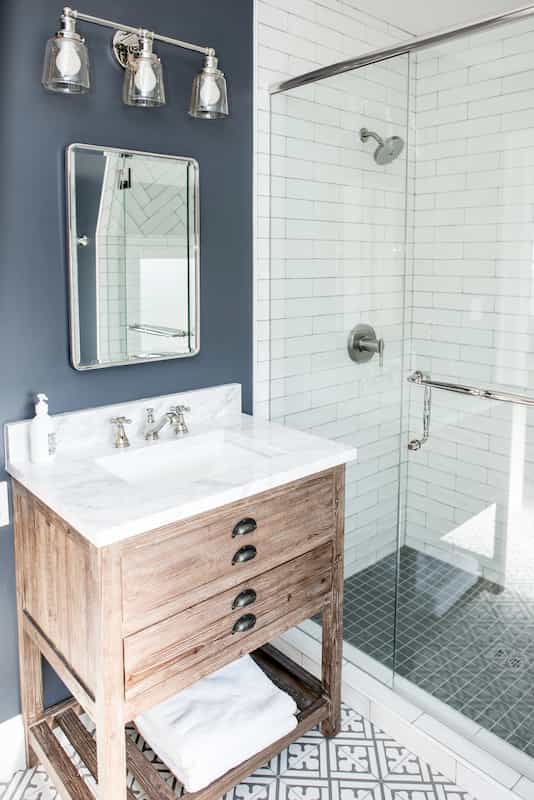 All-white finishes can make a bathroom feel bigger, in theory, but I find that it can also lack personality. Your eye doesn't have much to focus on. That's why I like to add contrasting colors and patterns to the mix. Black, navy, and deep, emerald green are lovely additions. And it's the perfect approach for smaller spaces. A color or pattern that would be overwhelm your eyes in a large bathroom is just perfect in a smaller one.
See also: Design Inspiration for Your Bathroom Remodel
10. Go big on finishes for your small space
Sure, tininess can be a drawback in a bathroom, but it can also set you free to splurge a little on the finishes. After all, if you're only purchasing 40 square feet of floor tile, the cost difference between builder-grade and something really special won't be that much. Go ahead and choose designer wallpaper or light fixtures. It's unlikely to affect your remodeling budget significantly.
See also: Save or Splurge: Master Bathroom Remodel
Planning a bathroom remodel?
A lot goes into creating a bathroom that you will love for years to come. Thoughtful design plays a huge role in your long-term satisfaction. If you are contemplating a Seattle bathroom remodel, please feel free to reach out. My interior designer colleagues and I would love to answer your questions and share our ideas.
Guide to Hiring a Remodeler
This comprehensive guide walks you through all the steps of choosing who will design and build your project, vetting remodeling companies, and ensuring that you have the best experience.