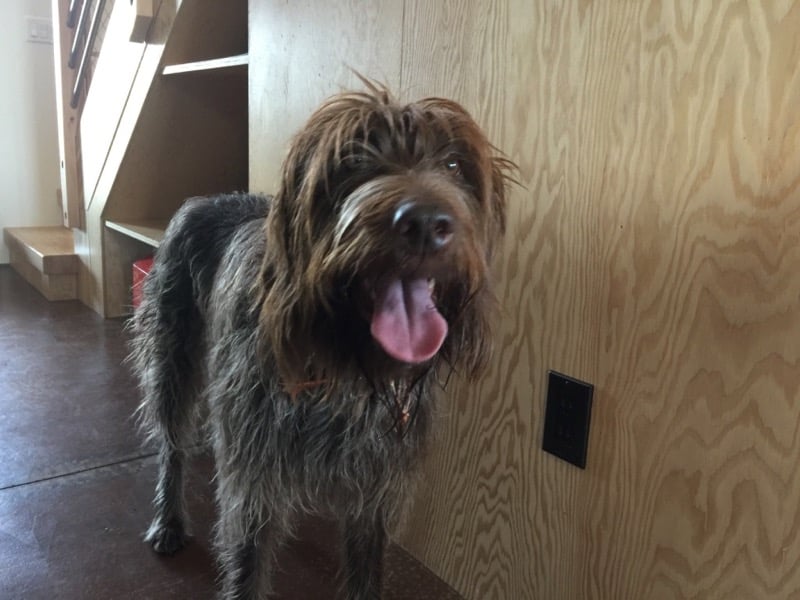 You love your four-legged furballs, but you don't want to let them wreak havoc on your house.
If you've got paws on your property, it pays to know the best flooring for pets. And, if you're planning a renovation, take a look at my tips below before you invest in new materials. Pet-friendly flooring materials will last longer and help you save money in the long run. You'll also be less stressed knowing that the flooring you chose will stand up to wear and tear from your pets.
1. Luxury Vinyl Tile
There's no way around it. Luxury vinyl tile (LVT) is having a major moment.
All the hype is for good reason. This is one of the most durable yet attractive options to hit the design market in years. This wood-look flooring is waterproof, stain-resistant, and scratch-resistant, making it an ideal surface for any pet-loving household. You can find types that glue down or click together. If long-term durability is your goal, I recommend avoiding peel-and-stick options.
Any way you install it, this is an ideal way to get the look of hardwoods at a lower price and ten times the durability. You can safely make it through the potty training, scratching, and gnawing phases with ease, as LVT flooring wipes up beautifully and cleans like a charm.
Another bonus: It's quiet underfoot! That means when Fido comes looking for you in the middle of the night, he won't wake up the entire crew on his way down the hall.
See also: Plan Your Home Design with Kids and Pets in Mind
2. Ceramic or Porcelain Tile
Another one of the best floors for dogs? Tile!
Besides looking stately and adding a timeless touch to your home, natural tile is also designed to stand up against the toughest wear and tear, including any messes that your pets or kids make.
You can find tile in a variety of finishes, colors, and patterns, making it ideal for nearly every room in your house. Like LVT, it also wipes clean easily and is resistant to stains and scratches.
In addition, many tile choices also have texture, which helps your pets get around with ease. If you've ever watched a puppy try to slide across freshly-mopped hardwoods, you know that a little grip can be a big help.
Just remember that while it's supremely versatile, tile can be a little cold. Get your furbaby a plush bed to curl up on and you'll be all set.
See also: 5 Secrets to Choosing Tile
3. Marmoleum
Made from linseed oil, this is one of the most sustainable and eco-friendly types of flooring on our list.
You can find Marmoleum in three formats: in large sheets that you can cut to fit any room, glue-down tiles, and "Click." The latter combines Marmoleum with a high-density fiberboard and cork engineered base. These squares click together and are simple to install.
While early versions of linoleum required regular waxing to maintain the floor's vibrancy and quality, this isn't necessary with Marmoleum, thanks to the addition of its innovative TopShield, which acts as a durable protective barrier.
Not only does this floor look great, but you'll feel good about letting your whole family play on it. All-natural and made without volatile organic compounds (VOCs), Marmoleum is allergy- and asthma-friendly, and it even has anti-bacterial properties that can help keep the ickies at bay.
One feature that pet owners will especially appreciate? This floor is naturally anti-static. That means dust, dirt, and pet hair are less likely to stick to it, making cleanup a breeze.
See also: Pet-Friendly Design: Making Room for the Dog Dish
4. Concrete
Like tile, concrete is one of the hardest-working flooring materials you can find. Gone are the days when boring gray was your only option. Now, you can add dyes to wet concrete that allow it to take on many different hues, ranging from bold and colorful patinas to warm earth tones.
For a deep, polished look, you can stain the surface of your concrete floor with acid- or water-based stains. Some homeowners opt to have their raw concrete floors ground down to an absolutely smooth surface, which reveals the aggregate in the concrete.
While concrete flooring is incredibly rugged, it can also be cold and uncomfortable. You'll want to stock up on plenty of floor pillows and area rugs to keep your family members (even the whiskered ones) as cozy as possible. If you're adding on to your home, ask your contractor about insulating your slab foundation or using radiant heat to add even more warmth.
You'll also need to make sure to properly seal your concrete floor to repel dirt, spills, stains, and impacts. While these considerations might make concrete a little more time-consuming, if you follow the proper steps, this is one floor that will last for the duration of your home, holding its own against even the sharpest claws.
See also: Stamped, Stenciled & Stained Concrete
5. Traditional Hardwoods
Though they're not the most scratch-resistant or water-resistant type of flooring, traditional hardwoods are a mainstay in homes across the country. They're also timeless and add a ton of value to your home.
The good news? If you invest in traditional, hardwood plank flooring, you'll find that they're actually easier to maintain than you think, even with a pack of rough-and-tumble pets in the house.
In the event that your pups potty train in the wrong spot or your kitty uses a corner as her personal scratching post, you can always sand down hardwoods and refinish them as required. This is one reason it's smart to go ahead and spring for the real deal, as you cannot refinish most engineered flooring because it has only a thin hardwood veneer.
To get the most longevity out of your floor, avoid soft woods such as pine or fir. Instead, look for harder options, such as hickory and oak. You can also find many reclaimed or distressed planks that can hide scratches and dents well.
6. Engineered Hardwoods
Unlike traditional hardwood planks, which are solid wood, engineered hardwoods consist of a thin veneer of hardwood glued onto a plywood base. Engineered hardwoods have been growing in popularity, eclipsing traditional hardwoods. That's probably because they can be quick to install, allowing for nail-down, glue-down (not recommended), and floating applications. They can also be slightly more moisture resistant than traditional plank flooring because the plywood base is dimensionally stable and less prone to warping.
But can engineered hardwoods stand up to pets? The answer is yes! Almost all flooring of this type ships with a UV-cured factory finish that is usually harder and more durable than a field-finish on a traditional hardwood floor. The look is slightly different because most engineered floors have radiused edges, whereas traditional hardwoods that are sanded and finished in place have a smooth, uniform surface.
The benefit of the tough factory finish is that it will initially hold up to pets longer. The drawback is that once the floors are scratched and need refinishing, the thin hardwood veneer can only be lightly sanded down and refinished one or two times, and then the floors must be replaced. Traditional hardwoods can be sanded down and refinished many times.
The key to a successful purchase here is to remember the old mantra of "You get what you pay for." Each brand is different, and there are various quality levels, but in general, engineered hardwoods are super durable. Some even have a 30-year commercial warranty, which says a lot.
A Word on Carpet
Before we wrap up, let's discuss one flooring option that we don't recommend if you have pets in the house: carpet.
Yes, it feels great underfoot and adds warmth and coziness to your room. However, there's nothing cozy or warm about shredded, matted fibers that are yellowed in spots and reek of urine. Despite the many kinds of cleaning products on the market, homeowners know that once a furry pal destroys your carpet, it's nearly impossible to restore it.
Not only does carpet stain and smell easily, but it also holds pet dander and hair, which can aggravate allergies and create a generally unhealthy environment.
Can't live without the soft feel of carpet? Opt for carpet tiles, instead. You can swap these out individually on an as-needed basis, so the entire room isn't ruined if Prissy decides to forego the litter box and create a makeshift one by the bed.
See also: Steer Clear of These 8 Terrible Building Materials
Explore the Best Flooring for Pets
Flooring is one of the most important parts of your home. One decision can affect the way your room looks and feels, as well as how often your family uses it.
While you should approach every part of your home with thoughtful consideration, this becomes even more important when you're trying to determine the best flooring for pets. After all, they're part of the family too!
If you are considering a remodel of your Seattle home and have pets, we would love to help. We love helping our clients choose the most durable materials that match their own personal style and needs. We also love designing custom features that make life convenient for pets and their "parents."
We specialize in turning your vision for your space into jaw-dropping reality. Subscribe to our blog for more relevant design news and contact us today to begin your dream home transformation.
Guide to Hiring a Remodeler
This comprehensive guide walks you through all the steps of choosing who will design and build your project, vetting remodeling companies, and ensuring that you have the best experience.