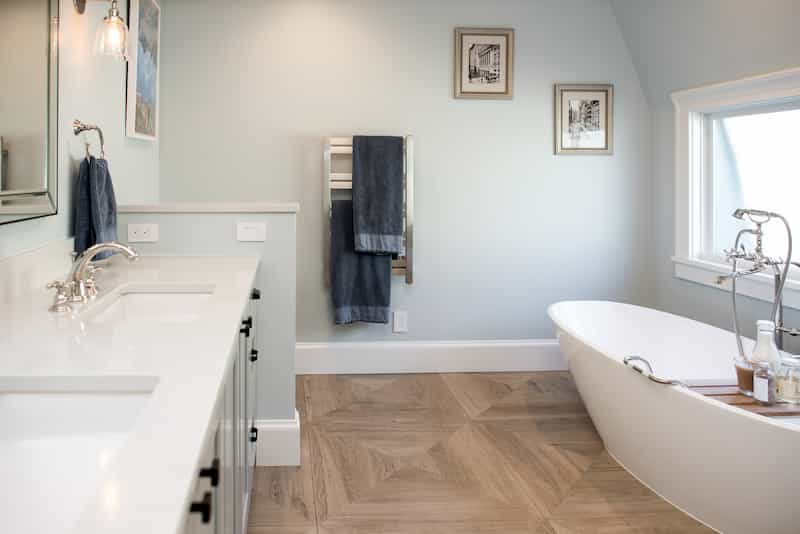 I've said it before, and I'll say it again: the success of a remodel depends on the amount of planning that happens before construction begins. A bathroom remodel is a great illustration of this. Because a bathroom is usually one of the smallest rooms in your home, some people feel they can just wing it when it comes to the design. The fact is, there are hundreds of design decisions that must be made for a bathroom renovation to be counted as a total success. Let's dive into some of the details that are too-often overlooked in the planning stage.
1. Needlessly moving fixtures
If you care at all about your remodeling budget (and, honestly, who doesn't?), you'll want to try to avoid moving the major elements of your bathroom around. Sometimes there's no way around changing the layout, but if the locations of the toilet, sink, and shower are working fine where they are, you'll save a lot of time and money by leaving their locations alone.
See also: Save or Splurge: Master Bathroom Remodel
2. Putting the toilet center stage
One major powder room faux pas is to place the toilet right next to the door. If at all possible, shield the commode from view from the hallway by putting the vanity in between. True, the bathroom door will (hopefully!) be closed when the toilet is in use, but your bathroom will be so much more inviting if entering it doesn't involve tripping over the toilet bowl.
3. Locating the bathroom off of the living room
Have you ever seen a bathroom that opens into the living room, or, shudder, directly into the kitchen? It's just wrong! This isn't an easy problem to correct, but nobody wants to peer into your WC while socializing in your sitting room, let alone use the bathroom with others chatting right outside the door.
4. Using cheap materials
Bathrooms have to stand up to a lot of abuse. Choose building materials that won't be damaged by humidity and will stand up over time. Wallpaper is okay, but try to avoid hanging it over the shower enclosure, for instance. If space is limited, specify a wet-bath design, in which the floor and walls are waterproofed, and splashing from the shower isn't an issue.
See also: 10 Durable Bathroom Materials
5. Inadequate ventilation
We remodel a lot of Seattle bathrooms, and you'd be surprised by how often we uncover ventilation fans that aren't working properly or, in the worst cases, exhaust into the wall cavity or attic. To avoid health-threatening mildew and property-damaging rot, be sure your bathroom design includes proper ventilation. Better yet, add a window for natural ventilation and light.
See also: Mold 101: What to Do If You Find Mold in Your Seattle Home
6. Lack of space around toilet
Building codes specify minimum clearances between bathroom fixtures, but industry groups, like the National Kitchen and Bath Association, recommend more space in some cases. The code requires at least 21" clearance between the front of the toilet and the opposite wall, but 23" or even 30" is much more comfortable. When picking out your fixtures and planning their location, be sure to take these clearances into consideration. Toilets come in a variety of sizes, and picking one that is too large will make a small bathroom feel cramped and may not be code-compliant.
7. Cramped sink
Sinks also need plenty of side clearance to be comfortable. Leave at least 15" from the sink's center line (where the drain is) to a side wall, but I recommend 20". If you opt for a double vanity, be sure to leave at least 30" between the center lines of each sink to allow for ample elbow room. To facilitate cleaning, there should be at least 4" between the outer edge of the sink bowl and the wall.
8. Inadequate storage
Many older bathrooms have insufficient storage, but you see plenty of newer bathrooms with this same problem. When redesigning your bathroom, take an inventory of all the items you want to store there, and then think about whether you want those things visible or not. You will probably want to tuck most items into drawers rather than keeping them on shelves. Invest in good-quality bathroom cabinetry with organized drawer storage for all your items. Drawer dividers, whether built-in or purchased separately, are helpful. Plugs built into drawers and medicine cabinets are a nice touch.
See also: 5 Tips for Adding Bathroom Storage
Planning a bathroom remodel?
There's a lot creating a bathroom that you will love for years to come. Thoughtful design plays a huge role in your long-term satisfaction. If you are contemplating a Seattle bathroom remodel, please feel free to reach out. My interior designer colleagues and I would be happy to answer your questions and share our ideas.
Guide to Hiring a Remodeler
This comprehensive guide walks you through all the steps of choosing who will design and build your project, vetting remodeling companies, and ensuring that you have the best experience.