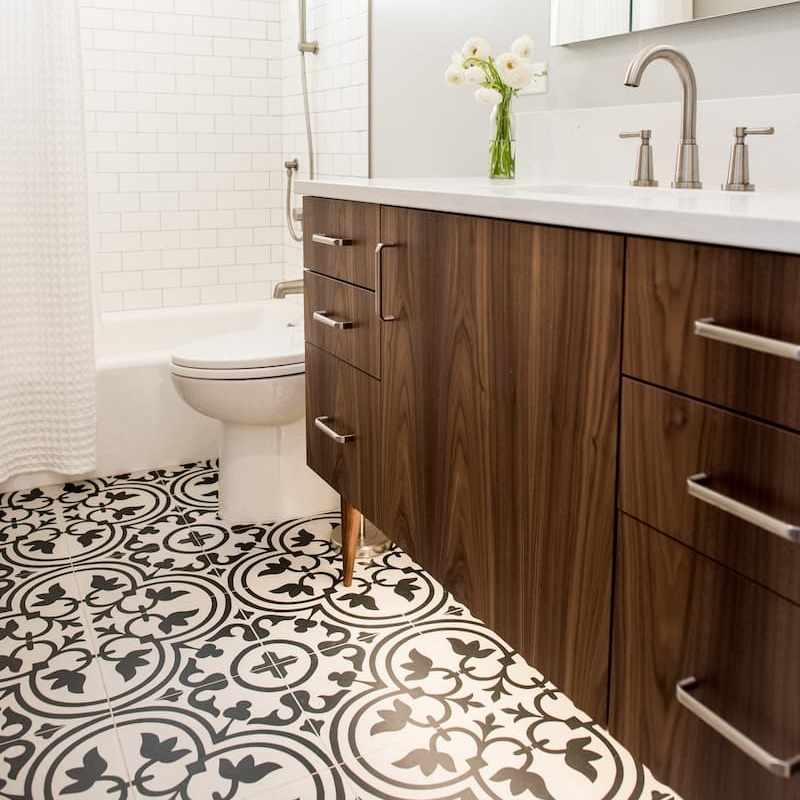 "If I want to be alone, some place I can write, I can read, I can pray, I can cry, I can do whatever I want—I go to the bathroom."

- Alicia Keys
The bathroom is a sanctuary. A place to freshen up, relax, and tend to our most intimate needs. It's also the place where we can let our guard down and allow inspiration to strike.
That's why the best ideas come to us while we're in the shower.
The bathroom is one of the most important rooms in your home, and getting your bathroom remodel right is absolutely vital.
But when working with a tight space and an even tighter budget, that's easier said than done.
Thankfully, you don't need a limitless budget or a huge powder room to execute a stunning bathroom remodel. All you need is some creativity and some smart design choices.
Here are eight affordable ideas to inspire your small bathroom remodel.
1. Don't Move the Plumbing
There's a saying in the industry: "Plumbers are worth their weight in gold."
This alludes to how critical and expensive the plumbing work can be.
Moving your shower, toilet, or bath is a surefire way to drive up the cost of your bathroom remodel. Save yourself some money by leaving the water supply and drainage exactly where they are.
It's more affordable to replace the toilet or sink, which will still make a remarkable change to the appearance of your bathroom.
As with any remodeling decision, consult a professional design team to help ensure that your bathroom remodel ideas align with your existing plumbing.
2. Repair and Retain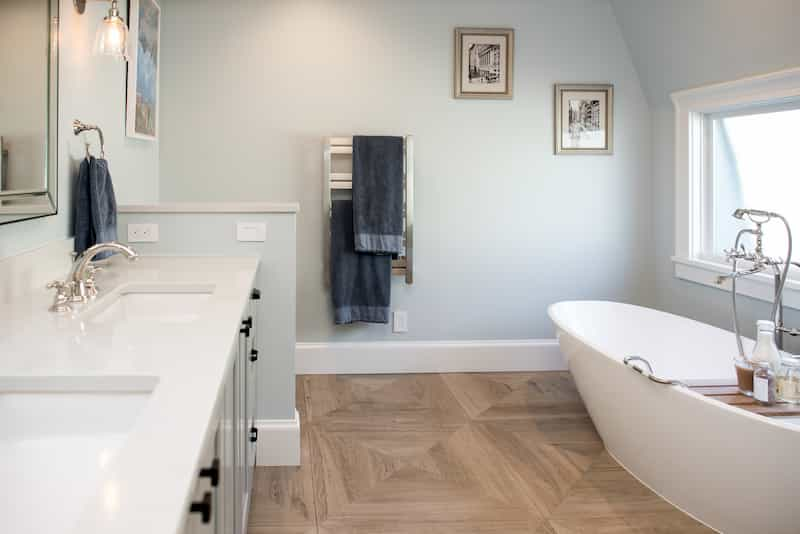 When remodeling bathrooms, we may be tempted to replace all the fixtures. However, this is not always necessary or prudent when working within a tight budget.
When faced with a cosmetic problem, refinish rather than replace the fixture. For example, if your bathtub is slightly stained, have it professionally cleaned and refinished.
A restoration will eliminate the cost of acquiring a new bathtub. It also spares you the added cost of having it professionally installed. A skilled refinisher won't even have to remove your tub to complete the recoating process.
3. Refresh Your Shower

Until a few years ago, bathrooms were quite small—most averaged a footprint of about 5 feet by 8 feet. That's just about enough room for a tub/shower combination, vanity, and toilet.
If you're working with such a bathroom, a successful remodel might seem challenging.
Thankfully, there are ways to work around this, key among which is refreshing your shower. Here are a few tips for refreshing your shower on a budget:
Get Rid of the Bathtub
The idea of giving up your relaxing baths can be jarring. Perhaps you've even considered taking down your bathroom walls to increase your bathroom real estate.
But after some consideration, you'll find that getting rid of the bathtub is the more fiscally sound option for opening the room. Bathtubs are space hogs, and taking down your bathroom walls is far from affordable.
Instead, save yourself some money and give your bathroom a much-needed update by replacing your bathtub with a new tile shower.
See also: Should I Replace My Bathtub with a Shower?
Install a Glass Shower Door
Your new shower will need some separation from the rest of the bathroom. And while the trusty shower curtain might have sufficed previously, it won't do in your new bathroom.
Upgrade to a glass shower door.
Glass shower doors are a great way to create separation and moisture protection while still maintaining the illusion of space. They allow light to flood every corner of your bathroom, making it feel large and elegant; all without breaking the bank.
After all, a glass shower door will set you back far less than everything involved in expanding the existing room and putting up a new bathroom wall.
The open space and elegance of the room will have you enjoying showers just as much as you enjoyed your baths.
See also: How to Clean Glass Shower Doors and Enclosures
4. Update Your Bathroom Tile Game

Tile offers an infinite number of ways to refresh your small bathroom.
For instance, you can use a light-colored subway tile with contrasting grout to liven up your bathroom. You can also use different tile colors, materials, styles, and textures to create an accent wall.
Even something as simple as merely cleaning your tile grout can have a massive impact on the room's appearance.
There's always something you can do with tile to drastically change the look of your space, no matter your budget.
Consult your designer to work out which tile options best suit your vision and budget.
See also: Installing Marble Bathroom Tiles: Pros and Cons
5. Don't Forget About Your Sink Setup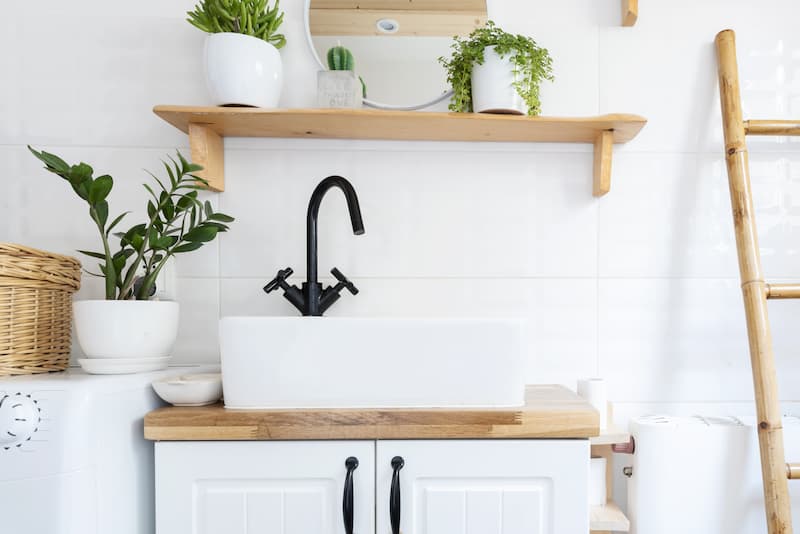 While a new bathtub can be a huge expense, your sink setup can be reasonably affordable to replace. Well, depending on the kind of sink you want.
If you go for a bespoke pedestal sink or a custom-made vessel sink and vanity, prices can quickly skyrocket.
Thankfully, you don't have to break the bank for a custom look. With coordination between your plumber and carpenter, you can achieve a similar effect at a fraction of the cost—by repurposing a vintage piece of furniture.
An antique desk or console can be repurposed into your bathroom vanity with a trough or vessel sink to suit it. In most cases, all you'll need is a bit of paint and some new countertops.
A stock single sink vanity can cost between $200–$800 and $900-$1500 for a double sink, while a custom vanity can cost between $500–$3,800, or more, without a sink.
Given this, repurposing vintage furniture is the most affordable way to refresh your sink setup.
See also: Why Is Bathroom Remodeling So Expensive?
6. Update Your Bathroom Lighting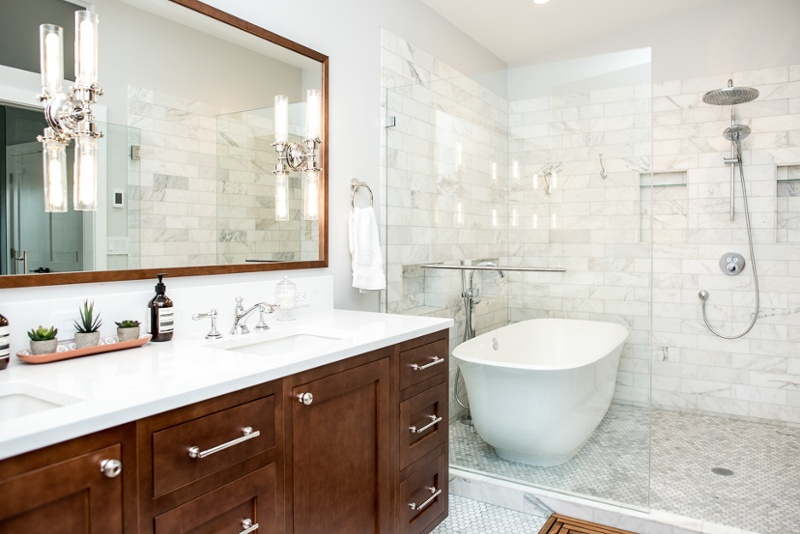 The one thing worse than a small bathroom is a small bathroom that's dingy and dark. Thankfully, this is an easy fix—bring in more light.
But how you choose to bring in the light is where the catch lies.
Our first instinct is often natural light, and the thought is to expand existing windows or perhaps even remove a wall to create a floor-to-ceiling window.
But as stunning as the idea might seem, it's not feasible on a tight budget, especially given that the average cost of a bathroom wall demolition is between $1,000 and $2,300.
Thankfully, there's a far more affordable way to achieve the same effect—new light fixtures!.
With the cost of hiring an electrician averaging $50–$100 an hour, and installation taking only a few hours, you have more room to splurge on your light fixtures.
When well-positioned and attractive, your new light fixtures will be just as effective, and more affordable than opening up a wall to add more windows.
Related: 8 Bathroom Design Blunders to Avoid
7. Refinish Your Wood Cabinets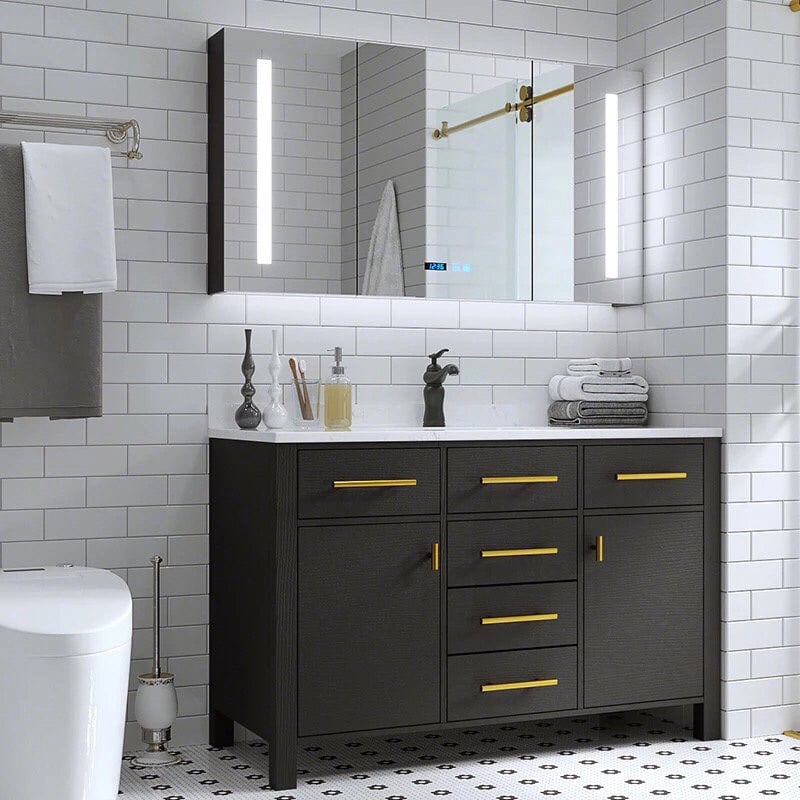 Source: flickr
A brilliant way to achieve an affordable small bathroom remodel is to refinish your wood cabinets.
Ideally, this would involve a professional painter, some sanding, paint, and new hardware.
Much of the hardware on your cabinets can be removed and updated, including:
Handles
Knobs
Latches
Hinges
The wood can then be sanded down and primed for a new coat of paint.
New paint gives you room to incorporate some clever design options. For instance, you can paint the lower cabinets darker colors and the upper ones, like the medicine cabinet, a lighter color. This will draw attention upwards and make the bathroom feel bigger.
In addition to the new colors, you can also replace the hardware on your cabinets. This way, you keep material costs down while enjoying the pros of new bathroom furniture at a steal.
8. Expand Your Bathroom Storage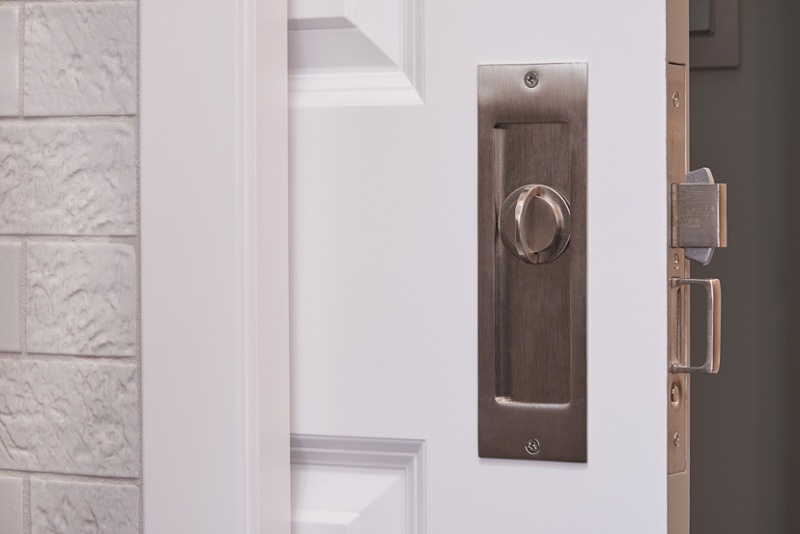 There never seems to be enough room to store everything you want in the bathroom; even more so when your bathroom feels more like a half bath.
The first thing you should do during your small bathroom remodel is pare down.
Next, make the most of your existing square footage. Don't forget the space behind the door.
Usually, this space is left unused to allow the bathroom door to swing open. You can reclaim that space and use it to expand your bathroom storage by switching to a pocket door.
This additional space will allow you to increase your storage, for example, by extending your vanity and countertops or even installing some shelves.
Pocket door installation costs considerably less than more drastic methods to increase bathroom space.
Related: Design Inspiration for Your Bathroom Remodel
9. Get a Professional Contractor
DIY has its appeal, especially if you're trying to keep your small bathroom remodel costs low. However, if you don't have the skill and the time to run a remodeling crew, it's best to stick with a professional contractor.
Remodeling a bathroom, no matter how small, requires a team of subcontractors, including:
Carpenters
Electricians
Painters
Tile Installers
Plumbers
Most tradespeople juggle multiple projects, moving from one job to another. Without proper planning, your small bathroom remodel could drag on for months!
But with a reputable remodeling company, you get a lead carpenter to oversee your bathroom renovation. The right building partner helps ensure the smooth running of your project and that everything is done to code.
Get Your Bathroom Ideas Right
Bathroom remodels are never as easy as we'd like. But they need not be a nightmarish experience. With the right team, they can be as easy as a Sunday morning.
Okay, maybe not quite, but close enough.
Consider these affordable ideas when planning your bathroom remodel. But most importantly, get in touch with a credible design-build team to partner with on your renovation.
That's the secret to hassle-free small bathroom remodel.
Guide to Hiring a Remodeler
This comprehensive guide walks you through all the steps of choosing who will design and build your project, vetting remodeling companies, and ensuring that you have the best experience.