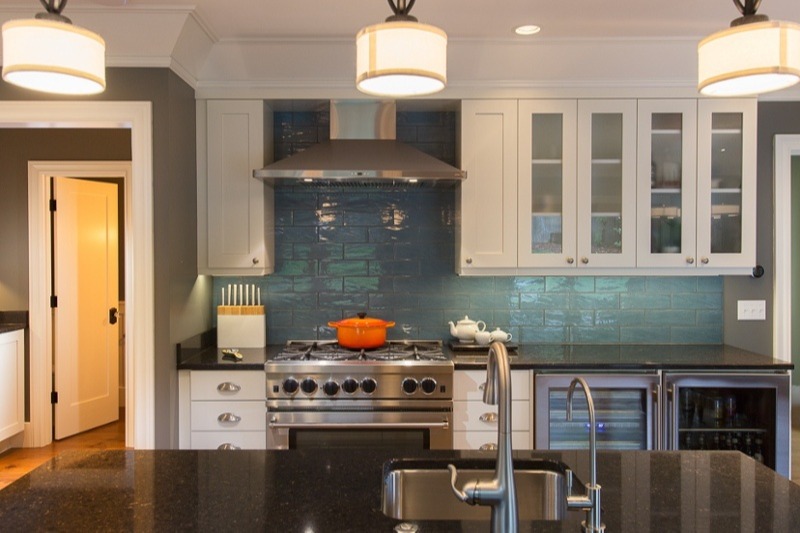 Of all the updates you can make to your home, a kitchen remodeling project will have one of the greatest impacts on how you live and function in your space. A well-designed kitchen will not only improve the overall vibe of your home but will also increase its resale value.
There's no shortage of dreamy inspiration photos featuring freshly remodeled kitchens, both online and in magazines. But remember that kitchen renovation projects are complex. Getting everything to work out like you planned can be incredibly challenging without the right team of professionals to back you up.
This how-to guide will help you make sense of the kitchen remodeling process and provide you with tips and insights to keep your renovation expectations realistic. Time, money, and patience are just a few things that will be required, but the vast majority of homeowners agree that the renovation process is well worth it. Follow these steps one by one, and you will be rewarded with a smooth project and the kitchen of your dreams.
1. Clearly Define Your Kitchen Remodeling Project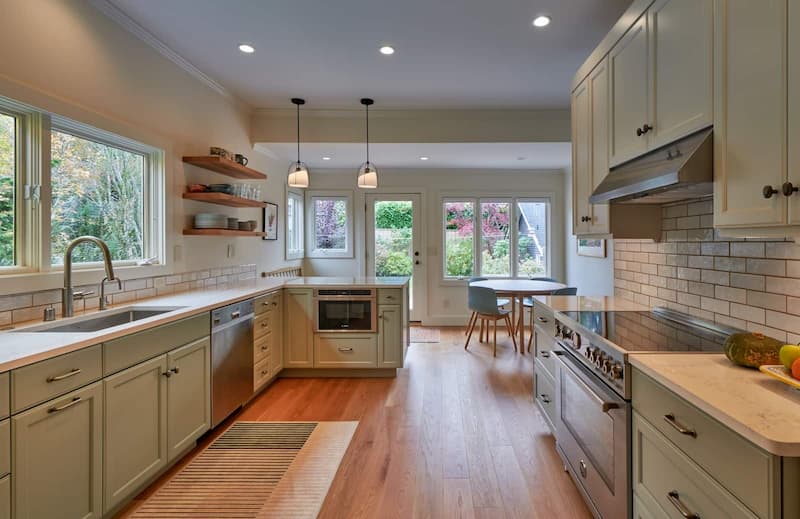 When you're tackling a major kitchen remodel project, you'll need to start by clearly defining your plans and goals. With hundreds of decisions to make, it can be overwhelming to stay focused without an overall objective to help center your project and keep things moving forward.
To start, create a kitchen remodel goal list by answering some simple questions:
What do you need your kitchen space to do?
Is it a place in which you want to cook five-course meals and host dozens of friends for weekly dinners? Or is it a space that needs to act as both family diner and kids' homework station? Be realistic about what you need your kitchen to be able to do and use that goal as a launchpad for your other ideas.
What are your "must-haves"?
Whether your list includes updating granite countertops to quartz, adding more storage, or fixing a poor layout and flow, creating your "must-haves" will connect your overall kitchen goals (hosting those weekly five-course gatherings) into realistic needs that you can start using to build your timeline and budget.
See also: Timeless Kitchen Design
2. Find a Designer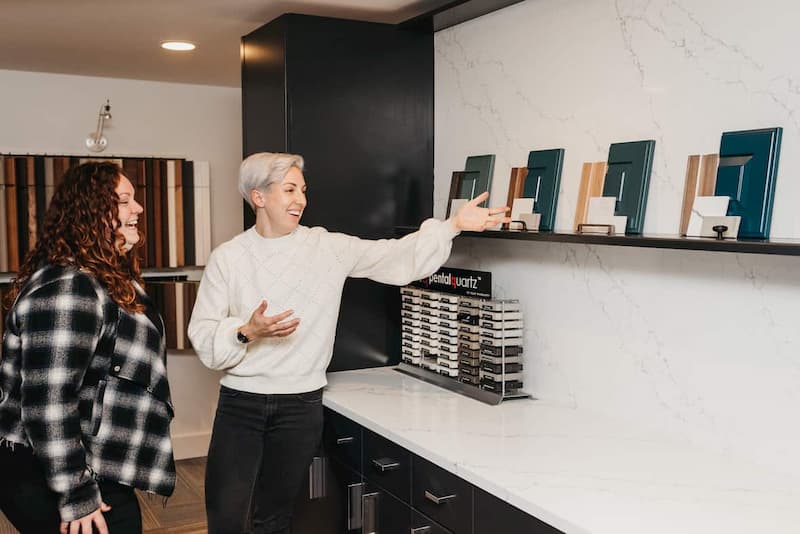 Creating the kitchen your home needs will most likely require outside help. Even if you have done your research and have a good sense of the layout and finishes you want, you will benefit from having a professional designer document and create a workable plan for a builder to reference. A designer will also help you make informed decisions and keep your project on track.
If you are going to enlist the help of a designer, I suggest you do so early in the process. Your designer will help guide you through all phases of your project, and the earlier in the process you hire them, the more help they can be.
Do I hire a designer or architect?
Most kitchen remodeling plans are drafted by a designer, such as an interior designer or a project designer. In rare cases (less than 2% of residential building projects), an architect will be involved. Design professionals, including architects, have different specialties and different levels of experience designing kitchens, so choose one carefully. Consider a potential designer's credentials, experience, and portfolio. And don't overlook personality. It's important to find a design professional you click with and who understands your vision.
See also: Who Do I Hire for My Remodeling Design?
What about engineering?
The vast majority of kitchen remodels do not present structural challenges, but if yours does, your design professional may enlist the services of a structural engineer to "stamp" your building plans, as required by your city's permitting authority.
The design-build option
If you need to maximize your time and budget and want to work with a cohesive team of professionals, you may want to consider working with a design-build firm, in which the designer of your project and the builders are all part of the same team. Instead of acting as a liaison between your designer and your general contractor (and hearing them each blame the other when something goes wrong), you can hire one company to fulfill both roles and take full responsibility for the success of your project.
In addition to accountability, other benefits of the design-build approach include efficiency, speed, and communication.
See also: Should I Hire an Architect or Choose Design Build?
3. Get Your Layout Right Before You Go Shopping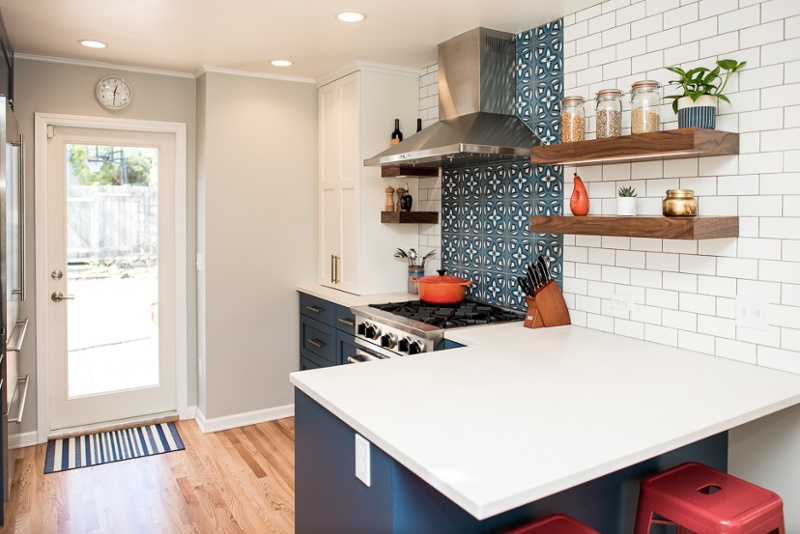 In kitchen design, function is king. It doesn't matter how sleek your cabinets are or how trendy your tile is if the space isn't functional for you.
I always notice right away when I'm in a poorly designed kitchen. The ergonomics are off, and I find myself having to waste steps walking all over the place to access the appliances and cooking tools I need. Don't let this happen to your new kitchen!
Your kitchen layout may be limited by your square footage, but there are many creative solutions that can impact and improve the function of your kitchen. Each home features unique challenges, but here's a list of items to consider when evaluating your kitchen's layout:
Define your location: Would your kitchen layout improve if you took down a wall and opened the space up to your living or dining room? This trend remains popular in new home construction, and many Seattle homeowners opt to include this dramatic change in their remodels as well.
Protect your traffic flow: Aim to keep your cooking space free of walking paths and obstacles to maximize efficiency during food prep.
Maximize your storage: Start by reviewing the items you have and get rid of any pieces you don't actually enjoy using. You may be pleased to discover that by decluttering, you've already gained more storage space and can skip the cost of adding additional cabinets or drawers.
Consider open shelving: If your kitchen collection features some pieces that could double as decor, maybe this is the time to add some open shelving. It's not recommended to sacrifice necessary cabinets and storage for the sake of a focal point, but even a small open shelf can add a bit of functional drama.
Evaluate your lighting: Don't forget to relocate your lighting to complement your new kitchen layout. If you're moving a sink to a new wall, you'll want to make sure your task lighting doesn't get left behind. Doing dishes is even less exciting when you're stuck doing them in the dark!
4. Set a Budget and Stick to It

Your architect, interior designer, or design-build team should help you by providing estimates at key stages in the design process. It may be tempting to try to save money with DIY work, but cutting corners on such a pivotal area of your home isn't something most professionals recommend.
"Investing in your kitchen by choosing quality materials and appliances is like writing a check to your future self; the extra money you are spending during your kitchen remodeling project now will eventually pay you back later with an increased home value and peace of mind," says CRD's design manager Leslie Eiler.
Another bonus to choosing to invest in quality appliances and materials is in the time savings. The last thing you want to do is snag a deal on cheap fixtures, only to spend time and money replacing them when they break just a few years later. Look for appliances that come with an extended warranty to further protect your investment.
Financing Tips
Figuring out how to pay for your kitchen remodeling project may not be as glamorous as picking out a backsplash, but it's a necessary step. Check out our post 11 Ways to Finance Home Remodeling for a detailed review of financing options, including cash-out refinancing, home equity lines of credit (HELOC), and home equity loans, to see which option is right for you.
5. Hire the Right Building Team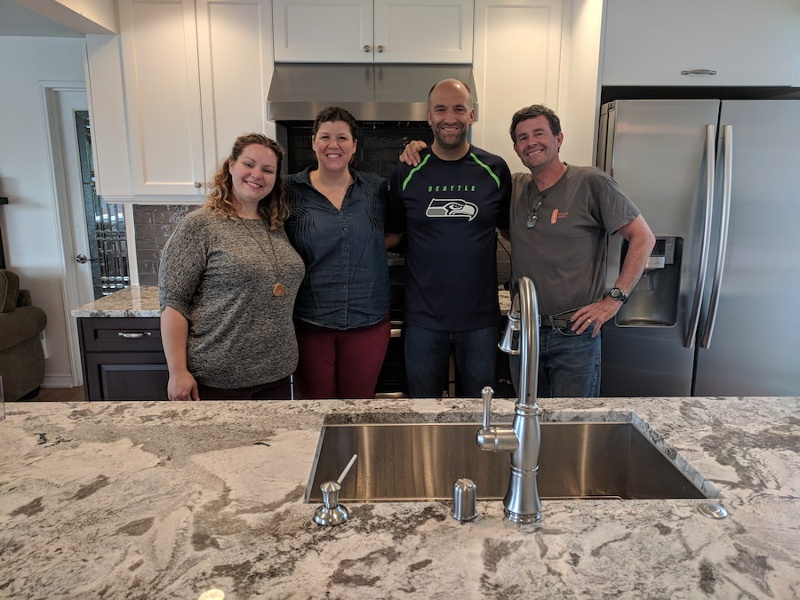 If you didn't hire a design-build firm in Step 2, it's time to start your search for a good general contractor who can complete construction within your budget. With your expertly drafted building plans in hand, you can start asking GCs to bid on the work.
Choosing the perfect building partner is about more than qualifications. When it comes to finding the right contractor who can remodel your kitchen, qualifications are important. But they're not everything.
A contractor's personality plays a big part in the success of your kitchen remodel. In fact, it can be a deciding factor in whether you enjoy the process or whether it turns into a total nightmare.
It's important to choose someone that you feel comfortable being around for days or weeks on end. This builder will be in your house all day. Choose someone you trust and feel comfortable sharing your family's space with. Your contractor should make you feel at ease while they're redoing your home.
Not all contractors have personalities that are compatible with everyone, but the majority of them seem generally friendly. You may also want to consider how neat the contractor keeps his or her workspace when he or she leaves each day.
Ask your network and check online reviews
Online sites, such as Nextdoor or local Facebook neighborhood groups, can be great resources for getting contractor referrals and recommendations. You can also ask your friends and neighbors for referrals. Trust your gut and avoid any builders with multiple complaints or poor communication notes. Feeling heard and understood during your kitchen remodel should be a fundamental expectation, not a "nice to have." Don't settle here.
What does a builder actually do?
For very small projects, you may be able to hire a carpenter or handyman who will complete all the work himself or herself. But for kitchen remodels with a greater scope, which is most of them, the project will require, at minimum, a licensed plumber and electrician. In this case, you will probably be hiring a general contractor. This person will manage the project, hire and oversee the subcontractors (those electricians, plumbers, demolition crew, drywallers, painters, etc.), and pull the necessary permits. Many GCs do some of the carpentry themselves on smaller projects, but some just act as managers, often juggling multiple projects at once.
When interviewing builders, it's important to ask and understand what their role will be on the job site. At CRD, for instance, we use what's called a lead carpenter system. With the support of our back-office team, the lead carpenters stay with one project from start to finish, do some of the more detail-oriented carpentry and installation, and manage the project so that everything goes smoothly and stays on schedule.
See also: Red Flags to Look Out for When Hiring a Contractor
6. Ready, Set, Build!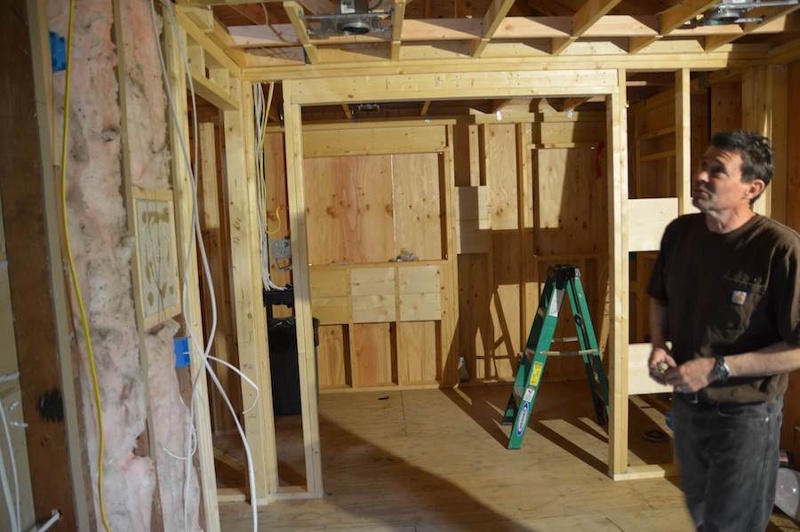 Moving from the design phase to the construction phase of a kitchen remodeling project is an exciting milestone. You finally get to see your hard work come to life!
During this phase, your home will become an active job site with a variety of loud noises, tradespeople, and materials dominating the space. Many homeowners try and schedule a family vacation during this phase to help lessen the daily impact on their routines; some even move out entirely to cut down on the disruption to their daily lives.
It is possible to stay in your home during the renovation process if you create a plan in advance. Setting aside an alternate cooking area will be important, and something some design-build companies offer to their clients.
Construction dust can also be a surprising part of the building process. I always encourage homeowners to talk to their builders about their dust-control methods. You'll want to choose a professional contractor who takes tidiness seriously and includes daily sweeping, secure plastic barriers, and even HEPA filtration systems to protect the air quality in your home.
Choosing to tackle a kitchen remodel project is a major decision for any homeowner. But with a solid design and a professional team to bring it to life, it's one of the best investments you can make.
FAQs
Can you tackle a kitchen renovation yourself?
Yes, you can remodel your kitchen yourself. It's not as easy as it looks, but if you have carpentry and project-management experience and are willing to start small with quality kitchen updates, like new countertops, resurfaced cabinets, or even new appliances, kitchen remodeling is doable.
But be realistic about the amount of time you have to commit to your project. If you're juggling a full-time job and limited to improving your kitchen during evenings and weekends, choose kitchen projects with quicker timeframes, like painting or replacing appliances.
See also: 10 Home Renovation Mistakes to Avoid
Can you remodel a kitchen for $5,000?
We hear this question a lot, or some variation of it. The answer is usually, yes. You can improve your kitchen on nearly any budget, or even no budget at all if you limit yourself to decluttering, organizing, and cleaning. What you probably won't be able to do is design and carry out a full kitchen remodel on a super-tight budget, even if you do most of the work yourself. The fact is, quality kitchen cabinets, hardware, and fixtures all carry a significant cost. As does hiring trades professionals, like electricians and plumbers (which is highly recommended for safety reasons). By all means, do what you can with your budget, but be careful not to overshoot and take on more than you can realistically complete with your available time and resources.
See also: What Does a Remodel Cost?
What is the most expensive part of a kitchen remodel?
You may think that gorgeous, marble backsplash will be the budget-breaker, but people forget just how costly licensed professional labor can be. A good rule to keep in mind during your project, when it comes to labor, is that you get what you pay for. If you expect the team working in your home to be knowledgeable, licensed, and have the permits to do your project legally, you should be prepared to see the majority of your budget go towards labor.
See also: What Happens If You Get Caught Remodeling without a Permit?
In what order do you remodel a kitchen?
In a typical kitchen remodeling project, there are many construction phases. The first step will be a dramatic one, and the existing kitchen will be demolished. If you've seen any HGTV show, you've probably seen the gleeful expression as contractors and even homeowners start swinging the sledgehammers and removing the old cabinetry and countertops. Depending on the scope of your kitchen remodel, this phase can even include removing or opening up walls down to the framing studs.
Next, comes building out the new space. These phases include:
Framing and structural work
Rough-in work (plumbing, electrical, and HVAC)
Insulation, drywall, and fresh paint
New flooring
Cabinets and open shelves
Countertops and backsplash
Finish work (plumbing, electrical, and HVAC)
Appliances
The last step of a kitchen remodeling project will involve a detailed and thorough cleaning. Kitchen renovations will create plenty of dust and debris, and before you begin moving your plates and flatware into your new kitchen, you're going to want your builder to bring in a cleaning professional to ensure your new space is ready to go. Reputable remodeling firms always include professional cleaning within their projects' fixed costs.
See also: Remodel Planning: Where to Start and the Order to Follow
Guide to Hiring a Remodeler
This comprehensive guide walks you through all the steps of choosing who will design and build your project, vetting remodeling companies, and ensuring that you have the best experience.