Builders and designers are always searching for new ways to reduce the environmental impact of a home, whether it be with smart lighting fixtures or energy-efficient windows. But there's one method that's been around for ages, and it relies on a material that harbors endless possibilities for home remodeling projects: reclaimed wood.
A sustainable remodeling choice
Reclaiming previously used wood is a great way to give a quality material fresh life. Whether it is harvested from an old barn scheduled to be demolished or from an unused piece of furniture that can be dismantled into high-quality planks, reclaimed wood is an incredible way to reuse a material that might otherwise end up in the landfill.
Reclaimed wood can look new or old
When choosing a reclaimed wood product for your remodeling project, you can opt for one that is planed and sanded to reveal a fresh surface that is nearly indistinguishable from virgin timber. However, I think that overlooks some of the potential reclaimed wood has to add character to your home. I love reclaimed wood products that highlight the material's patina and history. Adding rugged reclaimed wood elements to an otherwise polished new remodel can have a striking effect.
Top reclaimed wood projects for your home
Not sure where to start? Check out these ideas for home remodeling projects that incorporate reclaimed wood.
1. Reclaimed wood accent walls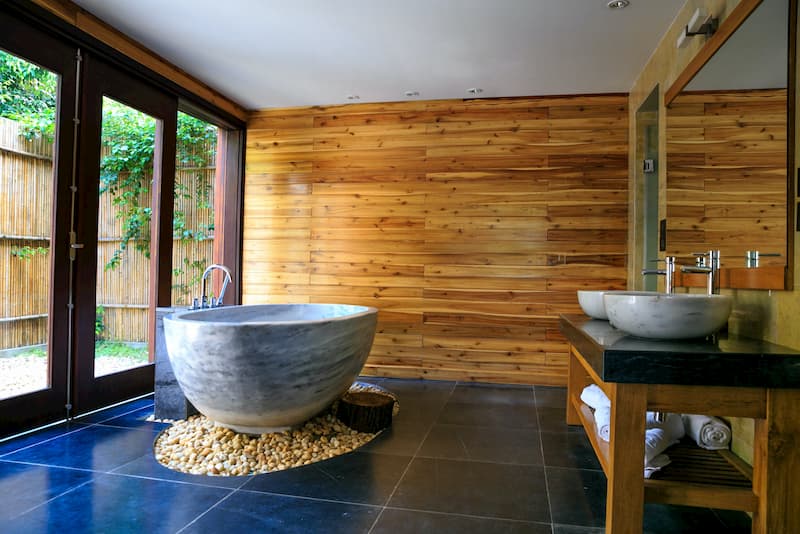 One of the beautiful features of natural wood is the intricate grain pattern that brings dimension and character to the surface. By covering one wall in reclaimed wood planks, you can effectively create an accent wall that adds incredible richness to any room. Short on wood? You can achieve the same effect by installing trim horizontally midway up the wall and then covering the small segment of wall from the floor to the trim in natural wood planks.
2. Antique flooring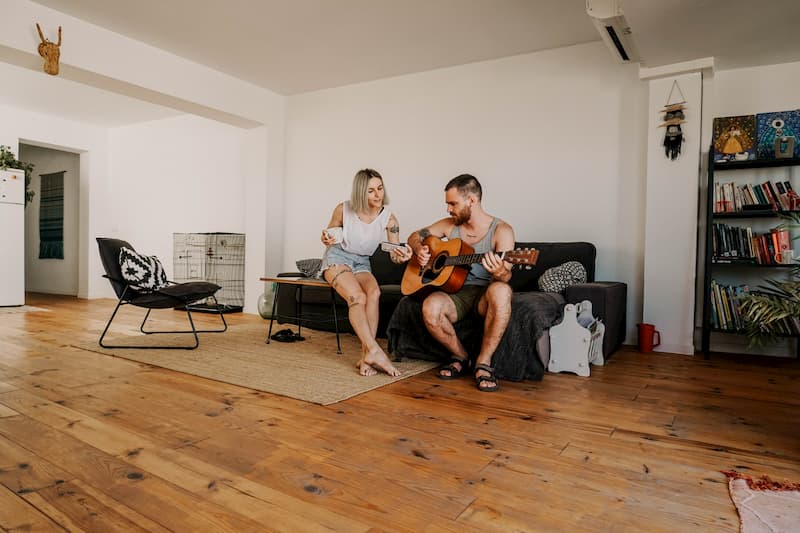 Natural wood also looks great as flooring. Use a high-quality stain to emphasize the grain patterns and achieve a color tone that partners well with the surrounding décor. And remember, not all flooring patterns have to fall in line with a traditional layout. Custom patterns can be created to express your home's unique style.
See also: 6 of the Most Durable Flooring Options for Pets
3. Decks and pergolas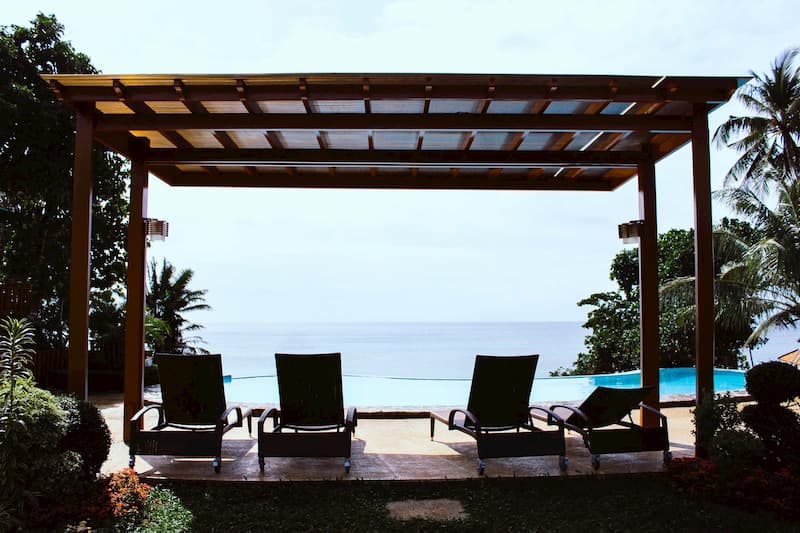 Outdoor decks and pergolas also benefit from reclaimed wood. Traditionally built with wood to create a natural connection with the surrounding landscape, pergolas can range from petite extensions on the side of your home to grand, statement-making fixtures standing independently in the yard.
See also: Maintenance Checklist: Your Home's Exterior
4. Fencing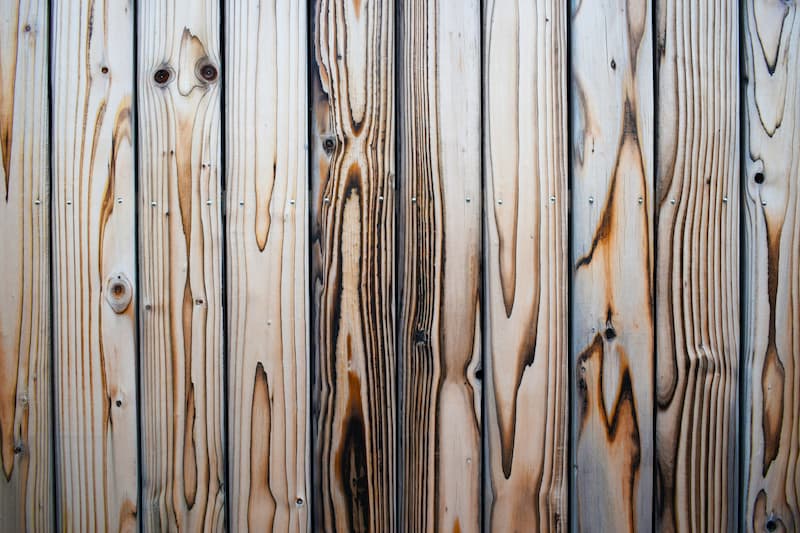 Whether creating a full picket fence along the property line or a small segment of privacy fencing to help enclose patio seating, reclaimed wood is a great material for outdoor fencing. Be sure to treat the wood with an outdoor stain or paint that will help it hold up against the elements.
5. Classic siding compositions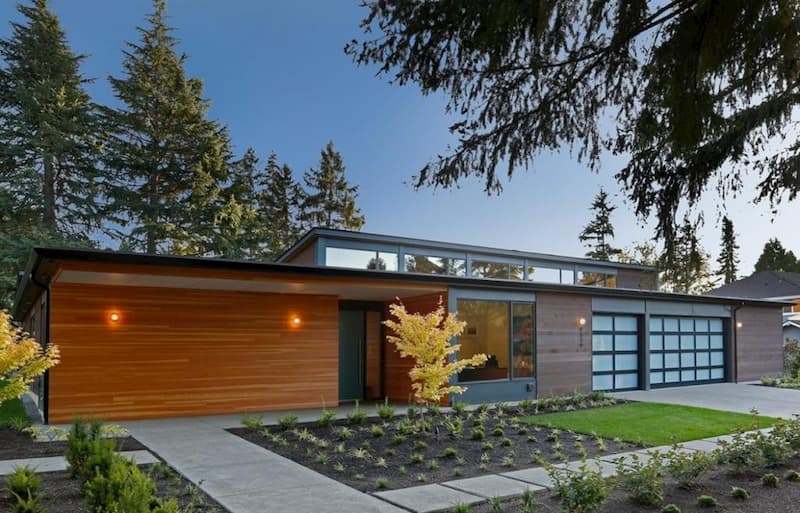 Image: Mountain Timber Products
Wood can be used for your home's exterior siding, though you'll need to be sure to source enough to finish the entire job. One modern way of using reclaimed wood on the exterior is to create crisp, horizontally aligned rain-screen siding complemented by bold fixtures, like a red door and shutters, or black window frames and soffit.
Another option for homes with high-end features, like concrete shingles, is to complement the bold detail with relatively subdued and simple wood lap siding. Creating a smooth and simple appearance with wood siding can help highlight the beauty of other, more flashy architectural features.
6. Statement tabletop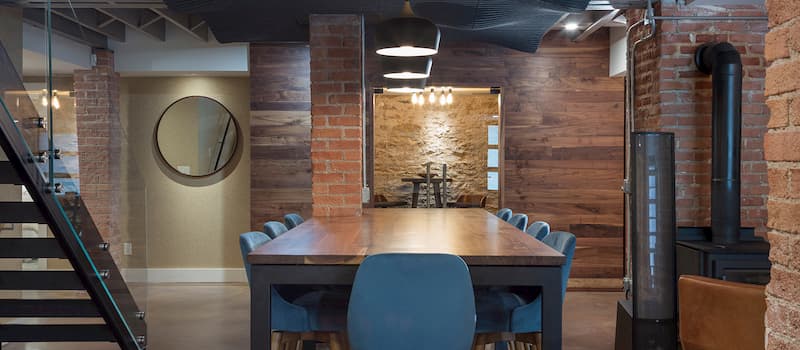 Image: Elmwood Reclaimed Timber
When remodeling the interior of a home, reclaimed wood can contribute warmth and character. Consider crafting a new, one-of-a-kind furniture piece by using reclaimed timber as a table top.
7. Kitchen islands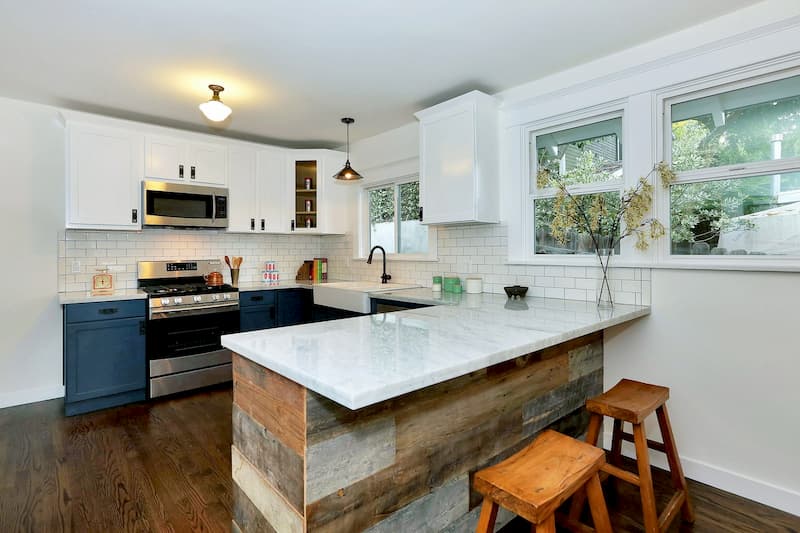 Another great way to use natural wood indoors is to furnish the base of a kitchen island with reclaimed wood panels. Alternatively, you can opt for a beautiful reclaimed wood countertop surface. These small projects can give an instant face lift to your current kitchen island.
See also: The 5 Main Types of Kitchen Island Lighting
Weaving reclaimed wood into your remodel
This list is just the beginning! Reclaimed wood provides a plethora of opportunities for creating custom remodeling projects that bring depth and character to your home. If you are ready to remodel your home, please feel free to contact us. The CRD design team would be happy to discuss your project and how you might incorporate reclaimed wood.
---
Mandy Lee is a contributor to Innovative Construction Materials. She is a blogger and content writer for the building materials industry. Mandy is focused on helping fellow homeowners, contractors, and architects discover materials and methods of construction that increase property value, maximize energy savings, and turn houses into homes.
Guide to Hiring a Remodeler
This comprehensive guide walks you through all the steps of choosing who will design and build your project, vetting remodeling companies, and ensuring that you have the best experience.