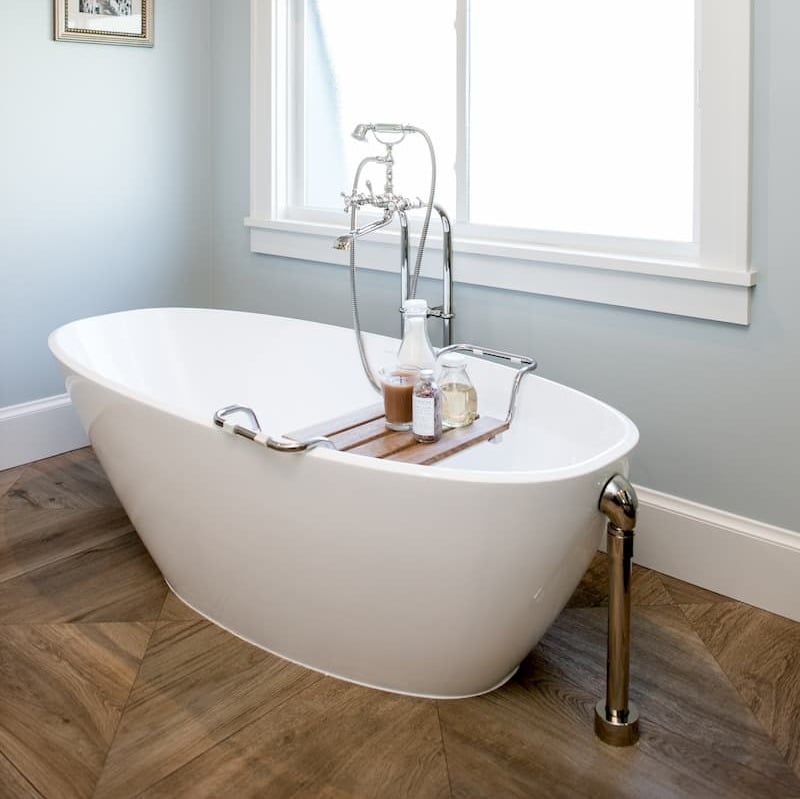 After a long day, nothing beats unwinding with a luxurious bathing ritual. Whether you take a prolonged soak in the tub or a steaming-hot shower, the stress seems to melt away. Morning routines are also much less stressful when you have a well-designed and perfectly appointed bathroom. More homeowners than ever are opting to pamper themselves with a luxury redesign of their master bath. Read on for some of the most important considerations that go into designing the perfect luxury bath, and then browse our gallery of inspiring luxury bath photos.
See also: 8 Bathroom Design Blunders to Avoid
What's your idea of luxury?
Luxury can mean different things to different people. For some it's spa-like spaces that include a steam shower, sauna room, soaking tub, or even space for meditation or yoga. For others it might mean expensive handmade tile, rare stone countertops, high-end lighting, and state-of-the-art tech. For me, a luxury bath experience makes me think of a gorgeous hotel suite that transports me to a place and time that feels elegant, chic, and opulent. For you, it might be something completely different. An experienced interior designer will ask lots of questions to help you define exactly what a luxury bath means for you.
Privacy is paramount
If it's at all possible, locate your master bath in an area of your home that is tucked away from noisy or busy spaces in your home. The feeling of luxury begins with a sense of seclusion from the outside world.
Use your home's existing space for a private master bath
One of the first decisions that comes when designing your new luxury bath is whether you can work within the footprint of your existing bath or whether you will have to reconfigure your home's layout or add on. Many older homes were not built with a master suite, meaning the main bathroom is down the hall from the master bedroom. Tastes and expectations have changed, and today's homeowners want the master suite layout, with a secluded, adjoining master bath. You can work with an experienced interior designer to reconfigure your floor plan to achieve the desired layout.
A home addition for a master bath
In some cases, it is simply not possible or practical to squeeze a master suite into your home's existing square footage. In this case, the only approach may be to add on to your home. We design and build many single-story and multi-story additions with the goal of creating a luxurious master suite for our clients. The simplest additions are single-story "bump-outs" that are built on a slab or crawlspace foundation. These are perfect for homes that aren't encumbered by setbacks. For tighter lots, you may have to go with a dormer or second-story addition to make space for the master suite of your dreams.
Tub, shower, or both
Another major decision that you will want to discuss with your project designer is whether you prefer just a shower or both a tub and shower. Modern luxury baths tend to have, at a minimum, a standalone shower. In most cases, these combine custom tile work and high-end fixtures for a luxurious look and feel. Often, our clients opt for a curbless design, with an ultra-clear glass surround. Sometimes, we recommend a "wet-bath" design, in which the entire room is waterproof, so no enclosure is needed at all.
In a luxury bath, the standard step-in shower-bath combo is replaced with a luxurious freestanding soaking tub. These high-end tubs come in a wide variety of creative designs to match any decor, from traditional clawfoot to eye-catching modern designs to deep Japanese ofuro-style tubs made from natural wood. Whatever style of soaking tub you choose, it will likely become the centerpiece of your luxury bathroom.
See also: Should I Replace My Bathtub with a Shower?
Custom bathroom cabinetry and storage
Another important visual design element is the cabinetry you choose for your luxury bathroom. Well-designed custom cabinetry not only looks beautiful, but it can make the difference between a space that is cluttered and difficult to navigate to one that remains uncluttered because there is a bespoke storage space for all your toiletries and essentials. Start with high-quality, durable cabinet materials that will hold up to the humid bathroom environment. Then work with an interior designer who can plan the perfect combination of shelves and drawers to hold all the items you regularly use. Built-in plugs for chargers in vanities and drawers are super-helpful in taming the clutter of hairdryers, toothbrush chargers, and the like.
See also: 5 Tips for Adding Bathroom Storage
One sink or two?
Many homeowners opt for a double vanity without giving it a lot of thought, but I like to urge clients with smaller bathrooms to consider a single sink. This leaves so much more counter space for laying out one's toiletries, makeup, and other items, which can lead to a more enjoyable experience.
Heated bathroom floors
You can almost never be too warm and cozy in your bathroom. Heated floors, towel bars, and even toilet seats are all available. They add a nice, luxurious touch to your master bath and make you want to linger, which, after all, is the point of creating a spa-like retreat in your home.
Bathroom lighting
Gone are the days when a single overhead fixture in the bath would suffice (or, worse, those polished brass strips of glaring bare lightbulbs that were tacked on top of seemingly every vanity in the Eighties.) When designing the perfect master bath, it's important to follow a layered lighting approach, with indirect, suffused lighting to set the mood, as well as task lighting for reading and skincare. A subtle splash of light in the shower niche adds a touch of luxury. A focused beam of light over your soaking tub makes sinking into an aromatherapy bath and enjoying a book that much more enjoyable. A chandelier or statement piece over the tub scores lots of style points. A vanity with built-in full-spectrum illumination always puts your face in the best light. Whatever lighting you choose, try to avoid harsh light sources and bare bulbs, which cast sharp shadows and kill the relaxing mood of your master bath. Also, don't forget to plan plenty of windows or a skylight for natural light and a connection to nature and the outdoors.
See also: Design Inspiration for Your Bathroom Remodel
Bathroom flooring
Tile is the traditional choice for bathroom flooring, and it still is one of the best, most durable options. There is a dizzying array of choices, but I usually recommend sticking with porcelain tile over ceramic tile because it is nonporous and offers unmatched stain- and water-resistance. For a different look, choose large-format tile or tile that is made to look like wood planks. Luxury vinyl tile (LVT) and marmoleum are also very durable. I recommend against installing carpet or hardwood flooring in bathrooms because of the susceptibility to water damage.
See also: 10 Durable Bathroom Materials
Wall treatments
Crisp white-painted walls lend a zen-like feel to your space, but don't be afraid to get creative with your wall coverings. Choose a palette of soft colors inspired by nature for a calming feel. And remember that tile is not just for the floor. Handmade or geometric wall tile can help make your bathroom durable and resistant to water damage. It can add eye-catching patterns and visual interest to the space. Painted shiplap is another way to add texture and pattern. And don't shy away from wallpaper. Installed correctly, it will hold up to the moisture and is a simple way to add personality and visual appeal to your bath.
Plumbing fixtures for the luxury bath
Plumbing fixtures are an area where looks can be deceiving. Many cheaply made copycat fixtures have flooded the market in recent years. These knock-offs are made to look like luxury fixtures, but beneath the surface, they are made with cheap components. When it comes to plumbing fixtures, you usually get what you pay for. Opt for high-quality faucets with solid brass bodies and all-metal or ceramic-disk mixing valves. They will last much longer and have a more solid feel in the hand, which is a subtle but recognizable quality cue. For the ultimate luxury, install a steam shower or dual shower heads, in addition to a rain shower.
See also: Save or Splurge: Master Bathroom Remodel
The high-tech bath
More and more new technology for the bathroom is being offered, but I would advise steering clear unless it really helps you accomplish your goals for the space. Do you really need your lighting to be controlled by your smartphone, or would the prospect of pairing your devices just stress you out? I'm all for incorporating the latest tech when it helps solve a problem, but, at least for me, having a luxury bath that is an oasis from the outside world means unplugging. Maybe I'm old fashioned, but I would rather light some beeswax candles than worry about connecting my shower speakers to Bluetooth. :-)
Let's talk toilets
When it comes to picking the perfect toilet, there are more choices than you might think. For a luxury bath, I usually recommend a one-piece toilet over a two-piece design. These higher-end models look sleeker and are easier to clean. Pick a brand with an excellent reputation for quality and flushing ability. Wall-mounted toilets are gaining in popularity. By concealing the tank and inner workings in the wall, they free up valuable bathroom space and offer minimalist good looks. Today's washlet toilets, which combine an automatic bidet function with a seat warmer, have a growing number of fans in the U.S. For a lower-tech approach, European-style bidets are also gaining in popularity. If space permits, I like to incorporate a water closet (a separate small room for the toilet) to give privacy when more than one person is in the bathroom.
Universal design
Universal design is an approach that tries to anticipate and accommodate the needs of a wide variety of users, of various ages and abilities. In bathroom design, it means making commonsense choices, like wide doorways, curbless showers, a bench in the shower area, and strategically placed handholds. The best and least-expensive time to incorporate such features is not when you might need them but when you are remodeling or building a space. Fortunately, universal design features are unobtrusive and, in fact, align well with the luxury bath aesthetic. If, for instance, you're not ready to add handholds in your shower, you can inexpensively add the blocking in the walls so that they can easily be added later. It almost always makes sense to plan ahead.
See also: 7 Smart Steps to Bathroom Universal Design
How much does a luxury bath remodel cost in Seattle?
Many remodelers do not publish their pricing, so it can be hard to gauge how much a luxury bath renovation costs. Fortunately, the Remodeling Cost vs. Value Report sheds some light on high-end bathroom remodel pricing. This annual report is based on regional project pricing and resale value data collected from remodelers and real estate agents. The report estimates the cost of a Seattle bathroom remodel to be $74,198. This is for what the publishers call an "upscale" bath because it incorporates such features as a tile floor and a freestanding tub, but we consider these things to be almost standard. Few homeowners doing a custom-designed bathroom remodel opt for lower-grade materials, such as sheet-vinyl flooring and a fiberglass tub insert.
At CRD, we do publish our pricing, in the form of pricing guides for our most popular remodel projects. Our estimated pricing is about in line with what the report found to be the Seattle average. For instance, in our bathroom guide, we estimate a remodel that retains the existing layout to be between $60,000 and $80,000. A bathroom remodel that includes a complete reconfiguration starts at $80,000, and prices go up from there as you add custom luxury features.
Download our Bathroom Remodel Pricing Guide
How will a luxury bathroom remodel affect the resale value of your home?
If you have your heart set on a luxury bathroom remodel but are wary of the cost, there's good news. The data in the report show that you can expect to recoup about 79% of the amount you invested in your new bath when it comes time to sell your home. In other words, if you invested the average Seattle amount of $74,198 for an upscale bath remodel, you could reasonably expect to add about $58,593 to the value of your home. That's one of the higher ROIs studied in the report and is probably one reason why luxury bathroom remodels are one of our most popular projects.
See also: Why Is Bathroom Remodeling So Expensive?
Planning a bathroom remodel?
There's a lot to creating a bathroom that you will love for years to come. Thoughtful design plays a huge role in your long-term satisfaction. If you are contemplating a Seattle bathroom remodel or adding a luxury master suite, please feel free to reach out. My interior designer colleagues and I would be happy to answer your questions and share our ideas.
Guide to Hiring a Remodeler
This comprehensive guide walks you through all the steps of choosing who will design and build your project, vetting remodeling companies, and ensuring that you have the best experience.