Whether you're planning a major remodel or building a custom home, there is dizzying array of design styles to choose from. With so many options available, the decision on what to choose for your own home can seem overwhelming.
While you should ultimately follow your own style, it's still good to understand what makes each of these popular styles so appealing and, in the process, learn their identifying characteristics. A professional interior designer can work with you to help you create and refine a style that's perfectly suited your unique personality.
Read on to discover a list of ten key interior design styles so you can transform your space and make it your own.
1. Mid-Century Modern Interior Design Style

You don't have to live in the space age to appreciate the simplicity of mid-century modern design. Inspired by designers like Charles and Ray Eames, this style offers your home a truly distinctive look.
Some of the hallmarks of mid-century modern design include teak furniture, bentwood frames, and tapered, angled legs on chairs, shelving, and sofas. Simple and compact, yet highly functional, are a few of the traits that make this design style so appealing to so many.
This style comes from the mid-1950s and early 1960s, and it still holds true to is retro-inspired aesthetic. Open shelving and furniture with a small footprint exude this design style's basic principles.
Look for organic shapes and earthy tones when you're thinking of going mid-century modern. A sputnik chandelier is a perfect companion to any room that boasts this design style. Spice things up with a starburst mirror complemented with a shimmering gold frame.
See also: 10 Mid-Century Modern Home Accessories on Amazon
2. Transitional

In the world of design styles, the term transitional can be a bit tricky for some. In essence, transitional design beautifully blends modern elements with classic hallmarks of design to create a seamlessly thought-out hybrid of old and new.
As you delve into transitional design, keep an eye out for a mixture of different materials, either in one piece of furniture or throughout an entire room. Things like metal and glass may interplay with softer textures, like plush velvet upholstery.
The juxtaposition of styles can make transitional interior design one of the most eclectic and fun options available. Combine elements like chrome and glass tables with a velvet Victorian chair all in one room to really nail down the idea of transitional style.
The goal when using transitional designs is to make sure that everything is seamless in terms of the overall look. You don't want the old and new to clash too much, but instead, you want all of the time periods to come together in a beautiful, cohesive way.
Mix and match things like abstract art on the walls with a classic canopy bed. Install vintage light fixtures that highlight your modern concrete flooring to create a bold, transitional look.
3. Contemporary Interior Design Style

The terms modern and contemporary are often interchanged, but this design style has its own unique characteristics. Essentially, contemporary refers to the current trends in home design, while modern essentially stays the same in terms of aesthetics.
You can easily meld modern design with your contemporary choices, but the idea is that the items you choose to design a room are fresh and on-trend. Incorporate clean lines to create the ultimate contemporary space.
The concept of contemporary home design is that it's fluid and ever-changing. Talk to your interior designer to find out more about the latest trends so you can stay on top of your contemporary game.
For furniture, look for pieces that are simple but have plenty of timeless appeal. Sleek metal legs and soft, bold-colored upholstery are a great match for contemporary homes.
Stay away from overbearing designs like colorful florals, ruffled textures, or rustic components. The key to contemporary is to keep things clean and simple while incorporating the latest modern trends.
See also: Bringing the Outside In: 5 Keys to Pacific NW Style
4. Industrial

Industrial design styles pay homage to the past with an assortment of unique features. Edison-style light bulbs and caged metal light fixtures add a classic industrial-inspired look to any room.
You can add industrial features to your decor by choosing furniture made of thick reclaimed wood and repurposed accents, like old metal wheels. Metal, wood, and concrete are hallmarks of industrial style, and they're often combined to create the look.
Most industrial spaces use bold yet neutral colors, like dark brown and black. You don't have to live in an old manufacturing plant to add an industrial touch to your home. Consider revamping your space with exposed brick or duct work to give it an industrial feel.
High ceilings and old timber beams with metal light fixtures work together seamlessly to craft an industrial space. Sprinkle in some old tintype photos, reclaimed furniture, or other vintage elements to round things out. Pops of copper and bronze are a perfect choice to bring in some subtle metallic elements.
5. Modern Farmhouse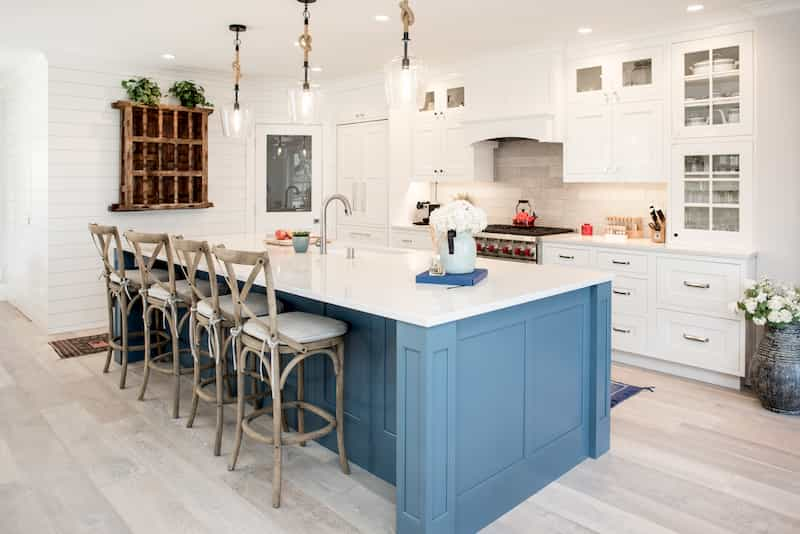 The modern farmhouse design style is taking the nation by storm, and it's a beautiful way to add freshness and personality to your home. This timeless style features a fun mixture of rustic interior design style elements alongside modern design to give it an updated aesthetic you'll love.
Essentially, this style puts a modern spin on country living by incorporating a few contemporary elements into the space. Black metal window frames and sparkling crystal chandeliers pair with solid wood tables and whitewashed accessories in a true modern farmhouse setting.
Similar to transitional design, modern farmhouse styles blend old-world materials with things that are fresh and new. Take a sleek granite countertop and blend it with metal bar stools, or mix and match your sturdy wood dining table with funky, contemporary chairs. Painted shiplap on one feature wall will give your home a farmhouse touch that is both rustic and contemporary.
One important element of the modern farmhouse aesthetic is to bring greenery into as many rooms as possible. Freshly cut flowers in a classic ceramic vase or wreaths made of faux eucalyptus leaves add a natural touch and help make your home's spaces look alive. Colors are mostly neutral in modern farmhouse homes, but splashes of black and gold, along with pastel-toned artwork, can give your home just the right amount of color it needs to look beautiful.
6. Art Deco

The art deco aesthetic has a storied history that gained popularity in the 1920s in Western Europe and migrated to the United States in the 1930s. With a nod to the luxe Parisian motifs of old, art deco design blends modern lines and fashionable elements together for a visually striking design.
Art deco design first began as a way to showcase wealth, luxury, and social prominence. Jewel-tone colors, like deep greens, dark blues, and reds, mingle with shimmering gold, all presented with clean lines and artistic details.
Take a look at the Chrysler Building in New York City, and you'll see a perfect example of art deco style. Chicago is another prominent place where the art deco movement still lives on. For your own home, you can incorporate antique furnishings and shiny metallic accents for some inspiration.
Install sweeping, dramatic chandeliers to give your home a classic art deco look. This style of design mixes elements of Ancient Egyptian artwork along with the decadent fashions of the late 1920s and early 1930s. Look for curved lines intermixed with sleek, straight ones to create a unique look that gives the furniture for your home its classic art deco vibe.
If you choose to explore art deco in your home makeover, remember the three main principles. These include bold colors, shimmering metallics, lacquered furnishings, and unique patterns that mix with straight lines to give accents a stained glass-like appearance.
7. Scandinavian

Your mind might go to IKEA when you think of the Scandinavian design style, but this unique approach has so much more to offer. The concept of Scandinavian design comes from the simple lives lived by the people of Nordic nations.
Keep things simple, clean, and understated, while choosing soft color tones for a classic Scandinavian look. Furniture is both functional and sleek but has a touch of sculptural style, too.
Wood floors topped with white area rugs are an example of how you can begin layering a Scandinavian space. The two-toned look is popular, and it often blends white with another neutral color, such as gray or beige.
Just because Scandinavian design likes to keep things simple, it doesn't mean that you can't enjoy a little bit of drama. Liven things up by adding some brightly colored vases or pottery to the room as well as a fun enameled tray table in your choice of colors.
Potted plants are another crucial element of Scandinavian design. If you don't have a green thumb, faux succulents in a white ceramic geometric vase will do the trick. The goal is to make your rooms look and feel as clean and peaceful as possible.
Natural lighting is the best choice for this design style. Install wide-plank wood flooring with a nice gray wash, and bring in a few simple chairs, tables, and a sofa topped with neutral fabric upholstery.
8. Traditional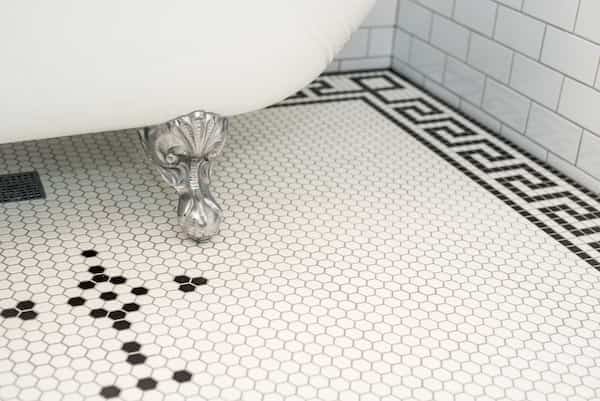 With a style that's deeply rooted in European culture, traditional design is easy to accomplish in your own home. This style uses dark wood and rich colorways along with pops of texture and curvaceous lines.
Add some soft detail to a traditional home, such as long velvet curtains or a tufted ottoman covered in colorful velvet upholstery. A piece of patterned brocade fabric is another excellent choice that exemplifies the traditional design style.
One benefit of choosing a traditional design style is your ability to mix and match colors and patterns. Since there's not really one specific way to decorate a traditional home, it's easy to bring in a variety of colors and textures without ruining your desired aesthetic. Mix a wood coffee table with a leather couch, or make a fun gallery wall to give your home an eclectic look that can easily be changed at any time.
See also: Create a Home That's Timeless Not Trendy
9. Craftsman

If you want your home to have a touch of classic Americana, the craftsman style might be just what you need. This architectural style originates from the early 1900s during the famous Arts and Crafts movement.
In Seattle, we are fortunate to have many well-preserved craftsman homes. If you are lucky enough to own one of these, then a period-inspired craftsman interior is a natural fit. But even if your home wasn't built in the craftsman style, you can still draw from its design vocabulary in your decor choices.
Keep things simple and understated but warm and inviting. Open floor plans with wood crown molding and chair rails are a perfect start to the classic craftsman look. Built-in shelving on the walls and window seats are also excellent choices.
Add a fireplace surrounded by hand-carved details on the mantel. Paint rooms in neutral tones like a soft gray. All bright colors should be reserved for fabrics and accessories in a craftsman-inspired home.
See also: How to Preserve Your Home's Original Character When Remodeling
10. Coastal

You don't have to live on the beach or even near the ocean to enjoy the beauty of coastal-inspired interior design. This style pays tribute to the beauty of the sea with light colors, such a creamy off-white, pale blue, and light yellow.
Whitewashed wood floors and plank-style furniture add a coastal element to a living room or bedroom. Layers of flowy texture, such as linen fabric in soft tones, are another way to incorporate an easy, breezy look and feel into any space.
If you adore the symbolism of the sea, add a few fun accessories, like starfish, whale paintings, and sea-grass baskets to your home. Gather real seashells and place them in a clear glass vase for a beautiful accent piece you can add to a countertop or bathroom vanity.
Overall, a coastal design style is light and airy with a splash of natural appeal. Avoid super-dark colors and too much beachy decor to avoid making your coastal design look too nautical.
Home Design Made Simple
Whether you adore the simplicity of a Scandinavian home or prefer things bolder like art deco decor, I hope this article has helped sort through some of the main interior design styles. Once you settle on a favorite, don't be afraid to break the "rules" to make the style your own. It may help to enlist the help of a professional interior designer to help you tweak a particular style to best meet the unique needs and tastes of you and your family.
When you're ready to remodel or completely transform your space, visit our website and be sure to contact us to schedule a discussion so we can help you reach your project goals.
Guide to Hiring a Remodeler
This comprehensive guide walks you through all the steps of choosing who will design and build your project, vetting remodeling companies, and ensuring that you have the best experience.