Want to make your basement more livable without springing for a complete renovation? A partially finished basement (sometimes called a "half-finished basement") might be just the solution you've been looking for. Here are 10 basement renovation and decorating ideas that can transform your lower level from a dank, spider-filled place to an inviting space your family will actually want to spend time in. Best of all, these partially finished basement solutions won't break your budget.
1. Embellish your floor with a new rug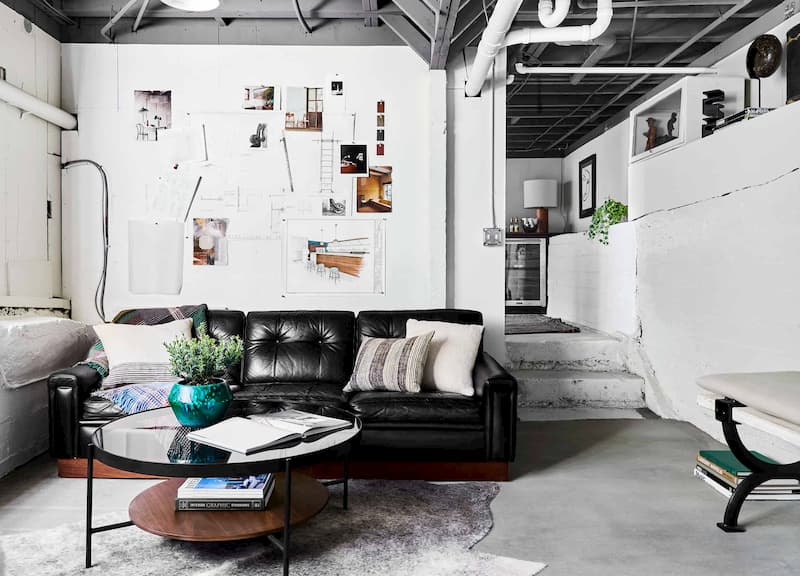 Photo: Emily Henderson
One of the easiest ways to change things up in your basement is by placing a rug in the center of the room. This addition might seem so simple that it couldn't possibly make a big impact, but by adding color and a soft texture underfoot, the right rug can change how you feel and perceive the entire room. It will make the cold concrete floors of your basement feel instantly warmer and more inviting.
What kind of rug should I choose for my basement?
If the floor of your basement is damp or prone to occasional flooding, it's essential that you choose a waterproof rug that's rated for indoor-outdoor use. The last decade has seen an explosion of the outdoor living trend, and outdoor-capable rugs now come in a plethora of designer colors and patterns. These rugs may look like they would be at home in well-designed interior room, but they are made of materials that shed water and may be resistant to mold and mildew. Unless you lay down a subfloor, a basement is usually no place for a deep-napped rug that you might put in your living room or upstairs bedroom.
2. Transform your concrete floor with epoxy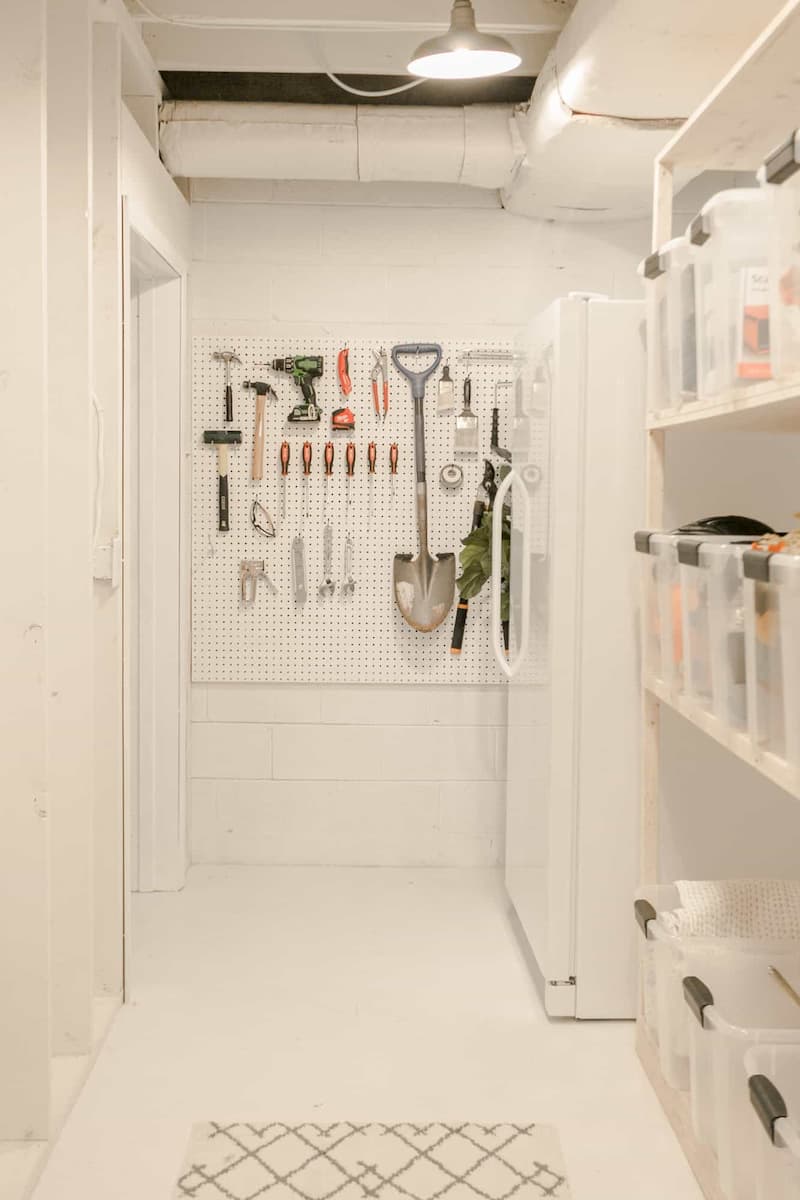 Photo: A Beautiful Mess
Painting your concrete floor is one of the most dramatic (and inexpensive) upgrades you can make to your basement. I recommend a two-part epoxy finish over traditional concrete paints. While a wide variety of a colors and styles are available—from solid colors to flecked overlays to faux stone finishes—I recommend keeping it simple. A plain white finish can brighten up your basement, or a dark color can add a dramatic flair. If you go dark, be sure to balance it out with light-colored walls and ceiling.
Why paint your basement floor with epoxy?
If you prepare the surface according to the epoxy manufacturer's directions, you'll end up with a tough finish that hides surface imperfections and is resistant to stains. It's also great for basements because it works just as well on slightly sloped surfaces as it does on flat surfaces. If your basement has a drain, which it should, chances are, your concrete floor slopes toward it.
3. Finish it up with a floating floor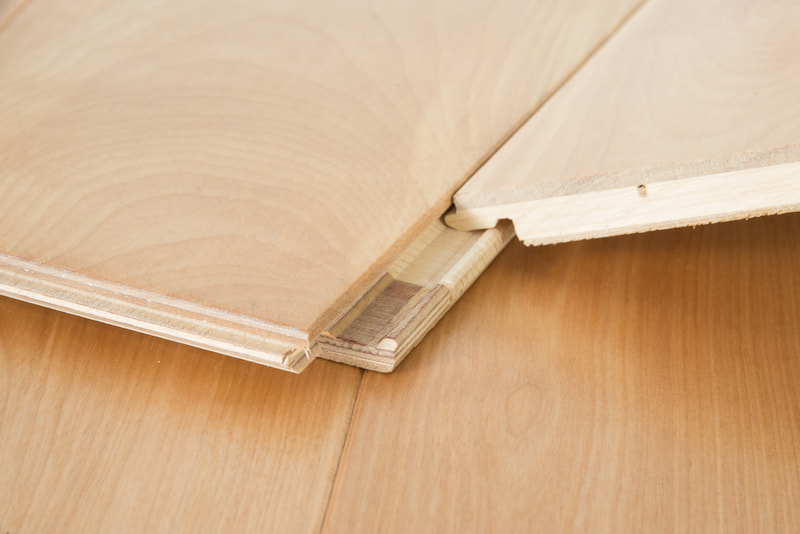 A floating floor is an engineered flooring material that usually clicks together and is not attached to the subfloor or walls. It "floats" on top of the subfloor, meaning it is less prone to buckling or gaps if the surface below expands or contracts. You can choose from wood-look laminates, wood veneers, cork, Marmoleum, or even floating carpet tiles with a waterproof backer. Floating floors act as insulators, partially solving the problem of a cold basement floor.
Can you really use a floating floor in a basement?
In a word, yes! A floating floor can be a great solution in a basement, but you have to choose one that is designed for damp environments, if your basement is like most and fits that description. (Keep in mind that if your basement floods regularly, you should probably stick to your concrete floor and paint it with epoxy as mentioned above.) Homeowners have successfully installed all kinds of floating flooring in their basements, but if you are looking for long-term durability, choose vinyl or carpet floor tiles with a built-in vapor barrier backing. The most robust versions feature barrier backings with a molded plastic waffle design that raises the floor off the subfloor slightly and allows air and water to circulate beneath. This type of flooring can be an extremely durable solution and is easy to install. If you use standard floating flooring without a built-in barrier, be sure to roll out vapor barrier material before you install the tiles to limit moisture damage.
See also: 5 of the Most Durable Basement Flooring Options
4. Paint your ceiling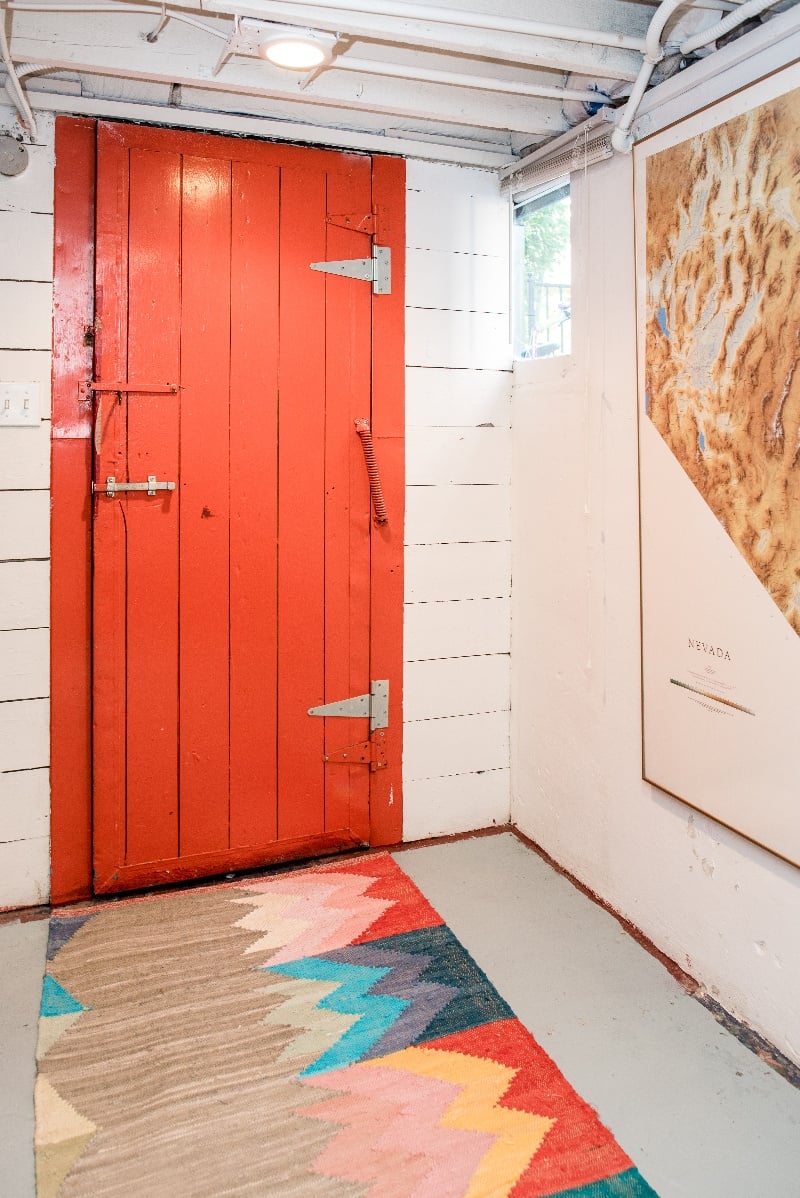 Painting your ceiling is an inexpensive way to completely change the look of your basement. People are often worried about the colors of their walls but often overlook the importance of their ceiling.
What color should you paint your basement ceiling?
White is the go-to color for almost any ceiling. It brightens the room (almost always a plus but especially so in a basement), and it never attracts attention to itself. You can't go wrong with a white ceiling! However, we're talking about partially finishing your basement here, so let's assume that drywalling your unfinished ceiling isn't in your budget. In this case, an electric paint sprayer is your friend. Spray on a coat of stain-hiding primer and then two coats of white paint, and those joists, pipes, and electrical conduit will almost disappear. To even more effectively hide the unfinished tangle that is your basement ceiling, paint it matte black. It's definitely a less traditional approach, but it can be quite dramatic. For an even more striking look, mask off just your copper pipes before you paint everything else black.
See also: A Primer on Paint
5. Get creative with your lighting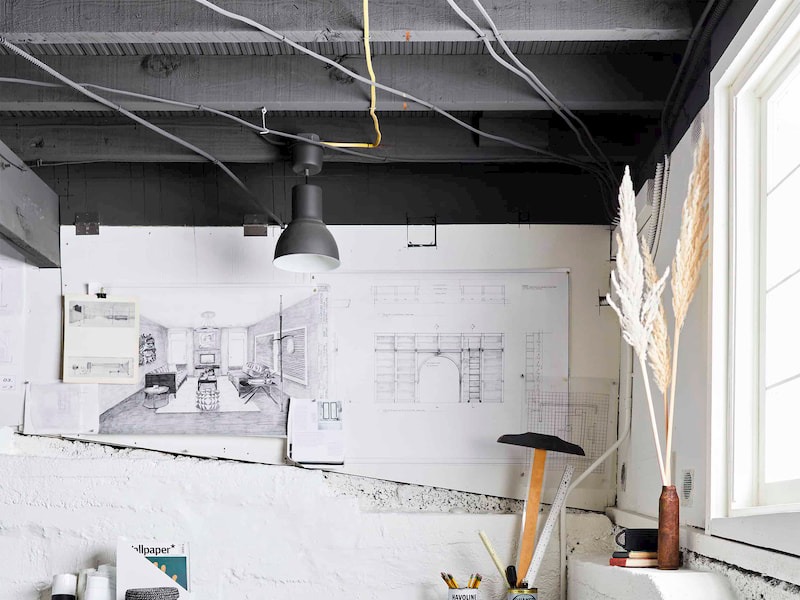 Creative lighting can change a room with little effort. The great thing about this is you can play around with different angles and shapes to make a room feel bigger or cozier depending on what you want. It's a simple way to give a personal touch to your basement.
What lighting fixtures should I choose for my partially finished basement?
One approach is to take advantage of the industrial vibe of your unfinished space. You can have an electrician install can lights in between the ceiling joists and leave the electrical conduit exposed. Fixtures designed for outdoor use may also give you the look you want, and they can sometimes cost less than interior lights, too. Or you can opt for low-voltage LED spotlights. A vintage chandelier over a table can provide striking contrast and really dress up a partially finished space. And, of course, floor lamps can provide warm pools of light that bring the focus to a seating area and provide a sense of coziness that might be in short supply.
See also: Create a Home That's Timeless, Not Trendy
6. Add a glass exterior door to let in the sun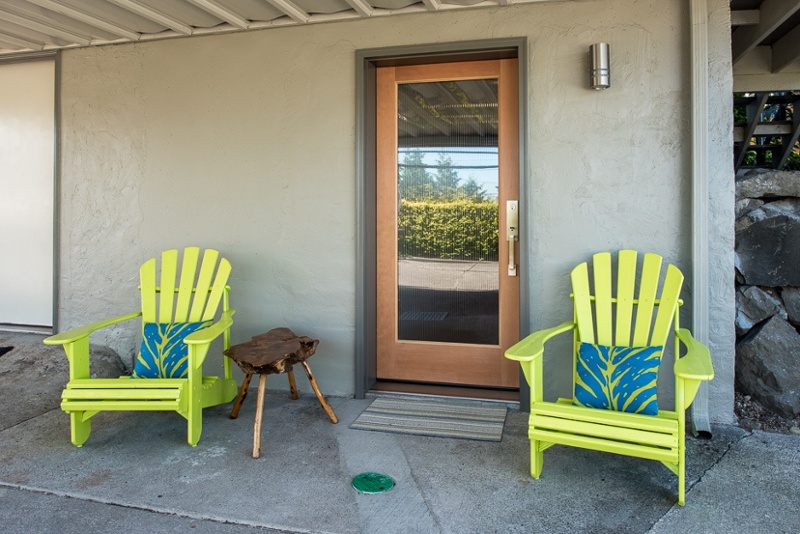 Sunlight will brighten a room like no other light source, and it will make anyone basking in it feel great. If increasing the size of your basement windows is impractical or impossible, switching out your exterior door for a full-light version (one that has a large piece of glass in the middle) is a great way to increase your overall glazing.
What's the best exterior door for your basement?
Since daylight is at a premium in a basement, splurge on a full-light door . Be sure to choose a door that will stand up to the dampness of being below grade. Insulated fiberglass or steel doors will hold up for the long haul. Solid wood doors don't insulate as well and are prone to rot if not protected. If your door features lots of glass, be sure it is at least double-paned and designed to prevent heat energy from escaping your home.
See also: 4 Home Exterior Remodeling Projects That Improve Durability
7. Make your basement feel cozy and warm with radiant heat panels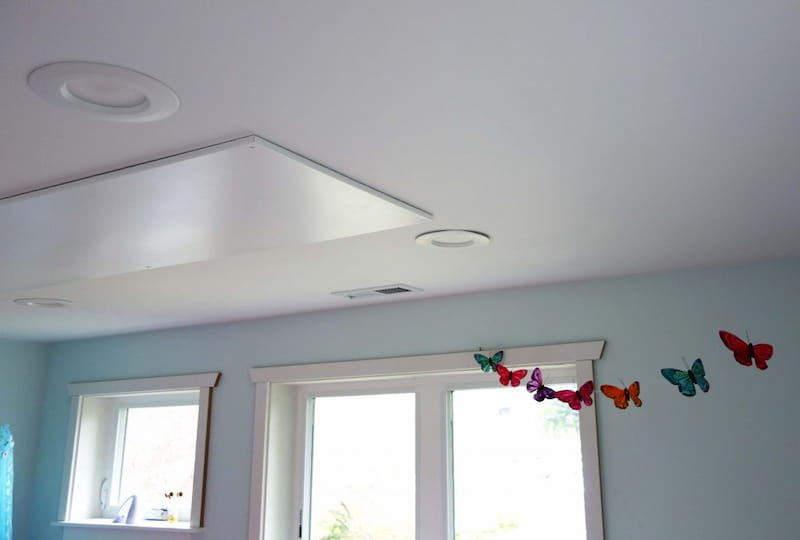 Photo: Mighty Energy Solutions
Heat rises, so it can be difficult to keep a basement warm. What is more, most home heating systems were not designed to provide sufficient duct work to keep the basement the same temperature as the rest of the house. Chances are, if you have forced-air heat in your home, and you want to feel comfortable in your basement in the winter, you are going to need some sort of supplemental heat source. One of my favorite solutions is the radiant heat panel. These channel infrared heat directly to you rather than heat the air around you. The result feels almost exactly like standing in the warm sunshine. The best part is that the feeling of warmth is instant, so you don't have to wait for all the air in your basement to heat up as you would with forced-air heat.
How are radiant heat panels installed?
Smaller radiant heat panels can be attached to the wall or ceiling and plugged directly into a standard household outlet. Higher-wattage panels are usually mounted to the ceiling and hard-wired by an electrician. Position your panels over your basement couch or main seating area. Wow, you just created the new warmest, coziest spot in your home!
See also: Best Heating System for Your Seattle Home
8. Eliminate water woes with a French drain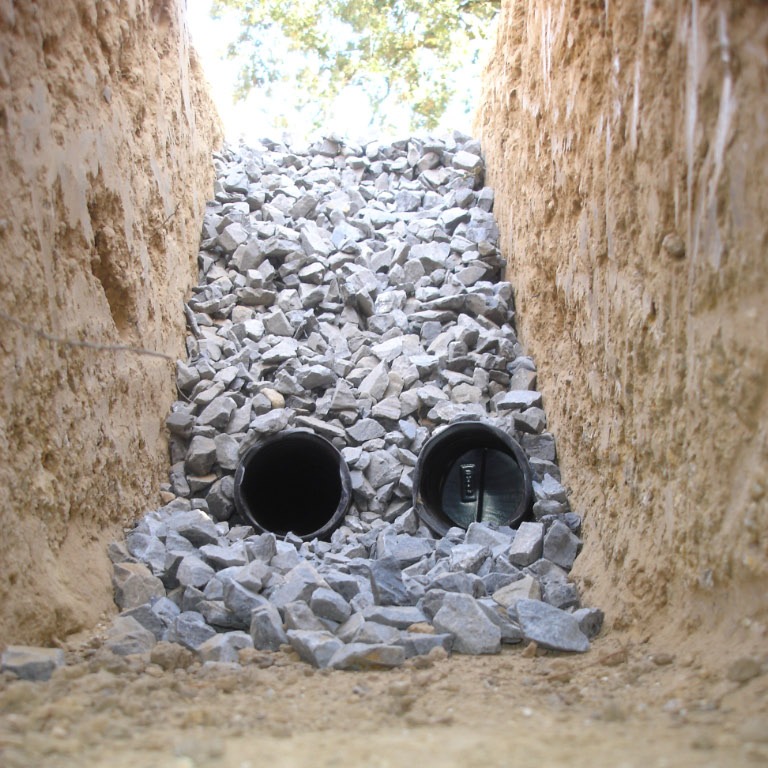 Mold is one of the worst things that can creep into your basement. The only way to permanently get rid of mold is to take care of moisture problems. Installing a French drain in your basement is one of the most effective ways to redirect water from rain and the ground away from your basement.
How does a French drain work?
A french drain is essentially a gutter for groundwater. It can be installed around the outside perimeter of your house, or on the inside of your basement. If it's inside, the water runs to a sump to be pumped out.
See also: Wet Basements 101: How to Dry Out That Leaky Basement for Good
9. Run a dehumidifier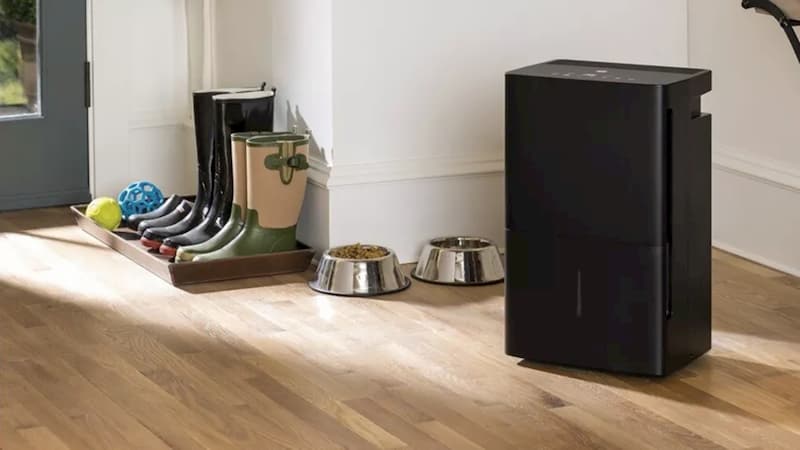 Photo: GE
Because your basement's walls are buried in dirt, they generally stay a bit cooler than the ambient air temperature. In the summer, the warm, humid air can condense on the cool concrete basement walls and cause mold-breeding moisture to build up. Yuck! One of the most effective, and simplest solutions, to make your basement more livable, is to run a dehumidifier. Coupled with a French drain, a dehumidifier will solve most of your moisture issues and make your basement air quality so much better.
How does a dehumidifier work?
A dehumidifier works like an air conditioner, running interior air over a chilled coil to condense the water out of it. Instead of the water condensing on your basement walls, it condenses on the dehumidifier's evaporator coils and drips harmlessly down the drain or into the unit's collection bucket.
See also: Intro to Basement Drainage Systems
10. Zone new spaces by hanging curtains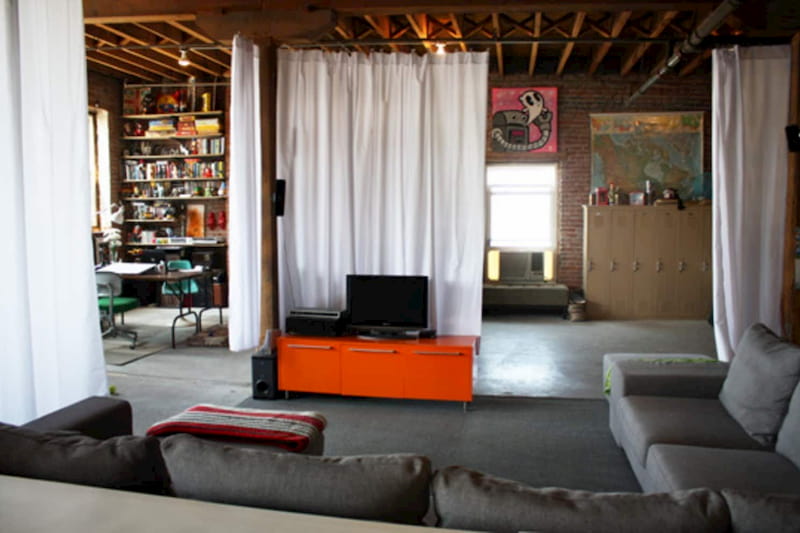 If you want to divide your basement into separate rooms or zones but aren't ready to spring for true partition walls, try using curtains. They are an inexpensive and attractive way to create visually distinct areas in your basement, and their soft texture can warm up a cold, sterile looking space. Folding wooden room dividers and screens. or even sliding barn doors. can provide a similar zoning effect.
What can you do with curtains in your basement?
One of the best uses for curtains in a partially finished basement is to hide ugly clutter from view. If your basement is one big, open space, consider hanging ceiling-height curtains in front of your laundry area, your HVAC equipment (leaving plenty of space so the fabric does not come close to your furnace), or your storage shelves. You can even create a partially enclosed "guest bedroom" using curtains.
Planning a basement remodel?
A lot goes into creating a basement that feels like an extension of your main living space. These ideas for a partially finished basement can take you part of the way there, but a full basement remodel, thoughtfully designed for your family's unique needs, can truly transform your home. If you are contemplating a basement remodel, please feel free to reach out. My interior designer colleagues and I would be happy to answer your questions and share our ideas.
Guide to Hiring a Remodeler
This comprehensive guide walks you through all the steps of choosing who will design and build your project, vetting remodeling companies, and ensuring that you have the best experience.