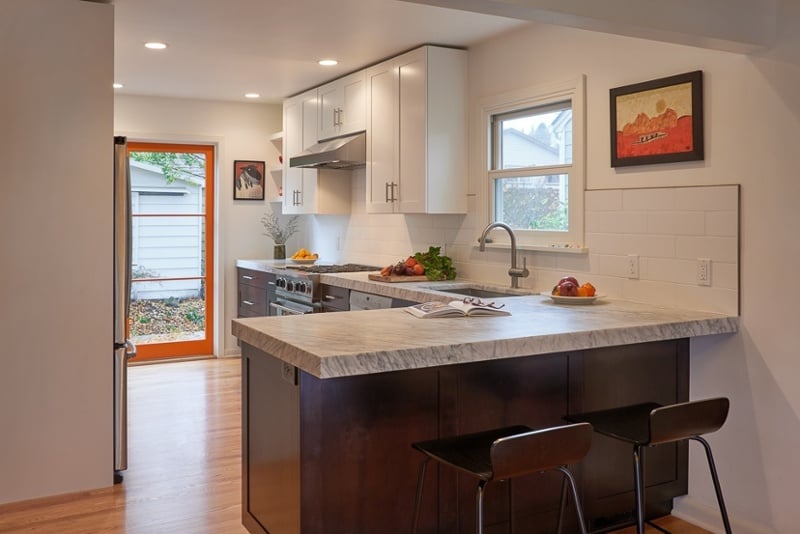 Many remodelers believe the trendy kitchen peninsula is the baby brother of the kitchen island or a lesser option.
It couldn't be further from the truth.
"These architectural alternatives to the traditional kitchen island are space-saving and chic."

-Elle Decor
The kitchen peninsula holds its own and adds loads of benefits to your cooking space and routines.
Whether you have a cozy small kitchen layout or a grand Ramsey-style kitchen design, a peninsula is a firm favorite in trending interior design circles.
What Is a Kitchen Peninsula?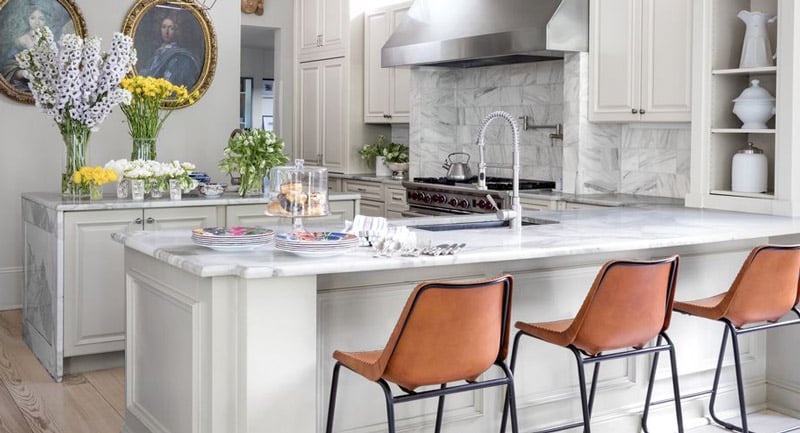 Source: elledecor.com
Unlike kitchen islands that are stand-alone units — typically in the center or top corner of a room — peninsulas extend the countertops and connect to the rest of your cabinetry.
Peninsulas don't have top cabinets but offer loads of extra storage space beneath the countertop while adding valuable workspace on top.
Is a Kitchen Island Better Than a Peninsula?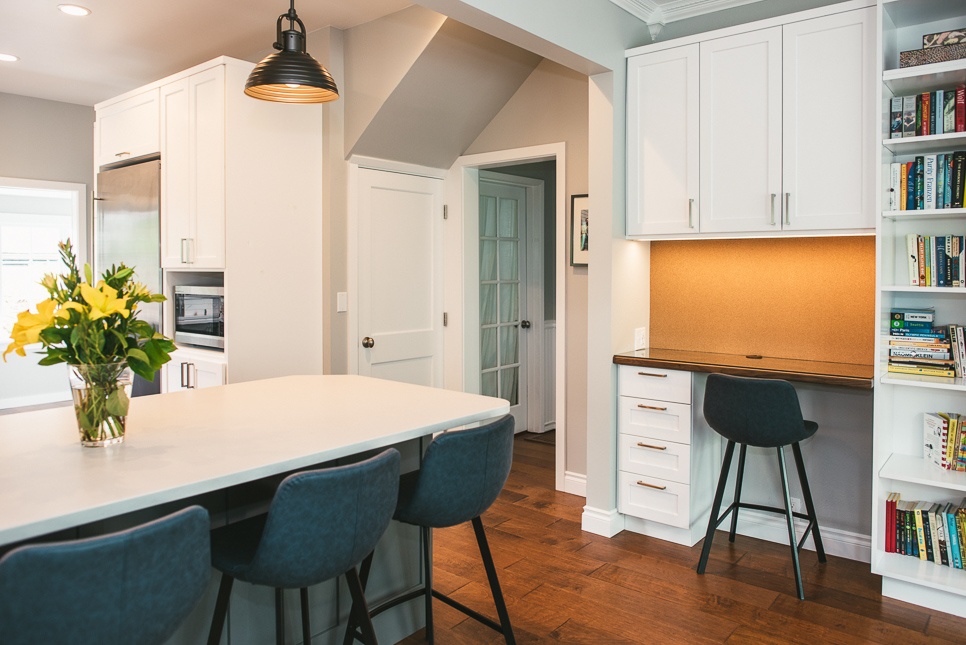 Ballard Kitchen
No.
Both the kitchen island and the peninsula offer unique benefits, and you can choose either, depending on your room's size and layout.
The only difference between the two is that the island is a stand-alone unit while the peninsula joins other counters.
You can use both for additional storage units and casual seating space for your friends and family.
You can also locate your stove or a sink in both—depending on your style.
If you can dream it, a top-notch design-build company can likely make it happen.
How Long Should a Kitchen Peninsula Be?
A typical peninsula is between 60 and 90 inches and depends on the size of your kitchen. The depth of a kitchen peninsula typically matches the depth of the rest of your counters, usually 25.5 inches.
5 Types of Practical Kitchen Layouts
In interior design, you'll find a handful of primary kitchen layouts.
Here are five of the most popular ones:
U-Shaped Kitchen Layout
Flexible for multiple variations of lengths and depths, U-Shape Kitchens often incorporate central island counters for increased workspace and table surfaces. They are best for adding a kitchen island.
L-Shaped Kitchen Layout
They are common kitchen layouts that use two adjacent walls or an L configuration to efficiently organize the various kitchen fixtures.
Single-wall Galley Kitchen Designs
Typically the narrowest of kitchens, this design fits everything onto one long wall.
Double-Wall Galley Kitchen Layouts
They are space-efficient designs that combine kitchen fixtures along two parallel walls.
G-Shaped Kitchen Layouts
G-shaped kitchen layouts are also known as peninsula kitchens. Technically, they are a U-shaped kitchen with a peninsula added.
This layout continuously locates cabinetry and fixtures along three adjacent walls and ends in a bar counter extension.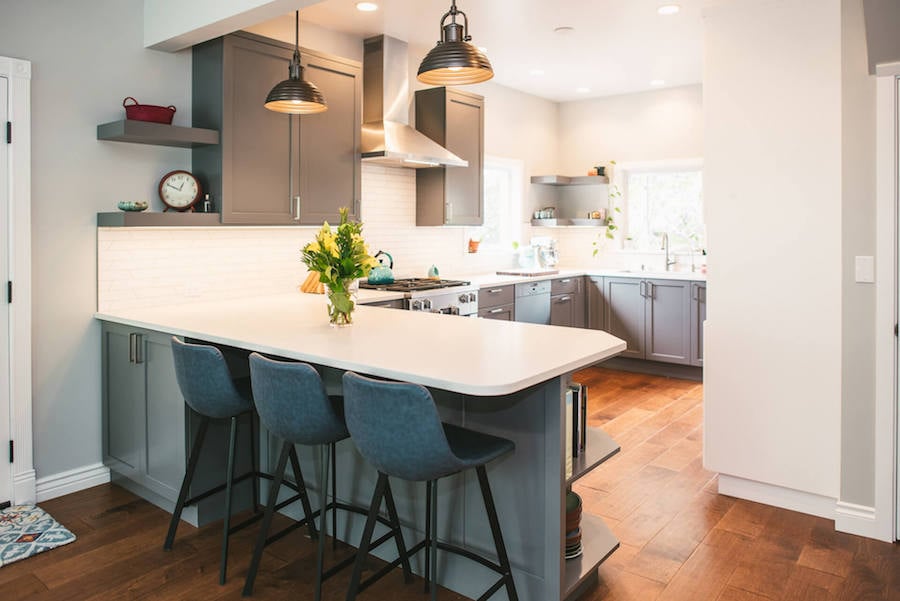 Seattle-Area Kitchen Remodeling
Benefits of a Peninsula Kitchen
As you've seen above, the kitchen peninsula is an extremely versatile element in kitchen design.
Adding a peninsula to your kitchen design has the following benefits:
A peninsula creates more storage space.
It gives you more working space to prepare your meals.
Additional seating space for friends and family while you cook.
You can create more cabinets, shelves, or drawers beneath the peninsula.
The barstools at your kitchen peninsula bind your interior design style throughout your home to your kitchen—creating a creative flow.
A kitchen with a peninsula is great for smaller apartments without a dining room.
The kitchen peninsula is used to correct the flow from the house into the kitchen in open-plan living areas.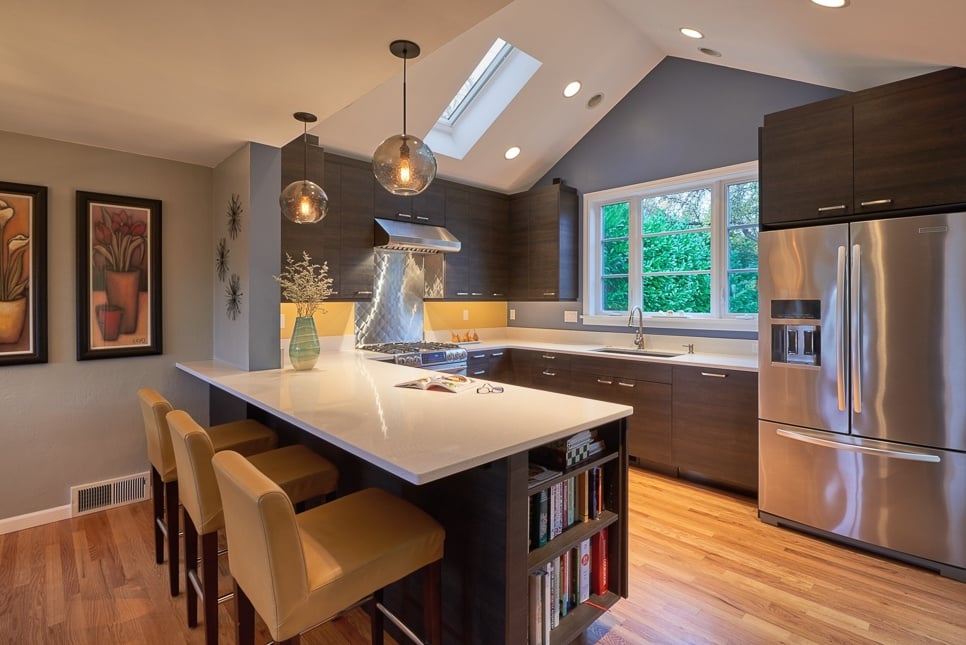 Ballard Kitchen Addition
Disadvantages of a Kitchen with a Peninsula
Although a peninsula can add creative flair and functionality to your kitchen space, sometimes it's not the best solution for your kitchen.
A peninsula creates a

corner unit

that makes it difficult to reach into your end shelves.
If the entry space to your small kitchen is narrow, it's best to keep it open, as a peninsula can be detrimental to the flow and cause 'traffic jams' in and out of your cook space. Go with a U-shaped kitchen, instead.
What Can I Do with My Peninsula?
There are so many creative and functional kitchen peninsula ideas to incorporate into your kitchen.
Design
Two-tone kitchens are all the rage, and your peninsula lends itself to using a complementary color.
Using two tones in your kitchen allows you to bind your kitchen to the color tones in the rest of your home while creating a pleasing visual flow.
Lighting
A peninsula begs for lighting over its countertop. You can use this as a wonderful opportunity to give wings to your creative décor whims with exciting lighting fixtures.
Functionally, lights allow those seated at the peninsula to read and the cook to see what he or she is doing.
Multi-colored glass pendants are a trendy and whimsical option to install over your peninsula. They can add a fun design element while lending warmth to your kitchen.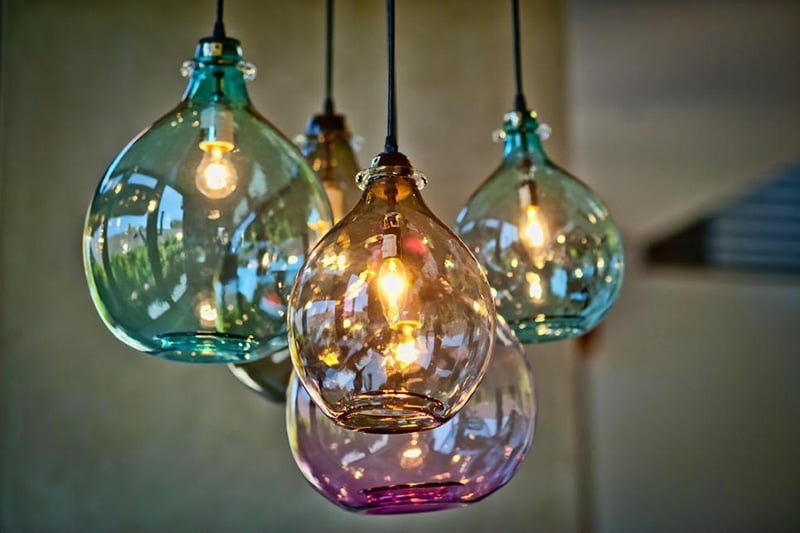 Source: novocom.top
Seating
Choosing barstools that suit your family's style and needs at the peninsula allows for fun, family cooking times and casual meals in the kitchen.
Barstools are another great opportunity to express your creativity and are used to blend your kitchen décor with other architectural and design elements in your home.
Storage
A peninsula is a smart way to add storage space to your kitchen.
As with an island, the base can be used for extra storage, and cabinets can be added to store more dishes and kitchen utensils.
Using open cabinets in your peninsula also allows for the placing of decorative items. It's a terrific addition in a kitchen where an island isn't an option.
Let's Pack It Up
Just like no two families are the same, there's no cookie-cutter design for your kitchen layout, design, or style.
As you can see, a peninsula can add value to your kitchen's creativity, functionality, and flow.
Whether you want to separate your kitchen from your living room or incorporate the two spaces into one, the peninsula is a good design choice, while adding much-needed storage, seating, and workspace.
Get cracking with your design-build team so they can make your peninsula kitchen dreams a reality.
Guide to Hiring a Remodeler
This comprehensive guide walks you through all the steps of choosing who will design and build your project, vetting remodeling companies, and ensuring that you have the best experience.