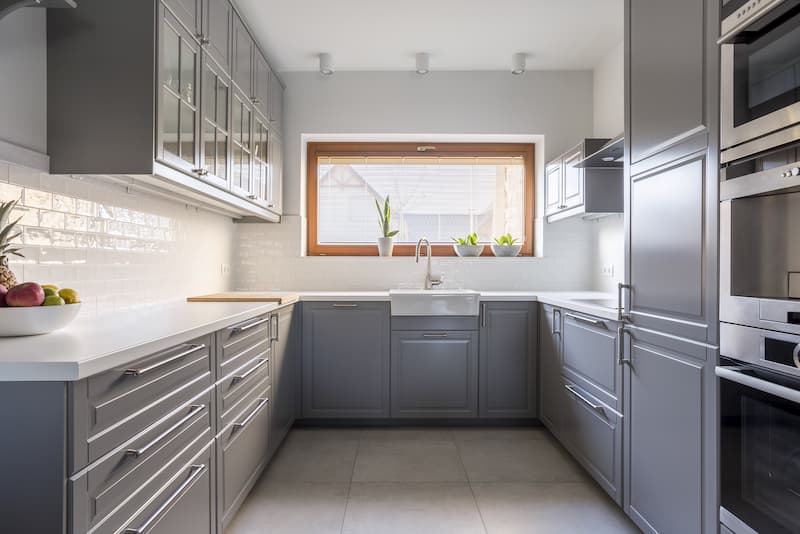 Whether you're embarking on an extensive remodel of your home or building a house for the first time — nothing beats the thrill of designing a new kitchen layout. In this article, I want to take a deep dive into one of my favorite layouts: the U-shaped square kitchen. This versatile and beautiful arrangement has so much going for it!
So let's take a look at the different ways you can adapt this basic design to meet your needs and create the kitchen of your dreams.
Why I love the U-shaped design for a kitchen
I am an enormous fan of the U-shaped kitchen layout. It's a trendy design for house-hunters and homeowners wishing to remodel because the design provides considerable scope for cabinetry.
The U-shaped layout places units around the cook on three sides, with the top of the U left open for an entry or open plan living room.
You can merge U-shaped kitchens with dining areas or even a kitchen island if there's sufficient space.
An open-plan room often presents the opportunity to form one arm of the U into a peninsula that you can access from both sides. It's a multi-use space that's perfect for a breakfast area, homework spot, or additional seating for guests.
The three main types of U-shaped kitchens
Let's look at three popular sub-designs that all fall under the U-shaped square kitchen umbrella. If you have three walls of roughly equal length to work with, you will probably want to choose one of these three general layouts.
#1: U-Shaped Square Layout without an Island
This is the most basic of the U-shaped kitchen designs and really shines when space is at a premium.
If you have a small kitchen, you may not want to block your kitchen's flow with an island.
You can always incorporate a dining table on the outskirts of your open-sided U design without compromising workspace in a small kitchen.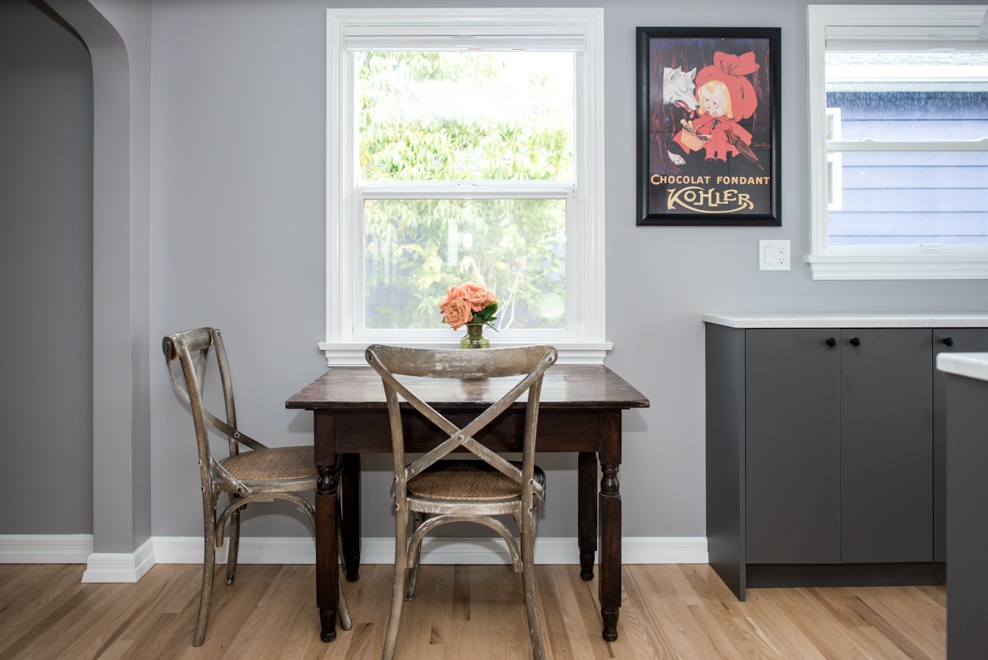 You'll still benefit from the added storage space a U-shaped kitchen design offers you in a small square kitchen, even without an island.
In a small kitchen, you can get creative with your wall space to keep your counter area clear of clutter.
If you have a window on one wall, you can cleverly build open shelves around it. You can do the same around your range hood.
You can choose white shelves for a modern, sleek look or go for an earthy and natural look by building custom wood shelves and adding a few bamboo storage baskets.
Small kitchens present exciting ways of creating a genuinely cozy cooking area.
Look at this gorgeous example below.
By using every inch of wall space and adding an explosive splash of color in focal points, your kitchen quickly becomes a beautiful expression of who you are.
Benefits
You have more space to move between your counters if you don't have an island.
You have ample space for storage cupboards and counter space for working.
In a square kitchen, the cook is surrounded by everything they need, making it super accessible.
You can create a gorgeous eating area outside your kitchen space on the open-ended side leading into the rest of your home.
Disadvantages
Small kitchens without an island will limit the amount of crockery and utensils you can accumulate.
Without an island, your guests won't have seating inside the kitchen to keep you company while you cook.
You'll have to keep your counters organized to prevent your small square kitchen from looking cluttered.
#2: U-Shaped Kitchen Design with a Detached Kitchen Island
A kitchen island is a wonderful way to include the entire family during the best time of day: when you prepare meals for the people you love.
If your square room can accommodate a kitchen island, there are many ways you can go about making it a functional part of your custom design.
An island gives you additional space for kitchen cabinets while it functions as a casual dining table or breakfast bar.
You can incorporate your style of kitchen furniture to round off your square kitchen and make it flow seamlessly into the rest of your home.
It creates a wonderful opportunity to install exquisite and modern lights across the top of it as a design statement with superb functionality.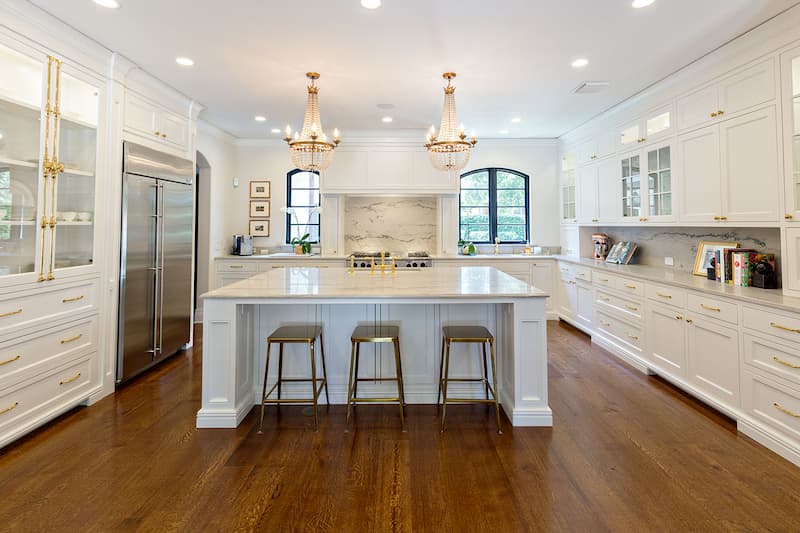 The 5 Main Types of Kitchen Island Lighting
Your island can provide more than additional seating and food-prep space.
It's a superb opportunity to make a statement of who you are with the interior design elements and the furniture you use around the bar counter.
For a modern and strong statement in your square kitchen, you can install your cooktop in your kitchen island. It makes an impressive statement with an overhead aluminum or polished steel hood.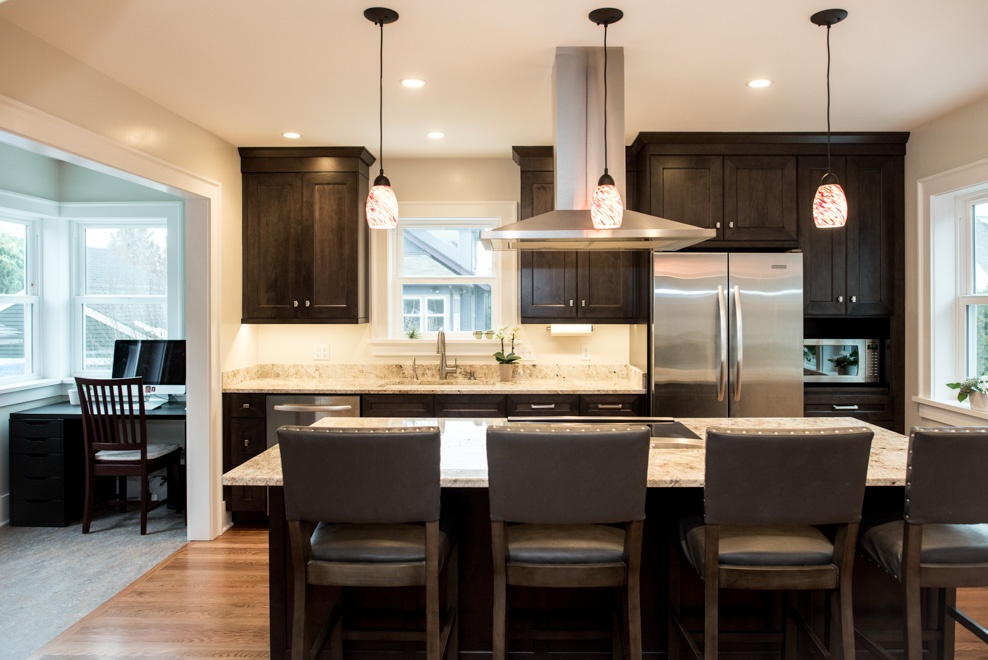 The 5 Main Types of Kitchen Island Lighting
Not only does it ensure you don't cook with your back to your guests, it creates the perfect space for your family to sit with you while you cook dinner, and your island can easily transform into a casual dining area when dinner is ready.
I do, however, caution families with young kids to think twice before incorporating a cooktop into their island. It can present a burn hazard for kids sitting at the island.
Benefits
Creates extra storage and working space.
You can use it as a casual dining area.
You can design the island in any shape or size according to your needs.
The island is a brilliant solution for more cabinet space if your kitchen has large windows.
Disadvantages
You can't move it around like a table. Once it's fixed, it remains in one spot.
It takes up a lot of floor space and is only suitable in more spacious kitchen layouts.
#3: U-Shaped Kitchen with a Peninsula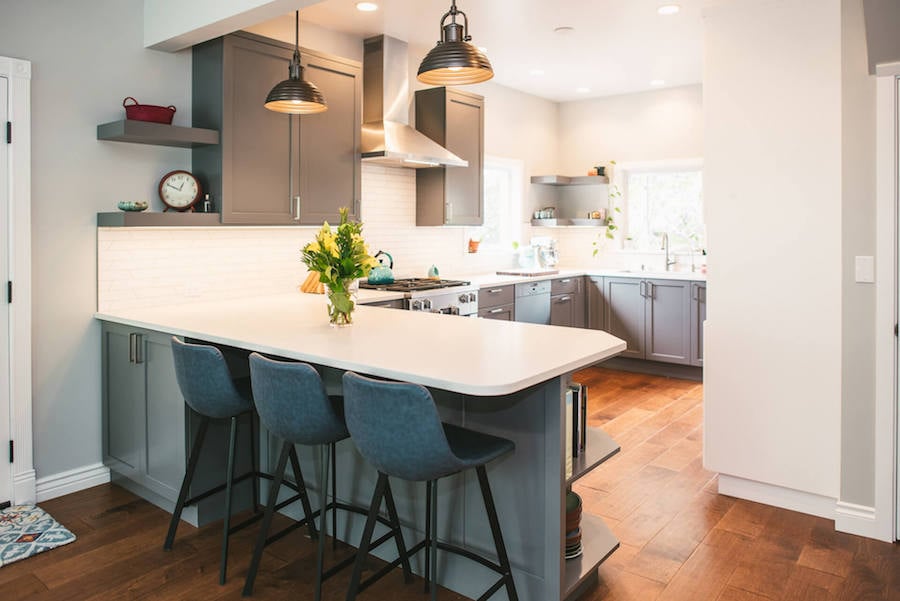 Ballard Kitchen
A peninsula is a great way to incorporate additional seating space in your kitchen without taking up floor space where the cook operates.
In the image above, you can see a perfect example of how the clients used the peninsula as a room divider in their square kitchen without making it look cramped or dark.
The window lets in loads of natural light, which bounces off the white walls and countertops, while the peninsula adds storage space and a cozy breakfast nook. It's a wonderful example of how a peninsula adds character and functionality to a kitchen.
Side Note:
Designing a mostly white kitchen is an excellent way to enhance the illusion of size when you're designing a small space.

With modern cabinetry, furniture, and appliances in white, you can turn a traditional kitchen into a super trendy space in no time.

If you're opting to use white to make your square shape kitchen look bigger, you can choose one wall and add a splash of color with tiles or a painting technique. It works well to use the backsplash areas behind your stove or sink for this purpose.

Always keep in mind when you want to liven up your white kitchen with trending colors that less is more. It's easier to replace a small backsplash with next season's hot new colors than to replace entire floors or cabinets.
Benefits
You don't need a kitchen table.
It gives your square-shaped kitchen additional storage and seating space.
It can divide two rooms if the kitchen is part of a living room and not a dining room.
Disadvantages
It breaks the flow of kitchen layouts in an open space area.
You'll have to install additional lighting over the peninsula.
It can cause a traffic jam in the entry to your kitchen.
Which style of U-shaped kitchen should you choose?
Choosing a kitchen design can be overwhelming. However, if your layout has three walls of roughly equal length, your choice will likely boil down to one of the above three types of U-shaped designs.
Ask yourself these questions to help you narrow down what will work best in your available space.
How many walls surround the kitchen area, and what are their lengths?
How ample is your kitchen floor space?
Where are the windows and doors in your kitchen?
Gather design ideas
Once you determine what space limitations you might have, it's time to start gathering design inspiration. Here are a few of my favorite sources of kitchen design inspiration.
Online interior decorating magazines
Interior design blogs
Pinterest
Remodeling contractors' websites
Houzz
Instagram
Once you find some examples of styles you love, you can proceed to search for the best-suited design-build experts in your area.
A reputable design-build team is perfect if you don't have the time or expertise required to act as your own general contractor, which most people don't.
A design-build firm will offer a full slate of services, including the design, demolishing (if needed), remodeling, and even furnishing. On top of that, you don't need to worry about any subcontractors or finding the perfect tiles on time. They'll do it all for you.
The final cut
We hope these three designs will help you narrow down your options and find the best kitchen layout for your unique needs (and the available space in your home).
Remember to have fun and don't hold back in trying new things. Your home is an extension of who you are, and you have to love being there.
Be free and dare to add that personal touch to your interior decorating plan for your kitchen remodel.
Guide to Hiring a Remodeler
This comprehensive guide walks you through all the steps of choosing who will design and build your project, vetting remodeling companies, and ensuring that you have the best experience.